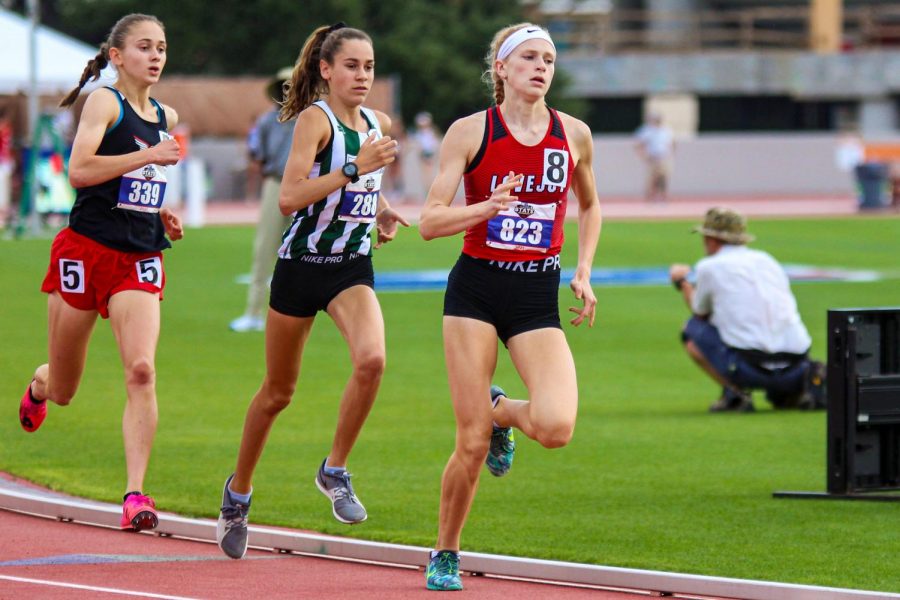 Track competitors place at state
On Friday, May 7, the track and field team took 15th place overall in the 5A-state championship. The team sent runners in the 3200-meter run, 1600-meter run, 800-meter run and 4×400-meter relay.
"Track is a hard sport," girls head coach Carly Littlefield said. "It is very physically and mentally demanding, and there isn't always a lot of glory. It's just you. No one else to rely on when you step up to compete. I try to prepare my girls for those big moments. They learned a lot this year, and they are already preparing to be the best version of themselves next year."
Junior Tate Barr placed seventh in the 3200 meter, and he was the only upperclassman to compete at the state level.
"We had three sophomores and one freshman compete at the state meet, so we are young," Carly said. "I think this experience has helped them grow as athletes and competitors, and I believe that they will work harder than ever next year to achieve great things."
Freshman Kailey Littlefield won first in the 800 meter, while also gaining a new personal record and school record with a time of 2:08. Kailey also placed sixth in the mile. 
"The last hundred I was just chasing the girl at the front because I was in second the whole time," Kailey said. "I was thinking I could go win state right now. I just have to give it a little more than I usually do. I just really pushed myself, and that is what helped me to win. I definitely want to, next year, defend my state title and hopefully do that every year."
Sophomores Chloe Schaeffer, Amy Morefield, Bella Landrum and freshman Kailey Littlefield competed on the 4×400 team this year. They took fifth place in the state after finishing second in the regional meet.
"We had higher expectations, but we actually didn't run our best time of the season at state," Schaeffer said. "We have room for improvement. It was kind of nerve-racking because we've never run in front of that many people. It was a full stadium at a college, and it was intimidating but it was cool."
Amy Morefield also competed in the 3200-meter race coming in seventh with a time of 11:13. This was many of the runners first full season of track after covid interrupted the season last year. 
"It really shows how much better we can get," Schaeffer said. "It was my first year, and I went to state. It gets me excited for what's to come. Everyone there was focused, and track was their priority. Everyone was there to race and to compete."