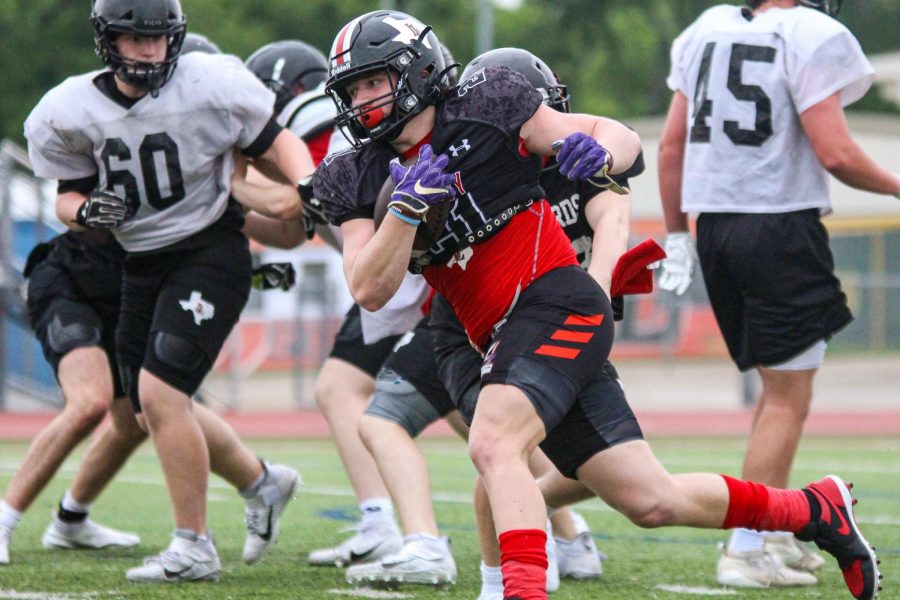 Spring football begins
Spring football practices started on April 28. Coming off of a 13-1 season, the football team prepares for next fall with two returning offensive starters.
"Honestly, it is a completely different team," sophomore Will Frost said. "We have new guys everywhere. Our offense has two starters back, so the success of last year means nothing going into this year."
The team competes in offensive and defensive scrimmages every Friday. The coaches work to limit the contact to help prevent injury in the off season.
"Each Friday, we have been having a little offense versus defense where we put them in different situations," defensive back coach Jake Mayfield said. "[The scrimmages] are pretty laid back, and we limit the amount of going to the ground that we do to protect our players. They just last about 30 to 45 minutes. "
On Saturday, May 22, the team will have an official spring intersquad scrimmage. 
"The scrimmage is important because it lets us see where we are at as a team," junior Will Craft said. "It lets us see what our strengths and weaknesses are going into the summer. The scrimmage also helps players know what they individually have to work on during the summer. It helps us develop our competitive edge for next year."
Spring football provides the team twenty extra practices before the season starts to work on what Mayfield calls the "essentials and fundamentals". 
"We have been working on some second and long, second and short, third and long, third and short, red zone situations and overtime situations just to get more of a feel for the game," Mayfield said. " The players get to go through practice together with the grind of spring ball. They get to build trust in each other, and it is a great chance to prepare for the season, and get excited about the players we have in our program." 
The practices allow the players to show their capabilities before the season starts. 
"The energy is awesome," Mayfield said. "Our guys do a great job of getting excited. We compete in every aspect of practice. The coaches get excited, and anytime someone makes a big play the players get super excited."