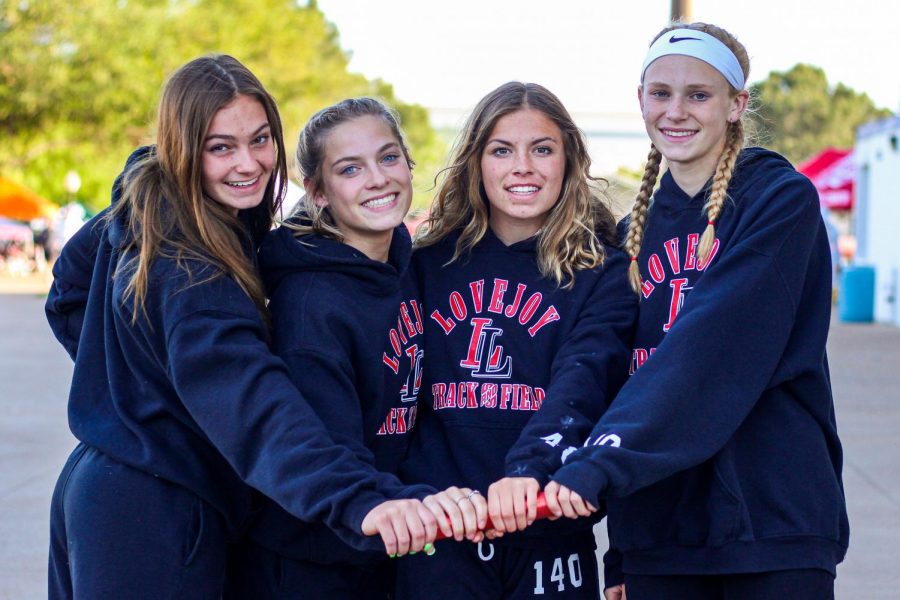 Fantastic four
April 30, 2021
Four girls gather together and prepare for the last event of the day. They hold their personalized purple leopard baton between the four of them. This is their weapon. The sun is set, and the pressure is on under the bright stadium lights. For four minutes, every school wants to win. For four minutes, the outcome is unknown. For four minutes, the girls endure worry and pain. Kailey Littlefield, Chloe Schaeffer, Amy Morefield, and Bella Landrum participate in the 4×400 meter relay.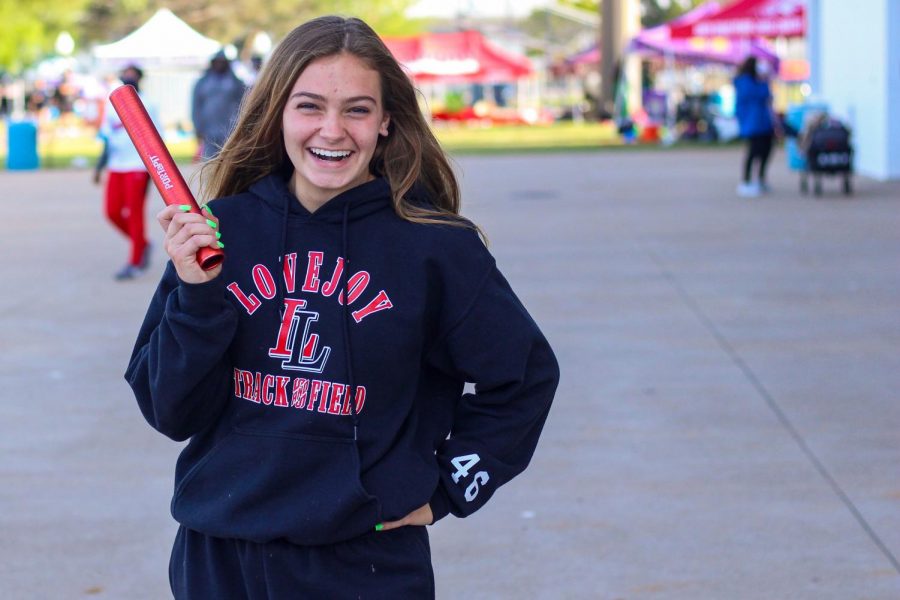 Chloe Schaeffer, sophomore
The girls varsity 4×400 relay is the next event. The girls put their numbers on the left side of their chest and left side of their hip. Last minute preparations are done as sophomore Chloe Schaeffer steps up to the line and gets into the blocks. The gun is pointed into the air, runners ready, set, BOW. 
"I have always loved working out and being competitive," Schaeffer said. "When I started track I was unsure what events would be the best for me, but Coach Littlefield put me in the 4×4." 
Running does not come easy, and the athletes have to put many hours of dedication into what they do. Running impacts all other aspects of life for the girls as well. 
"The team has inspired me to be more responsible with my sleep, diet and school work," Schaeffer said. 
The girls broke the school record for the 4×400 meter relay at regionals this season. The previous school record was 3:56 and was established in 2011. Ten years later, it was broken. 
"Our PR as a team that broke the school record is 3:55, " Schaeffer said. "Regionals were really exciting."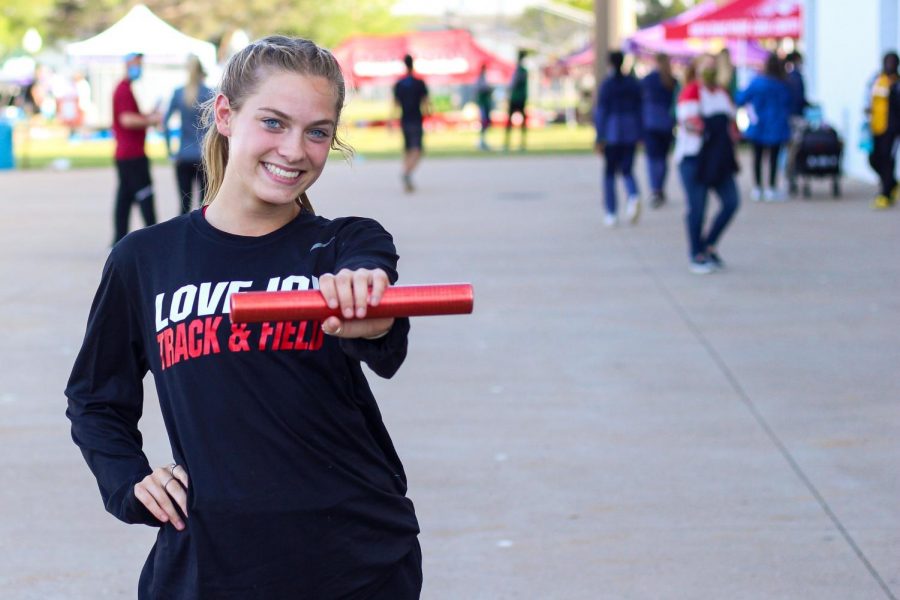 Bella Landrum, sophomore
As Shaeffer approaches the start line, sophomore Bella Landrum prepares to grab the baton.  Shaeffer's legs are evidently getting heavy, yet Landrum's stay loose and prepare to get out fast and strong. She executes what she is taught and quickly receives the stick. Her teammates cheer her on as she zooms past the 100 meters. 
"I started running track in seventh grade. At first, I was only doing it because my mom forced me to put it on my schedule," Landrum said. "But after year one, I realized how much I love this sport." 
Landrum has been running track for four years now. She realizes that track is way more than an individual sport.
"Your team relies on you while you also rely on them," Landrum said. "All throughout the season we have had to encourage each other, whether it be a hard workout, a tough race or days when you just want to give up and stop." 
Not only has the team broken records this season, which includes qualifying for state, regionals and area, but Landrum has personal achievements of her own as well. 
"My personal record split right now is 58.9," Landrum said. "I am so ready to kill it at state, we are the fifth best 4×4 team out of all 262 teams in Texas."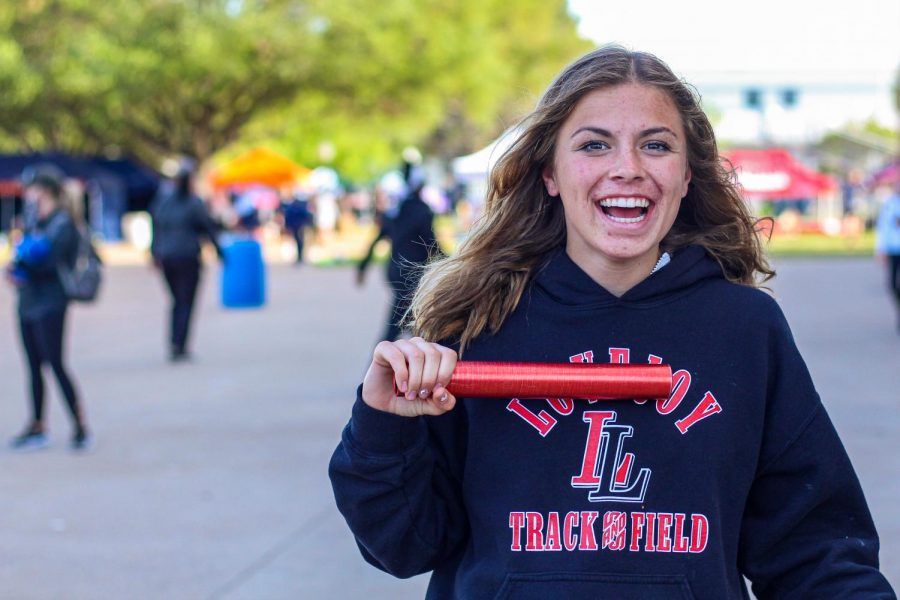 Amy Morefield, sophomore
At this point in the race, the runners are able to predict how it will end up. Sophomore Amy Morefield scans the field and recognizes where her team is at in regards to place. Morefield knows what she needs to do as her teammates count on her to keep them in a great spot. 
"I started running in seventh grade and automatically fell in love with the 400," Morefield said. "[It's] not always my fastest race, but it's always been one of my favorite races, and is the reason I came to track meets in middle school." 
Morefield worked throughout the season to build relationships with her 4×400 meter relay team.
"The team and I are so close and we have so much fun before and after races," Morefield said. "We get through it together.We push and go through pain at all the practices, and that dynamic helps [us] because we know we're racing for each other." 
Morefield got her freshman year stripped from her because of COVID-19, so this year at area and regionals was a new experience. The 4×400 team relay placed first at area, second at regionals, and are now going to state. 
"At regionals, we had the best [race] of our lives," Morefield said. "We were so happy we cried at the end, but we were so nervous the whole time of [the race]."
Morefield congratulated her teammates for running so well at the regional meet. 
"Kaley pulled it off with the last 100 meters, we were so surprised," Morefield said. "We all did our jobs we were supposed to do and the coach was very proud of us." 
Kailey Littlefield, freshman
The race comes down to one last person. Everybody on the team has done their job, but it is not over yet. Morefield closes in on freshman Kailey Littlefield, and it is go time for her. Her leg could determine if they win or lose. Her spikes are tied tight, and her uniform proudly reads "Lovejoy" across it. She receives the baton and is off. She gives everything she has. 
"I got into running by being around the track my whole life," Littlefield said. "I have been doing it since I was very little and I quickly became passionate about it." 
Kailey and her team started off their success at the district meet in April. 
"Districts was our break out race this season," Littlefield said. "We were all running at least two events so we were pretty tired by the time the 4×4 came around. I think what set us apart from every other team and helped us win was our bond with each other." 
Littlefield plans to run the 4×400 meter relay next year, and each year moving forward until she graduates.
"Next year, we will hopefully get more experiences to run the 4×4," Littlefield said. "We are all freshmen and sophomores, so I think we will not only get faster but gain more experience from this. I think we have a great shot to be state champions."