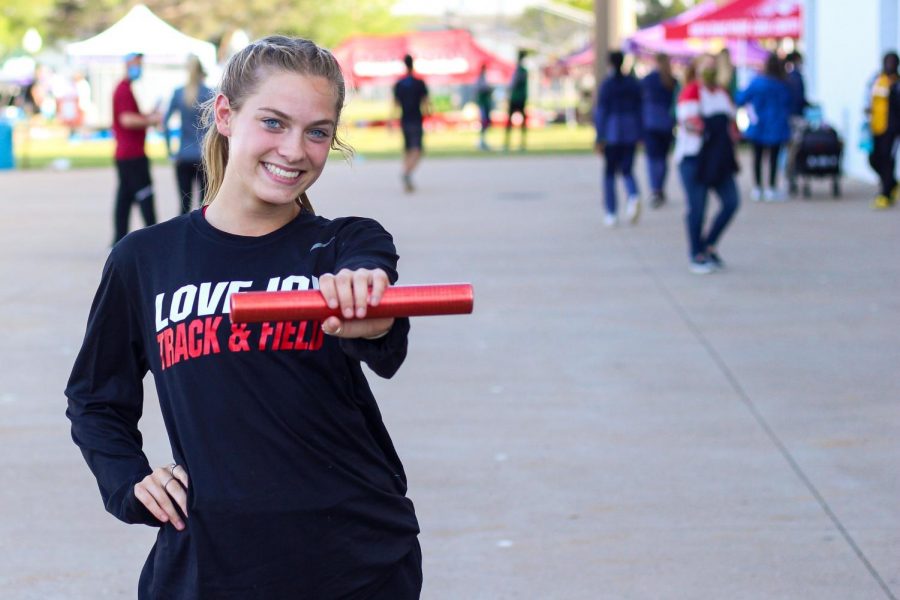 Bella Landrum, sophomore
April 30, 2021
As Shaeffer approaches the start line, sophomore Bella Landrum prepares to grab the baton.  Shaeffer's legs are evidently getting heavy, yet Landrum's stay loose and prepare to get out fast and strong. She executes what she is taught and quickly receives the stick. Her teammates cheer her on as she zooms past the 100 meters. 
"I started running track in seventh grade. At first, I was only doing it because my mom forced me to put it on my schedule," Landrum said. "But after year one, I realized how much I love this sport." 
Landrum has been running track for four years now. She realizes that track is way more than an individual sport.
"Your team relies on you while you also rely on them," Landrum said. "All throughout the season we have had to encourage each other, whether it be a hard workout, a tough race or days when you just want to give up and stop." 
Not only has the team broken records this season, which includes qualifying for state, regionals and area, but Landrum has personal achievements of her own as well. 
"My personal record split right now is 58.9," Landrum said. "I am so ready to kill it at state, we are the fifth best 4×4 team out of all 262 teams in Texas."