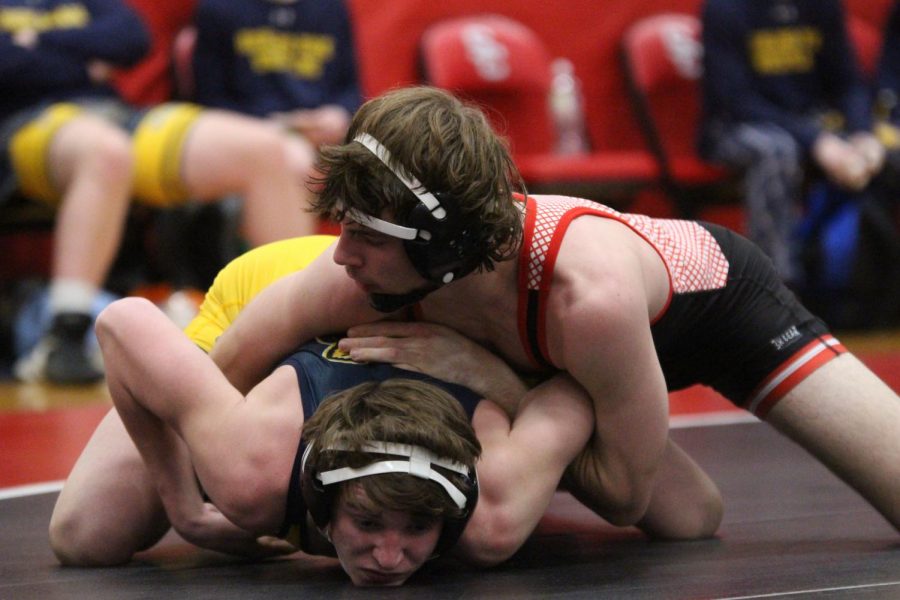 Wrestling takes home state-level awards
Last week, the wrestling team finished their season at the state tournament with five athletes placing at state, and one state champion. 
"I thought we wrestled well as a team all season," coach Scott Tischer. "We have had a very successful season, and the athletes have worked incredibly hard for that success."
Throughout the season, the team won individual and dual team district championships, and finished second at regionals.
"Going into the season and tournaments, my mindset was you can't control the outcome, but you can control your performance," junior Austin Blair said.
  Athletes who placed in the state on the men's meet were Jackson Lambert placing sixth at 106 pounds, Austin Blair placing sixth at 220 pounds, and Jackob Underwood winning a state championship at 195lbs. On the women's side at the state tournament Charis Vela placed fourth in 102lbs and Avery Ashley placed third at 110lbs. 
"We've had a lot of people who've gotten both medals and trophies, we've gotten two or three team trophies this year for districts and regionals," sophomore Corey Soliz said. "Overall this season has been very successful for the whole team."
This season was shortened to five weeks for 23 duals. The team finished the season with a 21-2 record.
"We prepared the individuals on their skills and techniques on and off the mat," Tischer said. "To finish 21-2 on the year in duals shows testament to all the individuals on this team working together."
At the state tournament Blair was the first in his weight bracket to place at state in school history, and Jakob Underwood took home the first men's state championship in school history. 
"Our focus will continue to be controlling your controllables," Tischer said. "Don't stress over the things you can not control but take care of yourself in school, wrestling, and being prepared will help you focus."