Volleyball named state champions for second consecutive year
Junior Grace Milliken fires the ball over the net for a kill. Her teammates rush the court and fall to the floor. State champions for the eighth time. Undefeated for the season.  
"Having an undefeated season had never been a goal that any of us had set ourselves because it is so rare to see," senior Kylee Fitzsimmons said. "But once we realized that we were undefeated going into playoffs, and that we could really be the first team to be undefeated in Lovejoy history, that's what we were striving for."
The team beat Fulshear, winning the first three sets, and their second consecutive championship. Junior middle blocker Grace Milliken made six kills in the game. 
"It feels great," Milliken said. "Winning the first [championship] only makes everyone want another one even more. It's the best feeling to know everyone's hard work paid off and to have the whole community rally around you like that."
After a delayed start to the season because of COVID-19, the team adjusted to make the best of their situation. 
"After getting shut down once, we all made sure to stay safe and only hangout with volleyball people," Fitzsimmons said. "When we were shut down, we would get on Zoom and workout. We missed some of our most competitive games, but we stayed focused and realized we can't get it back, so we focused on one game at a time."
Ryan Mitchell, the team's head coach, has coached the team for seven of the program's eight state championships. Mitchell prepares the team for state championship games like any other regular season game. 
"I think you try to keep it the same as other games in some respect," Mitchell said. "You do not want to stress your team out, but you do make sure that you have left no stone unturned in your preparation for your opponent, including watching tons of film and knowing what your opponent is going to do."
About the Writer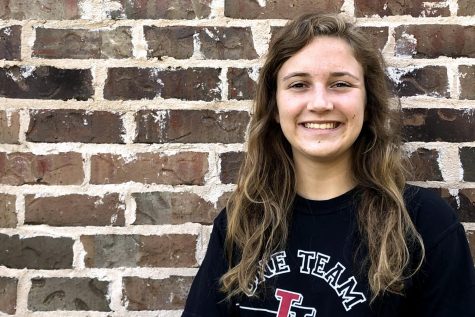 Audrey McCaffity, Staff Writer
Returning for her second year on The Red Ledger, staff writer Audrey McCaffity is looking forward to the day she walks into the newsroom again. Audrey...