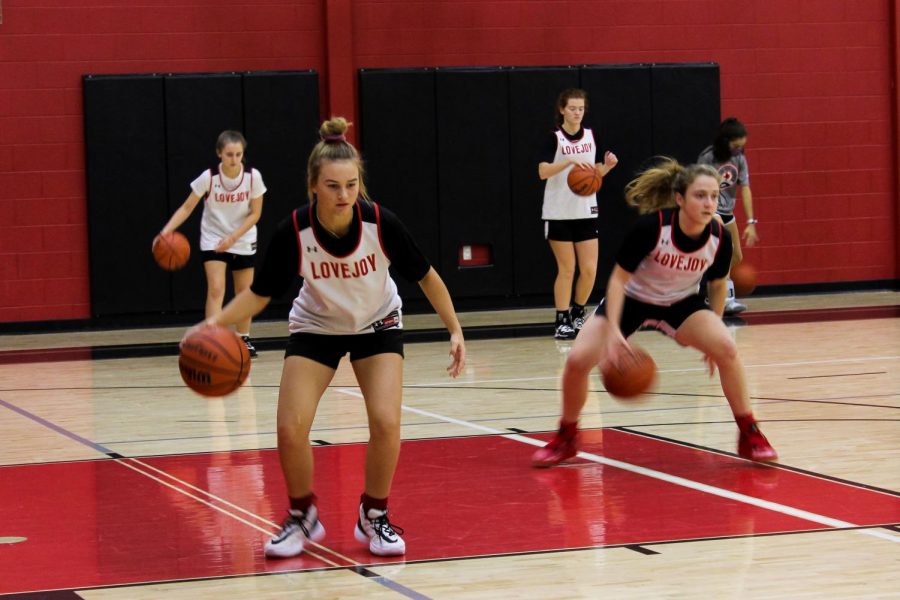 Girls basketball adapts for COVID-19, smaller team
As the girls basketball team starts their season, they are finding a new dynamic after losing six seniors and one junior. 
"Last year's team was senior heavy," head coach Mike Motsney said."We graduated every varsity player except one. They had a good season that saw them meet the eventual state champions (Liberty) in the first round of the playoffs. We held Liberty to zero points in the first quarter of that bi-district game, but ultimately lost to the eventual state champions."
The team has been working heavily on shot accuracy. 
"I think we are a strong team, and I think our season will go well because we all have been working very hard to get prepared for the season," freshman junior varsity post Lauren Dolberry said.  We have also been working heavily on our shooting skills to help our season go better." 
The team's practice schedule has changed and looks different this year than it has in the past. 
"Because of the pandemic, we had to practice through Zoom, so we weren't able to do as much as the team would have liked to do," Dolberry said.  "I think we have worked better together this year, and we have been able to encourage each other to keep going despite this pre-season being tough."