Fall flavors
October 15, 2020
With the month of October flying by, and leaves starting to turn yellow, TRL's Lily Bouldin and Katie Dolberry drafted together recipes that will allow you to enjoy the pleasures of fall through crock pots, brown sugar, cinnamon and pumpkin.
Pumpkin Pancakes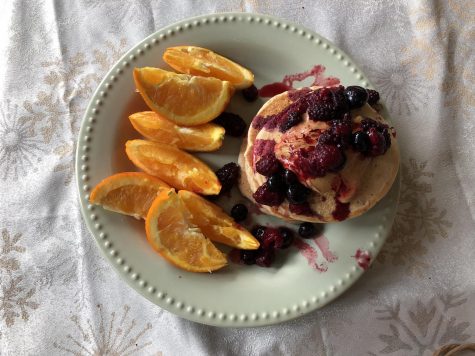 Start to finish: 30 minutes
Servings: 15 pancakes 
Pancake ingredients:
2 cups all purpose flour

1 tablespoon baking powder 

¼ cup of sugar 

2 tablespoons brown sugar 

2 teaspoons pumpkin pie spice 

1 teaspoon cinnamon 

½ teaspoon salt 

1 ½ cups milk

1 cup pumpkin puree

2 large eggs 

2 tablespoons oil
Topping ingredients:
1 tablespoon peanut butter

Microwaved berries 
Mix all dry ingredients in a large bowl and all wet ingredients in a medium bowl 

Pour the wet ingredients over the dry ingredients and mixed until combined  

Heat on griddle over medium-high heat 

Ladle on ¼ cup of batter per pancake and cook until bubbles form on top of the batter, around three minutes.

Flip and cook for another two minutes 

Decorate with peanut butter and berries 
Recipe courtesy of SavoryNothings 
★★★☆☆ These pumpkin pancakes are great for cool Saturday mornings. They are filling, delicious and satisfying. The peanut butter on top adds extra protein and the pumpkin spice makes them addicting. You absolutely can not go wrong with these pumpkin pancakes. 
Chicken Tortilla Soup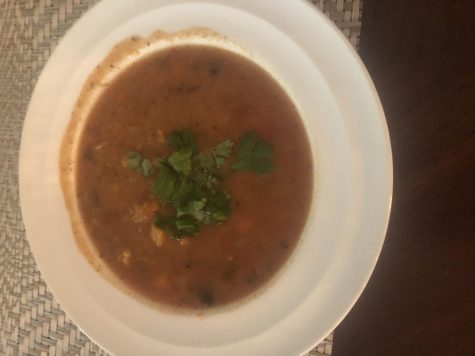 Start to finish: 2 hours 
Servings: Four- five people
Ingredients:
1 rotisserie chicken shredded and deboned 

1 can chicken broth 

½ sauteed onion 

1 can rotel

1 tablespoon chilli powder 

1 teaspoon cumin 

Salt and pepper to taste 

1 can red enchilada sauce 

Top with avocado, cilantro and shredded cheese 

Add tortilla chips and lime juice 
Cook rotisserie in oven at 450 degrees for an hour

The shred and debone 

Put in stock pot 

Add ingredients 

Simmer on low for an hour 
★★★★★ This chicken tortilla soup is the perfect fall soup. The soup has a tangy, spicy taste that leaves you wanting more. You can never just have one serving of this soup. Not to mention, the soup isn't complete without the slices of avocado on top that melt in your mouth. 
Double-whammy Toast 
Start to finish: 10 minutes 
Servings : 1 serving 
Ingredients: 
2 slices Dave's killer bread

½ avocado 

½ cup peanut butter 

½ banana 

Red pepper flakes 

Salt and pepper to taste 
Toast Dave's killer bread 

Cut and smash avocado and spread on 1 piece of toast 

Sprinkle with red pepper flakes 

Spread peanut butter on the other slice 

Place cut banana on that slice 

Recommended: Pair with blueberries and pomegranates great fall fruits
★★★★★ This toast is the quickest and simplest recipe I can provide. The combination of the avocado and peanut butter give you a great way to start your day and keep you full for hours on end. This is a healthy way to switch up your toast habit, especially if you only spread on butter. 
Pumpkin Bread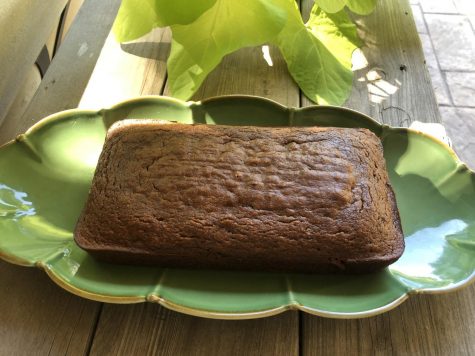 Start to finish: 1 hour
Servings: 10 slices  
Ingredients:
3 cups sugar (I used organic coconut sugar)

3 ½ cups flour (I used almond flour)

2 cups pumpkin

3 eggs

¾ cup water

3 tablespoons oil

1 tablespoon cinnamon

1 tablespoon nutmeg

½ tablespoon cloves

2 tablespoons baking soda
Combine sugar, oil, eggs and pumpkin, mix well

Sift together dry ingredients and add to the pumpkin mixture

Add in water, mix thoroughly until smooth

Bake at 325 degrees for 30 minutes

Bake loosely covered with tinfoil for 20 minutes
★★★☆☆ The pumpkin bread was not bad overall but it took quite a bit of time to cook so it is not ideal for the impatient baker. Especially considering how amazing the bread smelled in the oven. Overall it had a good amount of pumpkin flavor but an interesting aftertaste of spices. It was really yummy served with cream cheese icing. 
Crockpot Apple Cobbler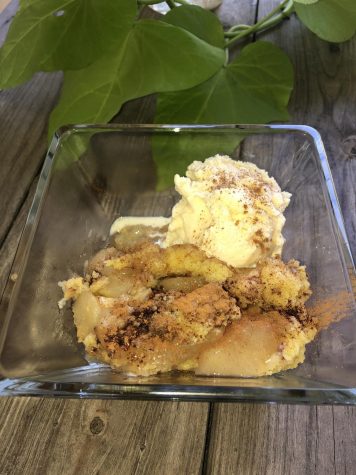 Start to finish: 2 hours and 10 minutes
Servings: Eight people
Ingredients:
1 box of yellow cake mix

2 cans apple pie filling

1 stick of butter

3 tablespoons cinnamon
Spray crockpot with non-stick cooking spray or use crockpot bag

Pour apple pie filling into crockpot and spread out evenly

Sprinkle cinnamon over the apple pie filling

In seperate bowl, combine cake mix and melted butter, stir until crumbly 

Pour crumble mixture over apples in crockpot, spread out evenly, and cover crockpot with lid

Cook on high for two hours

Serve with ice cream or by itself
★★★★★ The crockpot apple cobbler is the perfect recipe to throw together. It is essentially a dump cake so preparing the cobbler isn't tricky and doesn't take long. It is a very low stress dessert. This cobbler is amazing and has just the right amount of crunch on top to go with the sweet gooey apples. The ice cream and cinnamon on top makes this dish next level.
Recipe courtesy of Frugal Girls 
White Bean Chili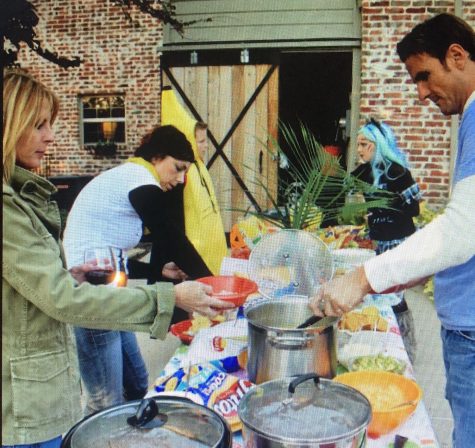 Start to finish: 1.5 hours 
Servings: Six to eight people
Ingredients:
1 teaspoon olive oil

2 medium onions

4 minced garlic cloves

3 (4oz) cans chopped green chilis

2 teaspoons ground cumin

1 ½ teaspoons dry oregano

½ teaspoons cayenne pepper

4 cans of great northern beans (white)

1½ pounds boneless chicken breasts (cooked and cubed)

5 cups chicken broth

3 cups grated monterey jack cheese

2 cans cream of celery soup
In large stock pan on medium heat, add first seven ingredients and mix

Add beans (do not drain) and bring to a boil

Add celery soup and broth 

Gradually add cheese – stir

Add chicken

Reduce heat and simmer for one hour

Serve with salsa, cheese, sour cream, chips and avocados 
★★★★☆ The white bean chili is always a crowd favorite and the recipe is always doubled in my house. The chili is a good, hearty meal and perfect to add warmth to a chilly fall day. Another great thing about this meal is how customizable it is with your choice of toppings.