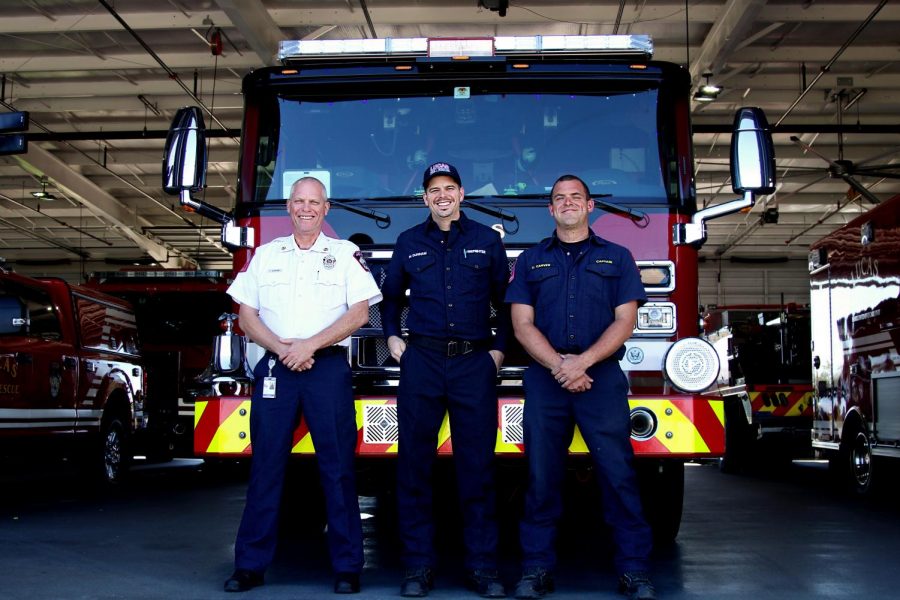 Firefighters of Lucas
October 2, 2020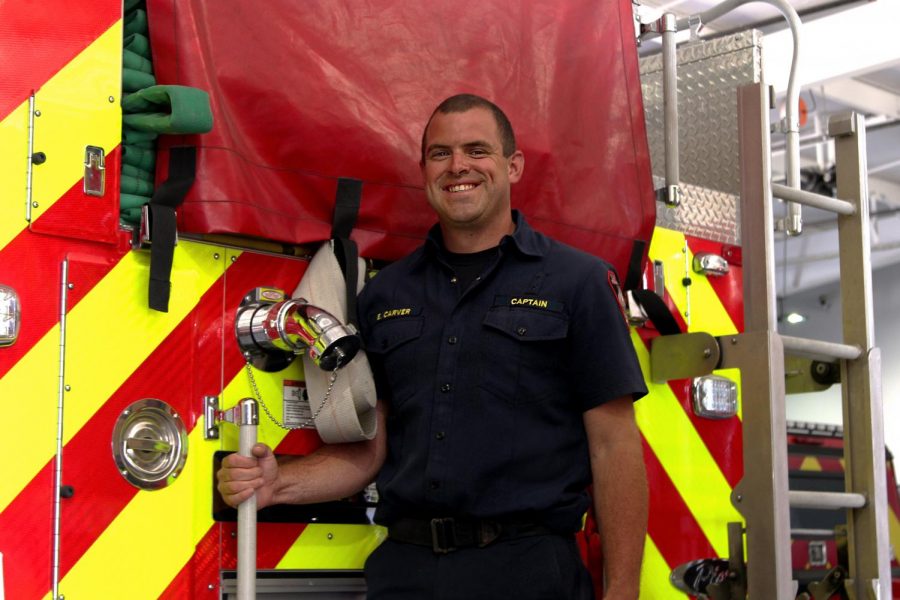 Ethan Carver, captain and paramedic
It was just another day for 14-year-old Ethan Carver. He was swimming on the dock and having fun with his buddies. His day of relaxation was disrupted when he realized that a girl was drowning a few feet away from him. This wasn't any normal childish prank; he had to do something to help.
'It took us 20 seconds to realize she wasn't messing around, and she was drowning," Carver said. 
Carver quickly dove in to find her. In a panic, she was brought back up to the dock while Carver and his friend attempted to help her start breathing again. Someone on the dock knew how to administer CPR and was able to perform it on the girl. Little did he know, he would be serving as a Captain and Paramedic at Lucas Fire Department years later. 
"After that, [I knew] I wanted to be a firefighter, just to be able to help people," Carver said.
Carver grew up in the Allen area from 1989 to 2006. He spent his past time shooting doves and quails in the area that has now been made into the middle school parking lot. 
"I've seen the city grow, and I still know the little spots that nobody knows about," Carver said. 
After Carver's experience at the dock, he graduated from Texas A&M and went on to continue his training at TEEX Brayton Fire Training Field, which is the largest fire station program in the United States. While he was there, he went ahead and got his EMT training as well. 
"There is only one program larger than [Brayton Fire Training Field], and it's in China," Carver said. 
When he's not at the station, Carver is busy at home with his daughters. Over the years, Carver has missed a few Christmases, but he is able to spend a couple full days at home with his kids during the week. 
"I get to spend more time with my daughters than most people do," Carver said. "I enjoy that time and am able to put that energy into family." 
The stress through intense situations can be intimidating, but Carver keeps himself calm. 
"You cannot have a bad day," Carver said. "You are on a call for somebody's worst day of their life." 
Carver encourages others to pursue a career in this field. 
"I have to make the people I serve feel like they are the only people in the world," Carver said. "This is the best job in the world."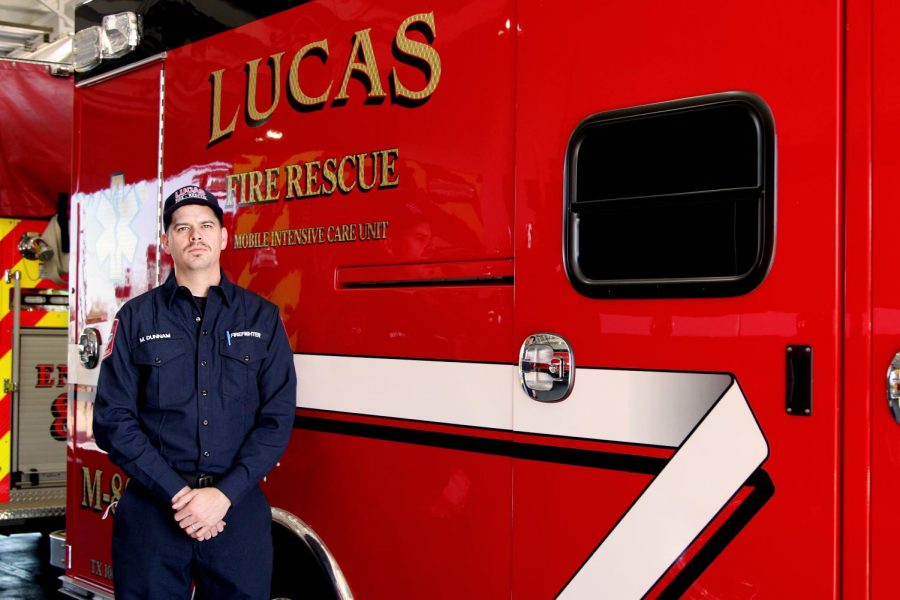 Michael Dunnam, fire paramedic
Michael Dunnam lived in McKinney for most of his childhood. He decided to join the fire service right out of highschool, alongside some of his buddies. 
"I went through EMT school, and then immediately to paramedic school," Dunnam said. 
Dunnam started volunteering in Fairview, and then eventually got a job in San Antonio. Ultimately, Dunnam moved back for a job opening at the Lucas Fire Department.
"I love Lucas," Dunham said. "We are a tight-knit community."
Dunnam recognizes that it is hard to be away from family hours at a time, but realizes that he is passionate about serving people.
"The time away from your family is challenging," Dunham said. "It's hard to be away from your loved ones for a one-third of the year."
Dunnam's family played a large role in his accredited success. His parents encouraged Dunnam to live a selfless life. 
"My mom and dad have always taught me to put others before myself," Dunnam said. "When you train with others, you want to help each other be better, and then whenever you achieve that together, you want to provide the best service you can to your citizens."
Dunnam enjoys going on EMS calls because he knows he is there to simply comfort people who need help. 
"That drives me to do better, to reassure everyone that they are going to be okay," Dunnam said. "Sometimes all they need to hear is that they will be okay." 
Dunnam believes that his job isn't for the glory; he is there to serve. 
"Sometimes you pull up on calls, and they are severe," Dunnam said. "There are severe ones that we have done years ago that I still think about everyday."
Despite hardships, Dunnam encourages others to go into the service. 
"You are either all in or all out," Dunnam said.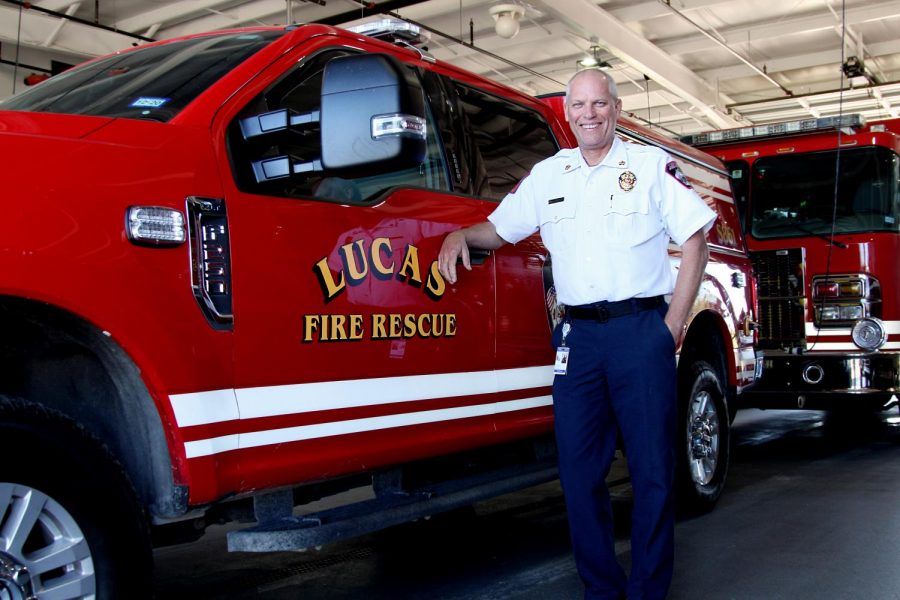 Ted Stephens, fire chief
Ted Stephens spent 18 years of his life serving as a high school teacher, teaching  business. Being fire chief of the Lucas Fire Department wasn't something that was a part of his initial career plan. 
"I miss the kids," Stephens said. "I miss the organization, but I love being a part of the firefighter community. I finally got to do something that I had admiration for in those in this field." 
After volunteering as a firefighter in three cities beforehand, Stephens was convinced that going full time was something that he was supposed to do. 
"I was able to challenge the TCPF [Texas Commission of Fire Protection], both written and skills," Stephens said. "I had been a volunteer firefighter and already had the volunteer certification."
Stephens believes that balancing the responsibilities of the fire department is challenging for the department. 
"Our job is to make sure citizens are safe and healthy and do what we can to provide the best in a terrible situation," Stephens said. 
Stephens believes it was a higher power that brought him to where he is today. 
"I personally believe that God gives us specific abilities and gifts," Stephens said. "Both teaching and fire service have a serving attitude."  
Stephens strives to provide the top-notch customer service atmosphere as possible. 
"We are very blessed. We have a lot of great equipment, phenomenal people," Stephens said. "Great times are not always going to be here, but the guys will step up to the plate and hit a home run every time." 
Stephens believes that this department is not glamor and glitz. 
"We do this because we love serving. It takes a special man or woman to be in the same building for 24 solid hours with your peers," Stephens said.