Column: Frame of mind
TRL's Mathias Alling shares the journey of his 100-mile bike ride
September 21, 2020
My legs are locking up; I keep pedaling
My right calf is cramping; I keep pedaling.
My toes have shooting pains going through them; I keep pedaling.
Mile 85.
The rider at the bike store told me about this mile — this infamous mile. Infamous Mile 85 — the point in a ride where people typically burn through their energy reserves and start to hit a wall. Infamous Mile 85 — an energy roadblock that's difficult to get past. 
I'm out of water, so I can't make any more electrolyte mixture. All I have are gels, and they aren't cutting it. 
I don't know if I'm going to finish. I just have to keep pedaling.
Just 15 more miles.
Setting out
I wake up and check my phone. It's 6:00 a.m. Two hours until my ride. I get up, put on my jersey and cycling gear. Next up, an equipment check.
Bike Tubes?
Check.
Wahoo computer?
Check.
Food and Water?
Check.
Heart rate monitor?
Check.
Charged Phone?
Check.
Everything I'm going to need for my first century. 
I asked my coach about doing one a week ago. I expected to have to wait a month. I was excited to say the least. 
All I can think about is the ride.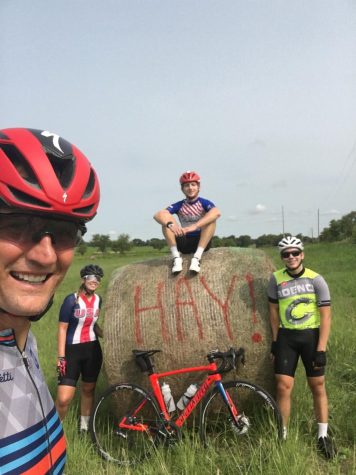 What if I crash?
What if I burn out?
What if I can't finish it?
What if I run out of food?
What if I run into another cyclist?
I just have to focus on getting ready. 
I eat a light breakfast. My parents put my bike in the back of our Chevy Suburban. We're off.
We arrive in the parking lot of the Richardson Bike Mart — in McKinney confusingly — where I meet the other people in my peloton. Abby Yates, Corbin Smith, and my coach, Chris Carlson.
Abby Yates — a cyclocross national champion. She competed in competitions all over the U.S. and Europe. 
Corbin Smith — slightly newer to the sport, cycling for a year, however, it seemed like he had been cycling for longer based on his skill level. 
Chris Carlson — a cyclist for 40 years. He could smoke us all if he wanted to.
He isn't going to though, at least not this time. He's leading all of us on a 107 mile ride from McKinny to Sherman, round trip. 
State Highway 11
If you told me a year ago I'd be riding at 25 mph down State Highway 11 after getting Braum's — I would've laughed. 
That's the situation I find myself in on Sept. 13, 2020 — 51 miles into my century.
We arrived in Sherman — the halfway point in our ride. Chris looks for where we can get some lunch.
We check the town square.
No luck.
We ride over to a local coffee shop recommended to us by some residents.
Closed.
We have to settle on the local Braum's, a lame stop by Chris's standards. Everyone orders and sits down for lunch in the booth. All our cycling gear except for our glasses is still on.
We hit the road in 45 minutes. After climbing an overpass, we're there. 
State Highway 11.
This isn't the first highway we've been on
This isn't the last highway we're going to be on.
It's one of the most intense highways we're going to be on.
We get into an aerodynamic single file formation.
First, Chris.
Second, Cormin.
Third, Abby.
Fourth, me.
We're riding on the shoulder of the highway. There's debris and litter everywhere. We're relying on Chris's hand gestures to know where trash and glass on the side of a highway are. 
I glance at the Wahoo Bolt mounted to my handle bars — over and over and over — checking my speed and how much power I'm generating in three seconds.
20 mph , 200 watts.
We keep riding. The cars are whizzing past us. All I can hear is the wind as we're gaining more speed.
23 mph , 210 watts.
The whole time we have to ride right along the rumble strips. They flank either side of the highway. Any farther to the left and we'll be on the highway itself. Any farther to the right and we'll hit debris. I look down at my computer again.
25 mph. 240 watts.
We stay at that pace for 10 minutes. I keep riding on Abby's wheel, drafting off of her. I feel the pebbles and dirt being tossed up against my shins.
I see Chris making the hand gesture for a right turn. We all slow down, 
25 mph.
23 mph. 
20 mph. 
15 mph — slow enough to turn.
We all lean into the exit. We're off the highway.
Mile 85
I can only think about the pain in my legs. "I need to keep pedaling."
We were just 15 miles away. My body is shutting down from heat. Dehydration. Exhaustion. I just HAVE to keep pedaling.
If only I had some water, I could mix it with my Nuun tablets and force my body to give me just enough energy. Enough energy to keep pushing. 
I call out to my coach, tell him my situation. He tells me to eat and drink everything I have. 
Most of all, he says, "Don't stop pedaling." 
If I do, my legs will cramp, and I wouldn't be going anywhere.
I have to keep pedaling, I didn't have to worry about anything else, I just have to keep pedaling. 
14 miles.
We were about to ride up to some rollers, small hills which rapidly alternate between small accents and descents. 
Keep pedaling.
13 miles.
Shooting pains are going through my toes, my coach keeps me accelerating while I loosen them. The pain goes away.
Keep pedaling.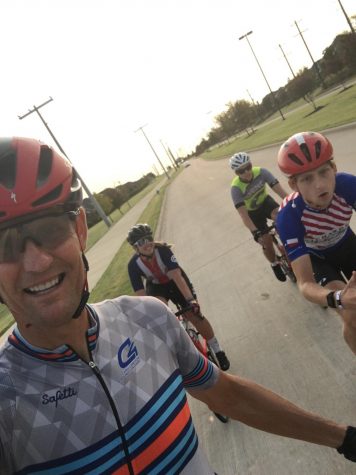 12 miles.
The energy gel I took earlier starts to hit me. I get a boost of energy but at the cost of developing a headache from the caffeine.
10 miles.
My head's pounding. Keep pedaling.
My coach is riding by me, he's making sure I don't fall behind. He only has to push me once or twice before I start to get my energy back.
5 miles.
Keep pedaling.
There's a large descent. It leads to an even larger incline. I can't get past it by pedaling normally, so I have to adjust my strategy. 
I get in the dropouts of my bike, hunched over into an aero position, and start to put everything I have into pushing up the hill.
After a minute, I'm finally up.
2 miles.
I'm past the wall.
Final miles
We finally make it. We're finally back in the parking lot of the Richardson Bike Mart.
I'm afraid to get off my bike. I don't want my legs to cramp. I finally look down at the ride summary shining on my Wahoo.
107 miles.
17 mph average.
6 hours.
2,668 calories burned.
I'm still too tired to process any of the information from the last 107 miles.
I ride over to where my parents are parked. They have a Yeti Cooler stocked with everything I want after such a long ride.
Protein Shakes.
Powerade.
Water.
Food.
I talk to my coach about the ride and the workouts coming up for me. I turn the air conditioning all the way up and tilt my head back. After 6 hours, I finally got to relax. That's when it finally hit me. 
I just rode 107 miles.