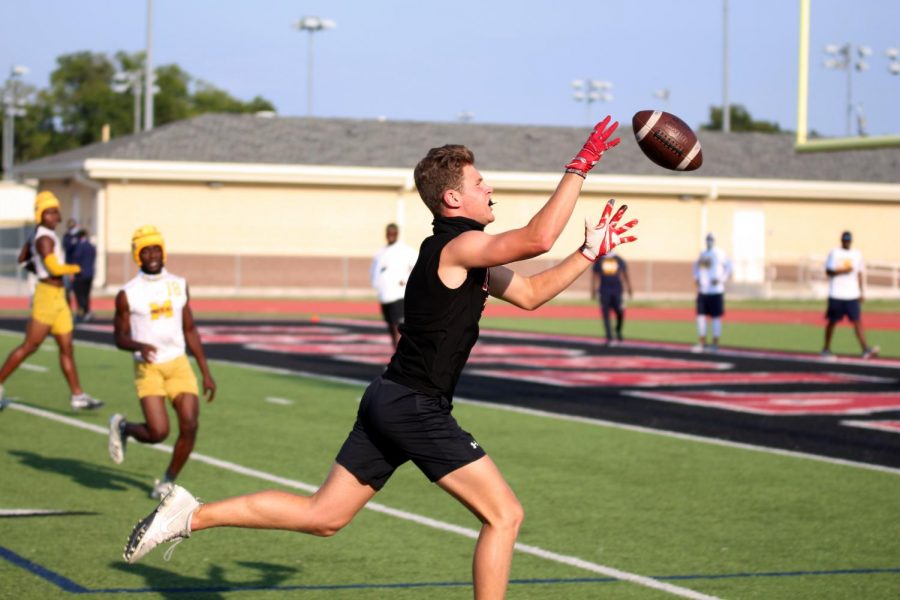 New leadership, new start
Football kicks off practices as the season approaches.
"We have been working out throughout the summer learning our new system with the new coaches," senior wide receiver Reid Westervelt said. "We just started using helmets, and next week we will start using pads."
The team will begin their season on Sept. 25 at home against John Paul ll. The team began practices on Sept. 8, along with performance course and skills in the summer.
"I think we will perform very well this year from all the hard work put in over the summer despite the challenges with Coronavirus," senior Hunter Smith said. "Additionally, the new coaching staff has brought a new level of intensity to our training which has elevated our level of play."
The team's day to day schedule consists of practices in the mornings, and after school film sessions to get ready for the first game.
"We have team meetings at 6:30 in the morning then if it's an A day we workout until about 10," senior wide receiver Reid Westervelt said. "Then we come back after school at 4:30 a.m.  for position and special team meetings. On B days we still start at 6:30 a.m. and end at 8:20 a.m. Then we watch the film again after school at 4:30 p.m."
The team started playing with helmets earlier this week, then added shoulder pads today. Saturday, they will be able to use full pads during practice. 
"It was awesome today to get out there and add the physical aspect of the game and get to do the things we have been missing all summer because of COVID," assistant coach Jake Mayfield said. "The team has really grown in their confidence and culture. The guys are extremely confident in their coaches and each other. They trust each other and really believe in what we are doing out there. I think they are excited and ready to rock and roll."