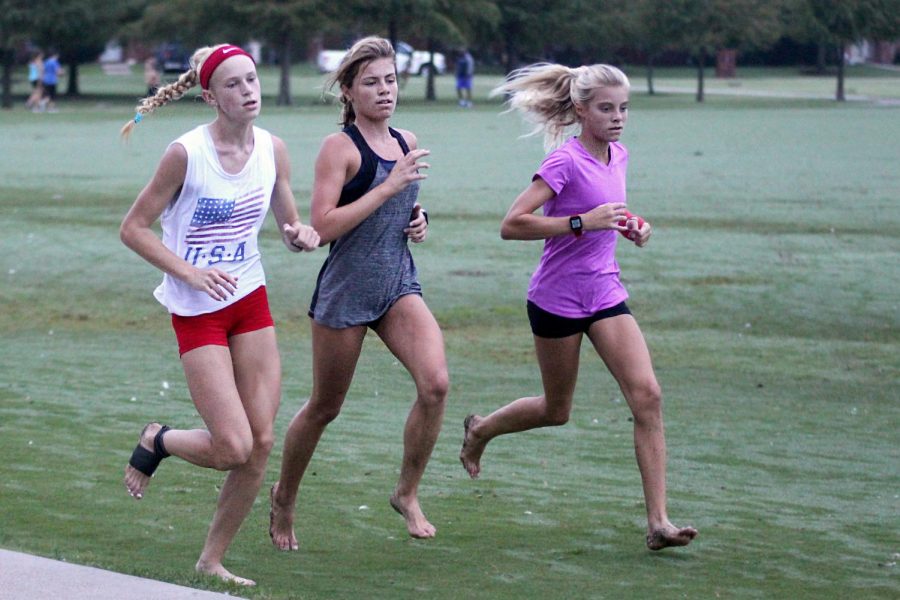 Cross country runs the extra mile
Cross country begins a new year on the track, with runs in the early morning preparing the team for the year.
"I am looking forward to the season for many reasons," sophomore Amy Morefield said.  "Our team is very strong this year with two new freshmen and all the other girls improving, as well as our team getting really close and becoming more like friends. I am also excited for all the races coming up this year even though they are altered due to the Coronavirus."
The team did not start running when school started. They used time in quarantine to improve for when the season began.
"As a team we weren't gonna let a pandemic get in the way of our training," senior Grayson Mousavijam said. "At the start, we had to train by ourselves and not as a group, but our coach made sure for us to keep on top of things. He would check in on us through text and through Zoom to make sure we did the proper mileage and workouts. I think the fact that teams from other schools were probably taking it easy given the circumstances made us better. I think that fueled us to take advantage of all the time we've been given."
As the season gets closer, the Leopards continue to prepare.
"We have been working hard since the beginning of May," Morefield said. "We ran hard by ourselves in quarantine until June, and then in June we started practicing with the whole team and are getting better. We have been running every single day except Sunday (our off day), doing long runs, hill work and strength work to make us better and more ready for the season."