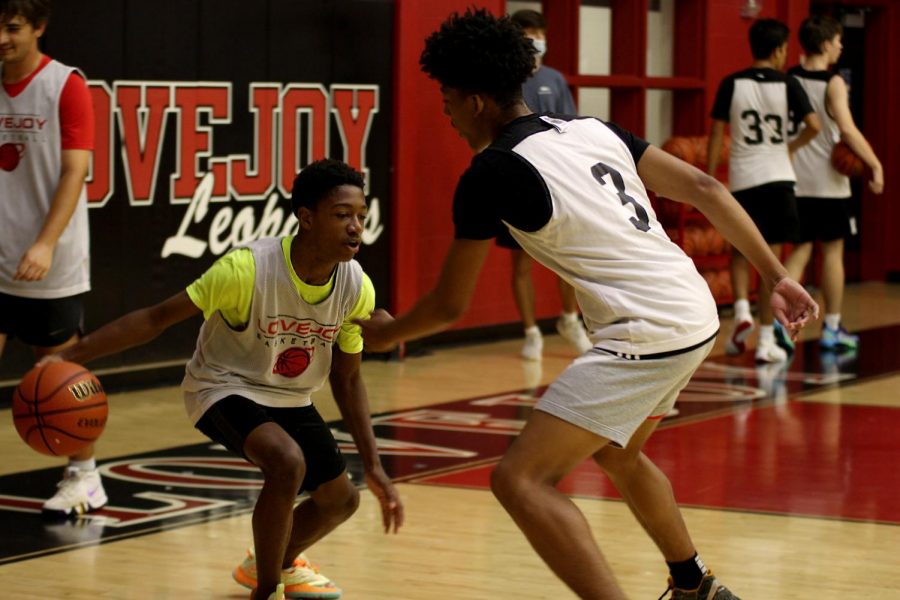 Basketball adjusts for season
Basketball prepares for a brand new season for both boys and girls. Although the season is not officially guaranteed, the Leopards begin practices as if the season will be in play as normal.
"The process isn't much different than any other season," boys basketball coach Kyle Herrema said. "We are just having to adjust to a schedule where we meet every other day. In some ways, it has been good to have longer practices, where you can really dive deeper into some concepts, and it will help us physically transition into after school practices a lot quicker. We've also narrowed our focus on a couple of things that we want to be really good at and will keep drilling into every day."
Both teams are working with different schedules to practice, while still following COVID-19 safety procedures. Every player enters and exits the building with a face mask and is required to bring their own water bottle. When players are not on the court, they sit six feet apart from each other.
"We practice every other day, go to the weight room and run a lot each practice," sophomore guard Kendall Dodson said. "We also wear masks during transition and use hand sanitizer after each practice."
After last year's first round loss to Independence for the boys, the teams looks ahead to try and improve.
"Our team has improved a lot this year because we all had plenty of time to work on our own during quarantine, so our shots are looking a lot better," senior guard Mitchell Weaver said.
After the girls first round exit to Frisco Liberty last year the team has a new mindset coming into the 2020 season.
"This year our team is young and our goal this season is to get stronger and to make a name for Lovejoy girls basketball," junior center Victoria Lafon said.