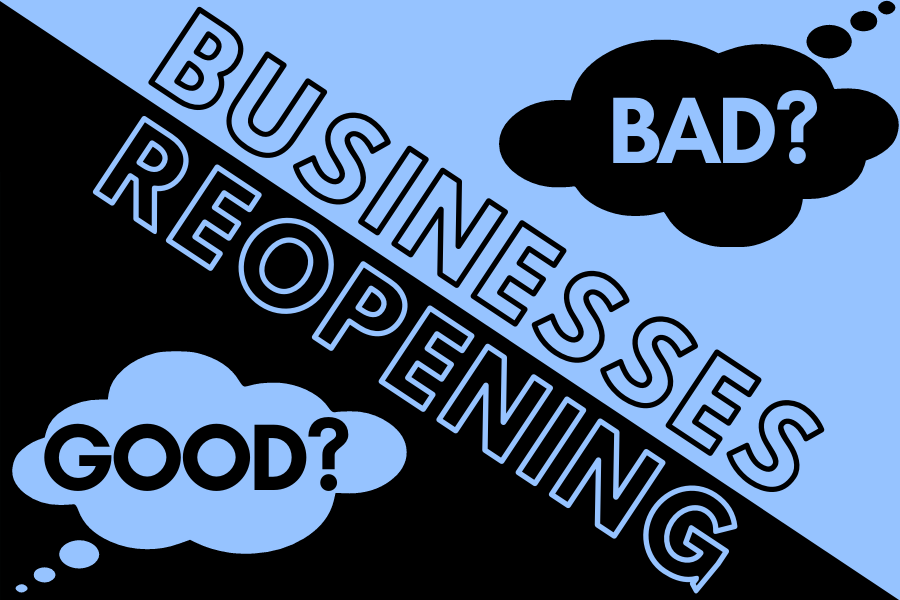 Turning the key
TRL's Daniel Khalil and Mathias Alling share their opposing views on Texas businesses reopening during pandemic
May 19, 2020
After being closed since mid-March as a result of COVID-19, businesses in Texas are starting to reopen. TRL's Daniel Khalil expresses his concerns about the spread of disease that could be brought along with businesses reopening, and Mathias Alling shares how this is part of the first step to recovering from the pandemic.
Community responsibility
With case numbers of COVID-19 decreasing , businesses are starting to open, but just at a lesser capacity. However, just because it is allowed, doesn't mean it is something that businesses should do.  
While it's good that some businesses will be allowed to open, especially for non-essential workers who need to make a living and support themselves or their family, I think that we need to take smaller steps than immediately allowing 50 percent capacity. The peak of the rate of infection is now behind us, but that doesn't mean that it's completely gone. If we think that the pandemic is over and start telling people it's okay to start going outside again, it is likely that we will see the virus flare up once again. The whole reason we went into quarantine was to stop this from happening. People will most likely get infected from people who don't practice safe hygiene, or from people who have been infected the whole time but haven't shown any symptoms. While most people are healthy and don't have any autoimmune disorders, the point of social distancing is to prevent people who may be asymptomatic from  infecting someone who could be at-risk. Let's take the Stonebriar Mall in Frisco for example. Before the pandemic, thousands of people went there every day. That means that even if the capacity is lowered, the amount of people still allowed in that building are way higher than simply a supermarket. 
The state has said that the current 25 percent capacity limit, which is soon to be 50 percent, is reflective of the amount of cases of the virus. This means that it can change based on the amount of cases found, but that number isn't accurate. The data that's coming in is not indicative of the true number of people actually infected. Without widespread testing, those numbers are much lower than the number of cases there actually are. This number also only shows people who decided to get tested. This isn't including people who haven't had any symptoms whatsoever (and therefore have no reason to be tested), or even people who couldn't get access to a test to begin with.
Opening businesses can be a good thing, but I don't think that it's a responsible thing to do until larger amounts of people have been tested. Without proper data gathering, re-opening businesses might even make the situation worse.
Leave a Comment
Open for business
Businesses opening to 25 percent capacity is a necessary step in restarting the economy and trying to bounce back from the pandemic. 
Now, I don't know how many people have been following how the economy has been doing since the beginning of quarantine, but in short, it's not good. A big reason for this is people can't go to work because of quarantine unless they are an essential worker. Of course, this was necessary during the peak of the pandemic to stop infection and protect people who were vulnerable to the virus; however, since the virus is starting to level out in infections we need to start returning to work. 
This doesn't mean that we will have a jump to 100 percent capacity in the span of a few days. With the state's current plan, they will increase capacity as it is seen to be safe to do so. At the same time, businesses are taking precautions such as seating different customers 6 feet apart from each other. People who don't agree with this course of action are saying that we should keep waiting it out in quarantine, so more people don't  get infected. To an extent, they are correct. At risk populations, such as those with autoimmune disorders and people ages 65 and older should probably keep quarantining until it's all clear. However, last time I checked, a majority of my peers, and people in our community are not 65 and older and don't have an autoimmune disorder. This opening won't affect a majority of the students in the district because we are in a healthy and safe age demographic.
So, at this point, the advantages of staying in lockdown and quarantine do not outweigh the drawbacks of small businesses struggling to continue paying their employees, the economy struggling overall, people losing their jobs and the mental toll of having to stay in quarantine. It's time to start opening businesses and get back to work or else all of those drawbacks are going to get even more severe. The longer we stay in complete lockdown with only essential services open, more businesses will go bankrupt and the economy will get worse. 
Leave a Comment