Speech, debate teams final for national tournament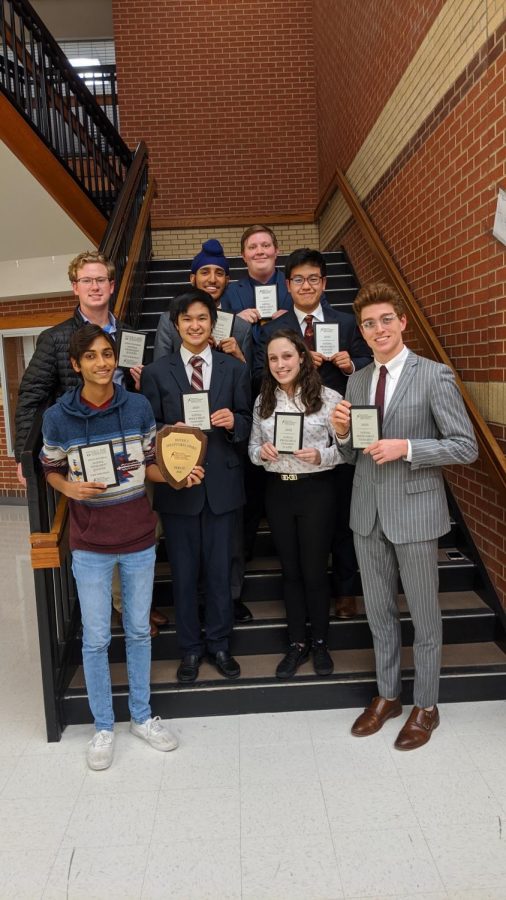 Yesterday and this past weekend, the speech and debate program hosted the annual Nationals qualifier tournament. The National Speech and Debate Qualifier is a two-three day tournament, at which the top two finalists in each category then compete in the national tournament. The National Speech and Debate Association (NSDA) tournament is held in Albuquerque, NM from June 14-19. 
Out of the ten schools that competed, the school's debate team took one-third of the final qualifying spots. So far, senior Luke Wheatley, juniors Kaya and Jack Czyz, Shalin Mehta, Tajvir Singh, Chase Stevens, Garrett Beckman, Ryan Wang, Andrew Mao, and Taryn Sutherlin, along with sophomore Kendall Carll all finaled at the tournament.
Luke Wheatley placed second in his event, finaling in dramatic interpretation and will compete at nationals. 
"It's a big deal for me because it'll be my fourth year qualifying in four different events – Original Oratory, Duo Interpretation, Program of Oral Interpretation, and Dramatic Interpretation, so I'll actually be recognized at Nationals for being a four year Nationals qualifier," Wheatley said. "It's just a great thing to be a part of and getting the school to send you on a trip to New Mexico in the summer is pretty nice." 
Dramatic Interpretation is a subset of the speech and debate event known as interpretation. 
"Interpretation is basically just acting, you take the scripts you find and cut them so they're shorter," Wheatley said."So, dramatic interpretation is exactly what it sounds like–it's a reenactment, usually of a movie script or play, and it's ten minutes long and you just perform it." 
Along with Wheatley, junior Garrett Beckman also finaled in the NSDA qualifier, taking first in his event.
 "I compete in POI, or Program of Oral Interpretation," Beckman said. "It's an event where you create multiple characters though multiple published scripts. Through those characters, you create a centralized argument where you advocate for something you believe is important."