Boys soccer looks to generate more offense in Rockwall match
Coming off a tie against 6A Allen, the boys soccer team (3-2-1), will return to Eagle Stadium to face Rockwall(2-1-3) today.
Even though the team did not get a win against Allen, they still held their own against a 6A team by not surrendering a single goal. Junior goalie Sammy Merrick discussed the positive takeaways from last week's match against Allen.
"Our team did well by not giving up even when they were fatigued and ready for the game to be over," Merrick said. "The team kept their shape and composure throughout the game, which really helped us not crumble against Allen."
Junior forward James Finch mentioned the importance of playing with poise.
"We stayed composed under pressure," Finch said. "We went into the game with confidence which really helped our team be successful."
For the team, a tie does not satisfy, but a win does. The players mentioned several areas they would like to improve on before the game against Rockwall.
Finch talked about specifics when it came to what the team needed to do to prepare for Rockwall. As a goalie, Merrick is considered the field general, a job requiring him to relay orders to his teammates.
"I would like to see the team play quicker when we're on the attacking half of the field," Merrick said. "When we played against Allen, the ball was moving too slow, and I hope we can get that fixed before our game against Rockwall."
Finch suggested some ideas as to how to generate more offense.
"I would like us to look up before we pass the ball more, and we need to run more combination plays throughout the team," Finch said. "To prepare for the game against Rockwall, as a team we worked on set pieces, finishing and combination plays which we didn't do enough of last week."
Merrick has a lot of confidence in this year's team, mentioning how he believes they could go four rounds deep into the playoffs.
"With the team we have right now, I can see us making it to the 4th round possibly farther in the playoffs assuming that we're ready for the challenges that we have to come across to get there," Merrick said.
About the Writer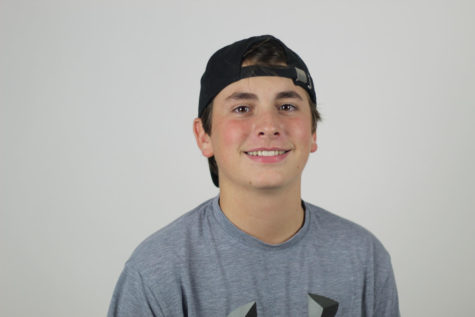 Drew Gager, Staff Writer
During his first year with The Red Ledger, sophomore Drew Gager will contribute as a staff writer. His hobbies include golfing and playing video games....