Review: 'Last Christmas' includes heartwarming storyline with unexpected twist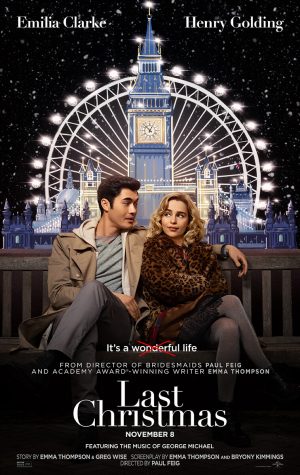 The Last Christmas, directed by Paul Feig, is mixed with drama and romance and has an unexpected twist at the end, leaving viewers craving more.
The movie begins in 1999 in Yugoslavia with the main character Kate (Emilia Clarke) singing "Heal the Pain" in her church's choir. Years later in 2017, Kate is in a bar trying to drink her problems away. Kate works in a year-round Christmas store and occasionally auditions for musical theater productions. While at work, she runs into this man (Tom, played by Henry Golding), and coincidentally continues to see him everywhere.  From then on, their relationship grows and develops as they become closer friends. Tom introduces Kate to a homeless shelter, and she ends up working there daily. She finds her happiness helping people and being with Tom.
Kate constantly refers to "when I was ill" in the movie, leaving the audience wondering what she was ill with. Its known that she has a drinking problem and visits the doctor on a monthly basis, however it isn't until later viewers discover that she had a mental illness and some kind of heart defect that landed her in the hospital in need of a heart transplant. Kate tells Tom her past with her illness and he helps her learn to accept herself and to find happiness. 
Emilia Clarke embodies the role of the destroyed, troubled Kate excellently. Throughout the movie Clarke portrays the looks, emotions, and personality of Kate exactly like the way the character would. Henry Golding plays the role of the constantly optimistic Tom. In this movie Golding showed everyone his incredible acting skills. He could easily portray the cheerful personality of Tom. 
The visuals in this movie are extravagant. With this movie being placed during Christmas time it creates a magical portrait. Christmas trees, lights, flowers, snow, and tinsel all completed the movie. 
Last Christmas is not much of a Christmas film except for the fact that it takes place during Christmas time. Overall the movie was a moving and heartwarming film, with a huge twist at the ending that will leave you wanting more. 
Rating: A-