Volleyball looks to extend playoff run against Creekview
Looking to continue a 14-game win streak, the volleyball team (42-5 overall, 10-0 district) will be playing the Creekview Mustangs (16-14 overall, 8-3 district) tonight at 7 PM at Frisco Lone Star in a neutral playoff matchup. The Leopards will be looking to continue their form in playoffs after beating Centennial in a bi-district game on Tuesday. 
"We are just trying to stay focused on playing our best volleyball," head coach Ryan Mitchell said. "We are working on receiving jump serves and playing against very strong outside hitters. [The girls] are excited about the challenges ahead for sure." 
Creekview finished second in its district with a record of 8-3 and is ranked 93rd in the state, while the Leopards won their district with a record of 10-0 and are ranked 4th in state. The match is being played in a neutral court at Lone Star. Lovejoy has a record of 28-4 in neutral matches this season, compared to Creekview who has a neutral record of 2-8. 
"I am confident the girls are prepared and ready to make a deep run this year," Mitchell said. "We need to work on our consistency and not giving up long runs of points. We learned that we have a young but talented team with talent that runs deep."
The Leopards played the Centennial Titans on Tuesday in their first playoff match, where the Leopards won 3-0. Junior Cecily Bramshreiber led the attack with 19 kills, while sophomore Averi Carlson tallied 40 assists across three sets. On defense, Juniors Lexie Collins and Ellie Jonke had two blocks each, and Bramschreiber performed 13 digs. The Titans scored 48 kills across three sets, while the Leopards scored 75 to win the game. 
"We had a great game plan on Tuesday and the girls played amazing versus Centennial," Mitchell said. "We came out aggressive. We got our middles involved early and so they were a big part of the match. We learned that we have a lot to work on and improve upon."
Prior to the playoffs, the Leopards played a warm-up game against the Guyer Wildcats, where Lovejoy won the match in the fifth set, 3-2. Bramschreiber tallied 21 kills, while Carlson had 51 assists. Junior Callie Kemohah had 21 digs, while Carlson had 3 blocks. Carlson also had three serving aces in the match.
Leave a Comment
About the Writer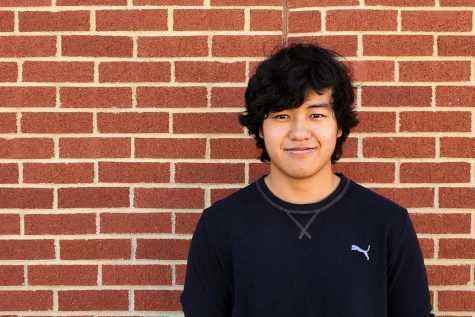 Ryan Wang, Section Editor
They say third time's the charm, but as senior Ryan Wang struggles to write his third (and last) staff bio, he feels anything but charming. Being crowned...