Football looks to lock down playoff spot in Lake Dallas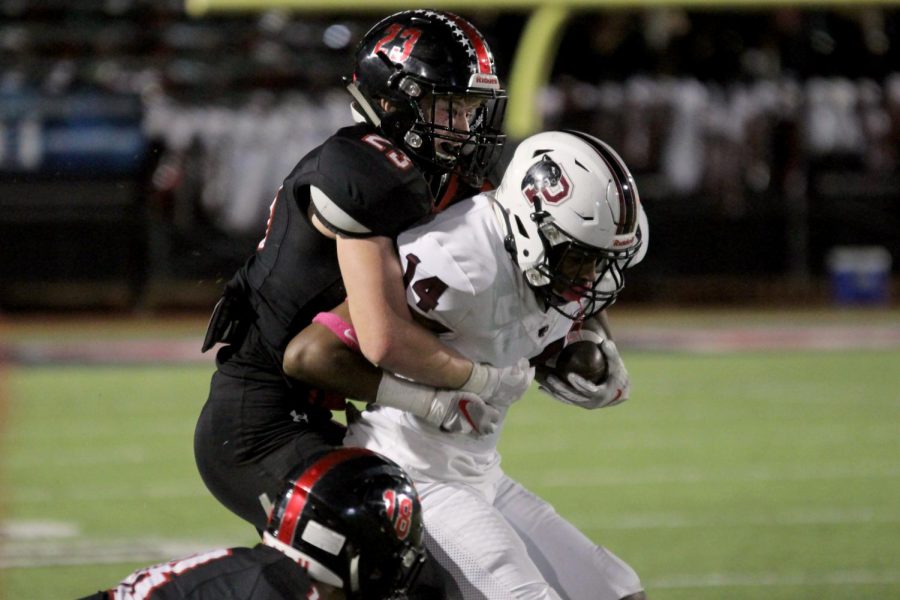 After securing a 63-35 victory over Princeton on homecoming last week, the football team (5-2 overall, 4-1 district) looks to face Lake Dallas (2-5, 1-4) in an away district game tonight at 7 p.m. 
Currently in a three-way tie for second place in district along with Braswell (5-2, 4-1) and Denison (5-2, 4-1), senior safety Quinn McDermott said the homecoming win last Friday was critical for the team's confidence going into the stretch run of the season.
"The win was very important was big district game," McDermott said. "We needed that win to stay in the front running of district," McDermott said.
The Leopard offense was led by an air raid by junior quarterback Ralph Rucker, who completed 75 percent of his passes (18/24) for 286 passing yards and five touchdowns to go along with 141 yards on the ground and a rushing touchdown.
Junior wide receiver Luke Mayfield led the receiving corps with a touchdown on seven receptions for 132 yards. Fellow junior wideout Bo Allen hauled in three touchdowns, and junior Reid Westervelt added his 11th touchdown on the season.
Sophomore running back Noah Naidoo said the team needs to play a strong game against Lake Dallas in order to try to catch up to first place Frisco (7-1, 5-1) in the standings.
"We go in there and get the win and get out as quickly as possible just like we always do when we go on the road," Naidoo said. "The team has practiced very fast this week, and we are preparing to go into Dallas and quickly put them away in the first half."
Naidoo also said playing against Lake Dallas could potentially be a glimpse of what this season's playoffs will look like.
"Personally I think this game away will be a show for how the team prepares or plays under pressure in a hostile environment like Lake Dallas," Naidoo said. "This team has a lot of courage and character when it comes to playing for each other, so I think this game away at Lake Dallas will be very crucial to how we will perform later on in the playoffs when we don't get to play at home all the time."
Senior offensive and defensive lineman Sean Summers said the team will be very hard to beat when they get both sides of the ball going.
"We just need to keep our offense going," Sumners said. "Our defense will follow, and once we get both things going, it will be very hard to beat us," Summers said.
Defensively, the team wants to create turnovers and put the ball in the offense's hand as much as possible.
"From last week we want to create lots of turnovers and get the ball back to our offense and capitalize by scoring on every drive," McDermott said.
About the Writers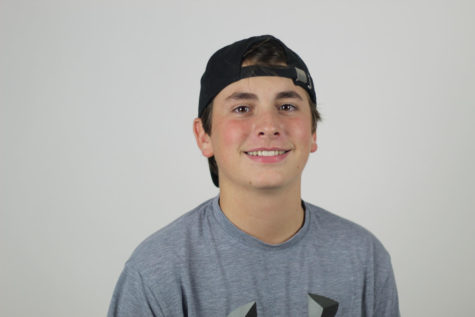 Drew Gager, Staff Writer
During his first year with The Red Ledger, sophomore Drew Gager will contribute as a staff writer. His hobbies include golfing and playing video games....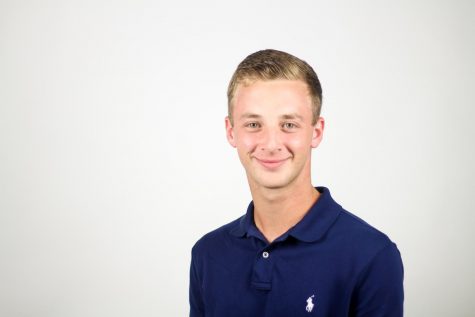 Benjamin Nopper, Section Editor
After joining staff and becoming an editor his sophomore year, Benjamin Nopper is enthusiastic to spend his senior year in the newsroom he considers...