Leap of faith
Cold conditions don't dampen steeplechasers' efforts at invitational meet
March 8, 2019
Everyone was cold and wet.
But nothing could compare with what the "steeplers" were about to endure.
The crowd began to gather at the north end of the track at 3:30 p.m. at Saturday's Lovejoy Invitational track and field meet. Only six events remained in the meet that had been marked by near-freezing temperatures, constant rainy winds, and a mist that slowly soaked through layers of joggers and jackets. The cheers for the boys' 4×200 meter relay faded as blanketed teammates grouped together along the track's outer chain link fence, some choosing to lean so close onto the track they could've been swept into the action themselves.
On the opposite end of the track, the racers positioned themselves at the starting line, alone against the cold while everyone in attendance focused their gaze on the pinnacle of the race, 200 meters away from the starting line. No crowds gathered in the chilly damp for the previous 110 meter hurdles, or the 100 meter dash. The audience was about to witness something special, something most high schoolers don't get the opportunity to experience until college. An opportunity taken despite the weather.
The water in the pit was calm–the steeplechase moments from starting.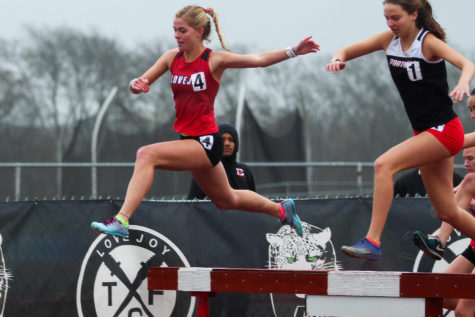 "You went numb after the first lap," junior Sara Rouse said. "The first lap happened, and we all went through the pit. Everyone's feet went numb. After that, the mist started picking up, too, and the wind, so then you were wet."
"And cold."
"And numb."
"And still had to jump over barriers."
Saturday's meet was one of only two meets featuring steeplechase each season, the second being the Lovejoy Spring Distance Festival on Saturday, March 9 at 5 p.m. With the high school being one of only a handful of schools in the state to have its own steeplechase water pit, the meets offer a unique chance for athletes across the region.
"It's a rare opportunity for any kid in the state that wants to run steeple," track coach Logan Kelly said. "It's pretty neat that we're able to offer that as a race."
Steeplechase is rarely run in high school, and is not recognized as a UIL track event and not included a part of the district, regional or state meets in Texas. It is mainly run at the collegiate and international level and is only currently "up and coming" in high schools, Rouse said. Lovejoy's meets attract a diverse group of competitors.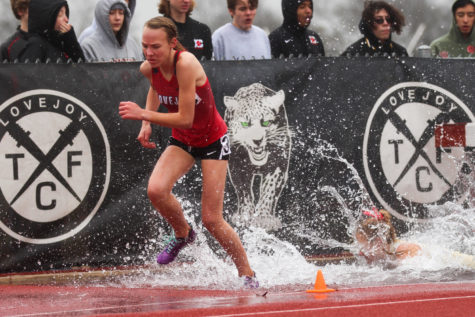 "It's cool because people from all over the area from Arkansas and Oklahoma, even from south Texas all come up to race it," Rouse said. "So you get people from all over the region that come specifically to our track to race against us."
The 2,000 meter steeplechase consists of five laps and 23 barriers, 36 inches high for boys, 30 for girls. Technique is crucial, Rouse said, because unlike hurdles, "if you hit [a steeplechase barrier,] you go down and not the barrier."
"I just know [for] the person next to me, it hurts just the same to them," Rouse said. "Whenever I see them kind of slow down, or stop and walk over it or sit down and turn over it, I think I can get that much farther ahead of them by jumping over it."
Steeplers often train by focusing on distance and the barriers, so the water comes as a surprise during most races.
"We don't practice on the water pit very often, so it always is kind of weird with one shoe wet and one shoe not wet," junior Zane Edwards said."I actually messed up on one lap so both my feet were wet, but normally it's supposed to be just my left foot, so that was interesting."
Given the conditions of the day, sophomore Jake Beets said he was nervous approaching the first water jump.
"At the starting line was probably when I was coldest, just standing there without my sweats on anymore," Beets said. "I was kind of debating what I would do if I fell in and, 'How cold is the water really going to be?' Then it was kind of like, 'Do I really want to do this?' For the first jump, I was worried about not falling onto other people and getting trampled on myself."
Freshman and second place finisher Katie Armstrong first got interested in the event at a steeplechase clinic in January, and last Saturday was her first time racing the event. Armstrong set a new school record and said teammates Rouse and junior Sofia Estes encouraged her before the race and told her to picture each barrier.
"I was a little bit scared to jump into the water because I've never jumped into the water, and it was so cold," Armstrong said. "All I was thinking about was how cold it was. When I was going into the race, I was just planning to take it barrier-by-barrier, but that ended up being water jump by water jump. I can't remember it because it went by so [quickly]."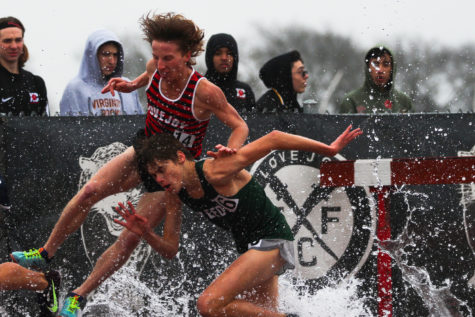 Despite not running as quickly as he had hoped, Edwards placed third and said the cold didn't affect his mentality during the race.
"[During the] first lap [I was] just thinking 'Zane, don't run too fast, calm down. You know you don't have to be in front. It's a five-lap race so calm down,'" Edwards said. "That's probably my mentality for the first couple laps, and then I think 'it's time to kick it in,' and just push hard. More effort."
At the start of the race, Rouse said the scene was "comical," as the racers joked with each other about what they were about the do. Rouse set a new personal record by 35 seconds by keeping herself focused on how close she was to being done on each lap.
"I had someone waiting at the finish line with a beach towel to wrap me up because it was so cold, but mentally I was so excited that it was done, and I was really happy because I knew that I had PR-ed," Rouse said. "There's sort of this sense of completion when you finish that kind of thing. You are so satisfied with yourself that you did it."
All five steeplers who raced at Lovejoy's Invitational will race the steeplechase again this Saturday, as well as some new competitors. Kelly said having steeple experience is beneficial for those looking to run in college, as most high schoolers don't get the chance to run the event.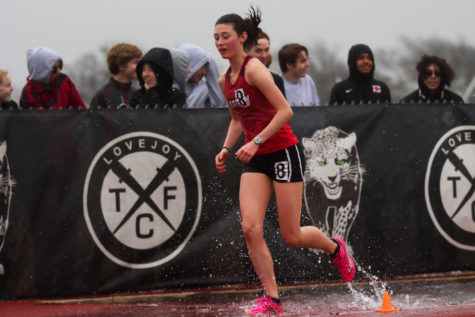 "I know Emily Gueller was one of our seniors last year, and she had a pretty solid steeple time, and that's something that the college she was looking into the most really liked," Kelly said. "The other positive is if they run a good time, they can qualify for Texas Relays in Austin, which is a really big track meet, and that's another [meet where] college coaches [look] for kids."
Because this weekend's meet is distance-centered, Kelly said he expects faster times because many athletes will have trained specifically for steeplechase. The times achieved at the meet could qualify runners for Texas Relays. With this being the third year with the steeplechase pit, Lovejoy runners have gained skills not commonly developed among high school runners.
"I think we've built kind of this steeple dynasty at our school," Rouse said. "No other schools have [steeplechase, so] we produce a lot of high level steeplers. It's very, very rare to find a high schooler with steeple experience."