'Stress Busters' week to be held Dec. 3-7
With the season of finals quickly approaching, the school has organized a "Stress Busters" week which consists of various activities to educate students about healthy ways to deal with stress and anxiety. Each of the five days, stations will be available to all students to participate in.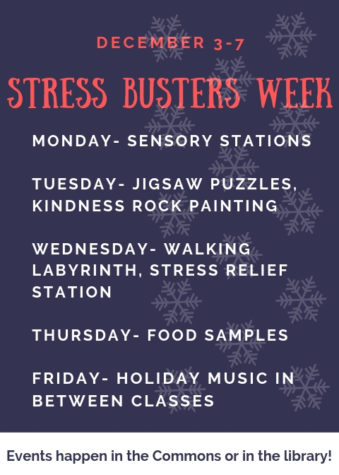 The activities will start on Monday, Dec. 3 with a sensory oils station, followed by a rock painting and puzzle activity on Tuesday. On Wednesday, there will be a stress relieving station and a walking labyrinth followed by food sampling on Thursday. The "Stress Busters" week will conclude on Friday Dec. 7 with holiday music being played during passing periods.
"The purpose of the week is to remind students to take time to breathe and to learn coping strategies," assistant principal Julie Hirsh said.
Hirsh partnered with Student Council to organize the activities in hopes of reminding students to have fun despite the stressful time of year.
"We decided to have the week a few weeks prior to finals so that students would not be cramming for exams and finishing up last minute assignments," Hirsh said. "We want them to remember to have fun in addition to their hard work."
Each activity has been created so that students can incorporate them into their everyday lives.
"Many of the activities can be carried forward daily," Hirsh said. "Hopefully, the students will enjoy the activities, and they will learn strategies to help ease stress and anxiety."
Hirsh said students often "forget to stop and enjoy life," and each activity created will remind them to take a break, breathe and have fun.
"I'm excited to see all the stations and things set up for us throughout the school," junior Kailey Senn said.
Students are encouraged to participate in the activities each day and decide which stress-relieving station works best for them. For questions or concerns regarding the activities, Hirsh can be contacted at [email protected].
About the Contributor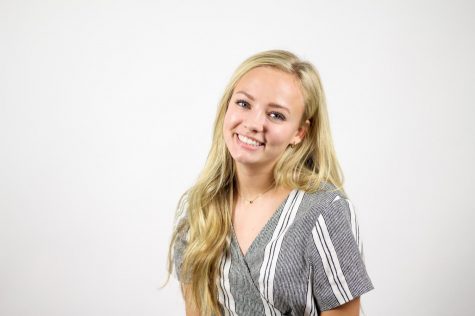 Lulu Butler, Section Editor
Continuing into her fourth year on staff, senior Lulu Butler serves as TRL's Managing and A+E Editor, and she is eager to start another amazing year...