Sports hit the big screen
Hang on for a minute...we're trying to find some more stories you might like.
Video boards to be added to football stadium, main gym
New video scoreboards will be installed this year at the football stadium and in the main gym.
The idea originated from observing surrounding districts.
"We have several school districts around [that have video boards] and I think as a district, what we saw was that there was an opportunity there on a couple of fronts," principal Chris Mayfield said.
Constructing the boards will provide the district with an opportunity to advertise with local and national businesses to raise money. The scoreboards are funded by money from the May 2014 bond election designated for improvements to the school.
The money made from advertisements will be put back into a general fund which is used to pay teachers' salaries and daily expenses.
"[The video board advertisements will] benefit the school by raising revenue that the state has taken away from us," athletic director Jim Bob Puckett said.
Along with raising funds, the boards will improve the quality of facilities at Lovejoy.
"[The boards help] enhance the experience of kids and our spectators," head basketball coach Kyle Herrema said. "From a coaching standpoint, for basketball, I know we could have the ability to show things in practice and put it instantly up on the board and be able to coach and help our kids instantaneously."
A variety of sports will be able to use the including volleyball and basketball in the gym and football and track on the field. Teams will be able to use the boards to their advantage during both practices and games.
"I think practice-wise, the boards are really going to help us because we need to practice how we want to play and how we want to win because we want to go far [in] playoffs this year," junior and varsity basketball player Carsen McFadden said. "We were cut short last year, so I think having those videos and watching that film and focusing on us is really gonna help us as a team."
The boards will be 39 feet 10 inches high and 41 feet 2 inches wide and will have brick support pillars.
"So initially [the school board thinks it is] going to put [the board in the gym] on the home side, so that's going to be in the southeast corner [of the gym] and in the football stadium, it'll be in the south end zone," Herrema said.
The boards will be student-run and will be used for various events including pep rallies, school presentations and senior signing day.
"When we have our Fine Arts Festival or any type of student activities, we will be using the video boards to project their activity," Puckett said. "For anything that's happening in that main gym, [the district] will be able to utilize that board for their particular program."
The boards are expected to be installed in the gym by Christmas and in the football stadium by the end of this school year. Herrema said the addition of the boards will raise the profile of the school's athletic programs.
"I think we're really setting ourselves apart from some other people," Herrema said. "We've always kept up with other facilities and I think we've always got the best facilities. When we show people around Lovejoy for the first time, they're in awe with all the facilities that we have."

About the Writer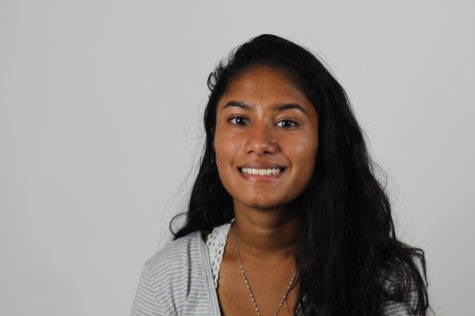 Arushi Gupta, Staff Writer
Arushi Gupta is a sophomore this year, but she is told she is short enough to be in seventh grade. This will be her second year on staff at The RedLedger, and she could not be more ecstatic to return to the newsroom, which has become a second home for her. Arushi has had an interest for journalism since joining the middle school's publication LeopardLife and decided to pursue her interest throughout high school by joining TRL as a freshman.When not in the newsroom, she can be found playing tennis, spending time with her friends, or binge watching a variety of movies and TV shows on Netflix. One of the most important things on Arushi's bucket list is to travel. Recently she has wanted to go to Greenland, but ever since she was little has dreamed of going to Paris. Arushi plans to fill her sophomore year with an abundant amount of memories and is looking forward to contributing as much as she can to The Red Ledger.