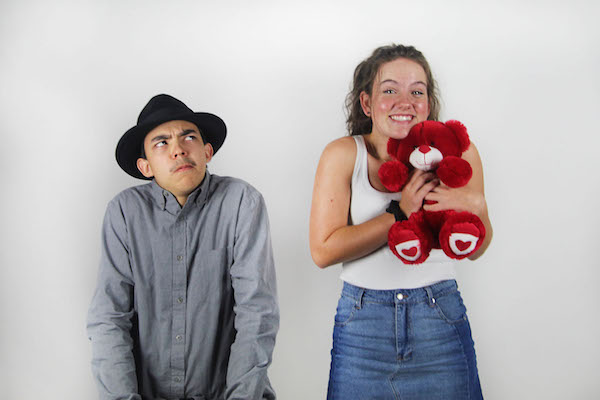 Review showdown: 'To all the Boys I've Loved Before'
September 7, 2018
Perfect for hopeless romantics
The swoon felt by Lara Jean Covey (Lana Condor) and the goofiness portrayed by Noah Centineo as Peter Kavinsky is an honest sum of emotions felt after watching "To all the Boys I've Loved Before."
This movie is based on the 2014 novel by Jenny Han, which she originally wrote based on her own habit of writing love letters to boys she had crushes on in high school. This is a movie for the hopeless romantics like Han and Lara Jean.
Lara Jean and her sisters are a very close-knit group. So when her younger sister Kitty (Anna Cathcart) started to sense Lara Jean's problems with love, she mailed out her five letters in hopes of giving Lara five opportunities for romance. This may have been an "awwww" moment for the audience and love fanatics, but not for Lara Jean. However, this humiliating interaction brought Peter back into Lara's life resulting in a clever plot-twist.
Centineo played the part of Peter with flair. There are videos spreading like wildfire across social media of his famous pocket-spin (influenced by the 1980s film "Sixteen Candles") and his charming but casual catchphrase "Woah, Woah, Woah," which he used throughout every scene. His quirky attitude added a lighthearted touch to the plot. Fan pages have been created and heart eyes have been made for Peter Kavinsky.
In the beginning, Lara Jean finds herself fighting feelings for her childhood best friend Josh (Israel Broussard), who just so happens to be her older sister's recent ex-boyfriend and one of the boys who received a love letter. Not wanting a catfight with her sister, Lara Jean hesitantly agrees to Peter's plan to pretend they are in a relationship in order to produce jealousy in Peter's ex-girlfriend Gen, played by Emilija Baranac. However, their relationship takes a turn when this "couple" realizes that their love has grown and they aren't pretending anymore. This leaves viewers on edge through the film waiting for what they have hoped for all along–a true love story for Lara Jean.
Toward the end of the movie the relationship goes through some nail-biter issues that can potentially upset some viewers.Watching the lovebirds argue is a bit intimidating, especially with hopes of them ending up together. It's not the fact that we don't know whether or not they will couple up because, spoiler alert, it's a teen romance film, but more along the lines of the idea that they might fall out of love.
This rom-com has a relatable plot along with jokes sprinkled throughout. It is perfect between love and cheesiness within scenes. Viewers won't have to pretend to fall in love with this film.
My rating: A+
Leave a Comment
Entertaining but cliché
It isn't a stretch to say that it's far easier to watch a high school movie today than it was in years past.
This is because Hollywood has finally thrown out shopworn stereotypes and silly, over-the top, cartoonish characters in favor of natural dialogue and characters who look, act, and talk like normal people, and this movie is no exception. The key to appealing teen movies to a teen audience is making the story and characters relatable to them, and in that category, "To All The Boys I've Loved Before" succeeds.
The best way to rate this film is to say that it's far better than anything the Disney Channel could whip up. It's not a great film (few, if any, romantic comedies are), but it is perfectly passable.
The ultimate strength of the movie is its subversion of stereotypes and cliches that are often present in teen films and rom coms alike.
Take, for example, the father character, played by John Corbett. He does some of the things you'd expect the father character to do in this kind of movie; he takes pictures of his kids on the first day of school, lays ground rules for his daughter's boyfriend, and draws out his good-bye to his eldest daughter when she's at the airport, headed for college.
But while these scenarios had the potential to be over-the-top and cringeworthy, they weren't. The picture takes a few seconds and it's nothing embarrassing, the good-bye at the airport is nothing beyond a long hug, and the rules he gives the boyfriend are brutally simple ("No drinking, no drugs, no hands") and are delivered in a friendly, casual tone.
The subversions don't end there. The normally annoying younger sibling is played very clever and very funny, the "weird" best friend isn't so much weird as she is eccentric, and the bully character isn't given a clique of sidekicks to follow her around everywhere and chortle when she insults the protagonist.
The point is, the audience should have no problem believing these characters could exist in real life, an achievement that does not extend to such movies as High School Musical or Mean Girls.
If you're in search of a comedy, this might be good for you. There are moments throughout to chuckle at, and the aforementioned younger sister and the best friend manage to produce some laugh-out-loud lines. If you're in search of a romance, this might not quite be it; the two lead characters represent the movie's weakest point. They aren't terrible, but sometimes their acting is a little hit and miss, which makes it hard to care about what happens to their relationship in the end.
So for people who aren't fans of rom coms, this movie will likely be a pleasant surprise. It's not the best and it's not the worst, but still far better than most of the teen comedy-dramas they used to make.
My Rating: B
Leave a Comment