Theatre to show trio of student-directed productions
Hang on for a minute...we're trying to find some more stories you might like.
For the first time in the history of the theatre program, a trio of shows, each directed by seniors, will be performed on April 13 in the black box theater. "The Diary of Anne Frank" will be performed at 6:00 p.m., "The Staggering Heartbreak of Jasmine Merriweather" at 7:00 p.m., and "Over the River and Through the Woods" at 8:00 p.m.
"We found out that there was was an excessive amount of students who wanted to do theatre but didn't want the enormous commitment of one-act play," theatre director Jessica Brewster said. "We wanted to make sure we were servicing those students and their need to fulfill their creativity. The directors chosen were of high caliber and each had a lot of experience and have shown exceptional leadership skills."
Auditions and callbacks took place on January 24 and 25. Casting results were announced that weekend. The students involved in these three plays have been rehearsing and practicing since early February.
"I'd say [the rehearsals] are going really well," senior Jacqueline Genovese said. "We usually end up finishing earlier than scheduled, which is a good sign of productivity. Everyone pays attention and is respectful throughout the entire process, but we still have a fun balance."
"The Diary of Anne Frank," directed by senior Audrey Edwards, is a historical drama based around the experiences of Anne Frank (played by sophomore Zoe Bessa) as she hides with her family in an attic to escape the death and destruction of the Holocaust. Along with her mother, father, and older sister, Margot, she lives with Mr. and Mrs. Van Daan, their son Peter, and Mr. Dussel.
"I think Mrs. Brewster chose me because I've done some directing in the past," Edwards said. "I've directed 'Charlie Brown Christmas' for the last two years. Acting isn't really my thing anymore. I think that she knew that I'd have fun with it and do well at it, so I guess she wanted me to do one more thing before I graduate."
"Over The River and Through the Woods," directed by senior Raegan Vaughn, is a comedy that tells the story of Nick (portrayed by freshman Chase Stevens), a young adult living with his grandparents, Frank, Aida, Nunzio, and Emma. After hearing their grandson has been offered a job in Seattle, they try everything in their power to keep him from "abandoning" them forever.
"It's definitely a new and fun, exciting experience being on the other side of the table," Vaughn said. "It's a show that I saw at a summer camp and that I did in middle school, and I knew that I'd absolutely have to do it one day. It was funny, but it had it's sad moments too."
"The Staggering Heartbreak of Jasmine Merriweather," directed by Genovese, is a comedy about a teenage girl named Jasmine (played by freshman Maddie Konecny) who gets her heart broken when her "perfect" boyfriend, Braden, dumps her, setting forth a series of events that ends up with her in in-school suspension.
"It's really fun because I get my own creativity within the show," Genovese said. "There are sometimes when I wish I had certain guidelines, but it's really fun getting my thoughts onto the stage. It's really fun to use my creative side of theatre."
The student directors went through an extensive process when deciding on the plays they wanted to direct.
"I went through several plays before really landing on 'Diary of Anne Frank,'" Edwards said. "I started with 'Bridge to Terabithia,' but it turned out to be way more expensive than we had the budget for. I picked ['Anne Frank'] because I was already interested; I reread the script, and I really liked it."

About the Writer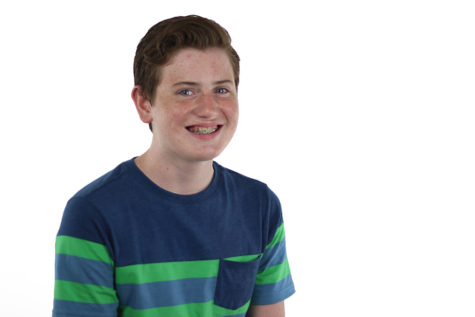 Jack Marsden, TRL Reporter
Freshman, writer, student, journalist. Jack Marsden is new to The Red Ledger staff. He joined the newspaper in seventh grade and loved the program from...