One-act play to prepare for district contest
It's that time of year when UIL one-act play (OAP) members are up late practicing and have a shortage of homework time. With the district competition coming up on March 7, they are in the "stressful" part of preparation, senior Hannah Hansen said.
The one-act play this year is "Violet Sharp" by William Cameron and is directed by theatre advisors Jessica Brewster and Timothy Doyle. This true story revolves around the investigation of events concerning the kidnapping and murder of Charles and Anne Lindbergh's 20-month-old son, Charles Lindbergh Jr., in 1932.
Main character Violet Sharp was employed as a waitress in the home of Mrs. Dwight Morrow, Anne's mother. The police believed she was a suspect because she lied in her initial interrogation about her whereabouts the night of the kidnapping. She frequently changed her story when speaking to the police, and the play explains why she was forgetful about the details of that night.
"Nobody believed [Violet's] alibis, nobody believed her stories, and everyone always thought that she was guilty," Doyle said. "Years later as more evidence came through, it's likely that she did not and had nothing to do with it. It's kind of sad that she was treated that way, so we're going with this idea that she was a helpless victim of this crime and how that mirrors the baby positions where he was also a helpless victim of this crime."
The rules for OAP include a time limit of 40 minutes and a maximum of 15 people in the cast, five technicians, and four understudies.
Hansen plays Violet Sharp, and after researching the character, she said she feels ready and excited for the performance.
"I love the competitions," Hansen said. "It's such a celebration of just theatre, and it's just so fun to see what other schools are doing and their programs as well. If we advance, there's no better feeling than knowing after a one-act competition that you've done so well and you put it all out there on the stage."
About the Writer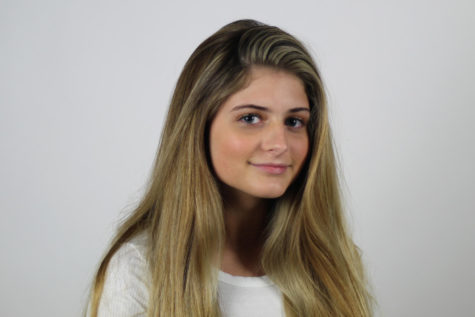 Hannah D'Iorio, Staff Writer
Junior Hannah D'Iorio is ecstatic about her fifth year in journalism. People who knew her in the previous years would probably say that she often sees...