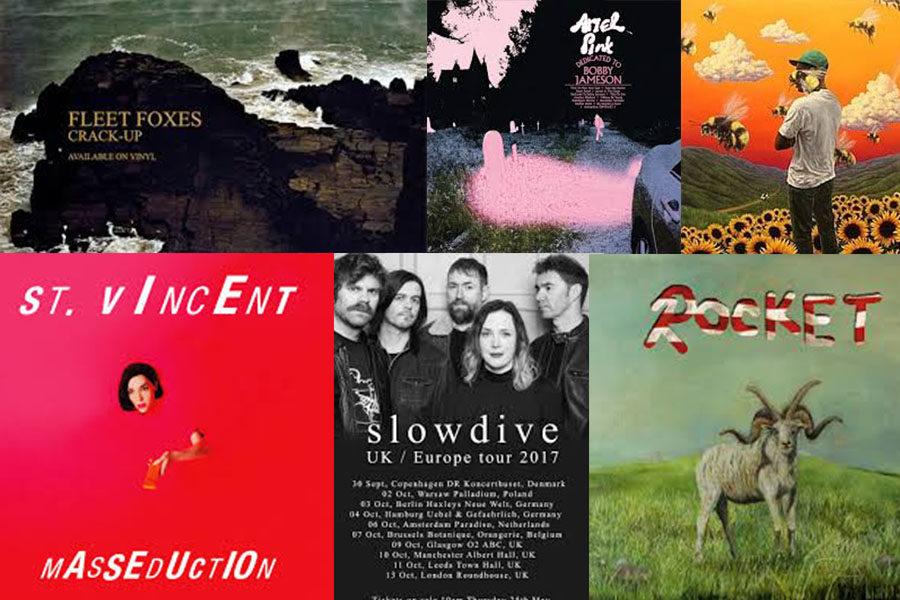 Review: Best albums of 2017
January 24, 2018
Joe's favorites
5. Slowdive – "Slowdive"
After a 22 year hiatus, the pioneering dream pop band is back with an album that can not only stand among their three established classic records but among the best albums by many other modern shoegaze artists. Slowdive's self-titled opens with a song that is easily among the best they've ever done, "Slomo," and continues to be consistently great. It's one of the few truly great "comeback" albums ever and deserves to be recognized as such.
4. Fleet Foxes – "Crack Up"
Fleet Foxes' third album is their best yet. A dense, gorgeous collection of folk odysseys that reveal themselves more and more with each listen, the songs are influenced by folk contemporaries such as Joanna Newsom. The group's songwriting and vocal harmonies have never been better, with the sprawling "Third of May" and theatrical "Mearcstapa" ranking among the finest songs they've ever done. With each successive album, the band proves that they're not a one-album wonder.
3. (Sandy) Alex G – "Rocket"
More so than his Bandcamp contemporaries such as Car Seat Headrest, Alex Giannascoli has proven himself to be an outstanding songwriter, and "Rocket" is his most accomplished album yet. Spanning from alt-country on songs like "Proud" to jazz ("County") to industrial ("Brick"), what the project lacks in focus, it makes up for in creativity and great songwriting. Every song and change in style on the album is exciting, and it remains a wonderful surprise after countless listens.
2. St. Vincent – "MASSEDUCTION"
Annie Clark has been making albums that are technically pop music under the name St. Vincent since 2007, but her 2017 effort "MASSEDUCTION" is the furthest direction she's taken the style, and the results are stunning. The album's first half is the best stretch of music she's ever put out, with highlights being the manic "Pills," and the noisy, anthemic title track. What really makes the album work, however, is the numerous piano ballads, such as "New York," that serve as a break from the chaos surrounding them, and makes what could've been a forgettable pop album a surprisingly poignant listen.
1. Tyler, The Creator – "Flower Boy"
On "Flower Boy," California rapper Tyler, The Creator has finally grown up. His production sensibilities have always been sharp, but his lyrics have held him back, often amounting to little more than an attempt at shock-value. There's none of that here, with the rapper moving past his problematic previous efforts and focusing on positivity, with a delicately arranged that makes for perfect listening on a hot summer afternoon. He hasn't fully lost his edge though, as for every sentimental love song like "See You Again," Tyler delivers an angrier, more upbeat traditional rap song like "I Ain't Got Time!" Not to mention, the arrangements are surprisingly lush and often beautiful, in a genre that usually isn't described as such.
Honorable Mentions: Brockhampton – "Saturation Trilogy," Lorde – "Melodrama," Paramore – "After Laughter," Foxygen – "Hang," Charli XCX – "Pop 2," Oneohtrix Point Never – "Good Time (Original Score)"
Leave a Comment
Noah's favorites
5. Ariel Pink- "Dedicated to Bobby Jameson"
A pioneer in the hypnagogic pop genre, Ariel Pink has continued to stun his cult following with a dizzying array of eerie pop ballads and nostalgic trips to the cassette culture of the 1970s and 1980s. "Dedicated to Bobby Jameson" is yet another reminder of the songwriting chops Pink has built a career on, feeding decades of sunshine and bubblegum pop through a humorous yet tasteful filter. A track like "Bubblegum Dreams" is a tongue-in-cheek tribute to said pop styles, while "I Wanna Be Young" is an older lo-fi recording reminiscent of Pink's "Haunted Graffiti" output. This record certainly holds its own among Pink's vast back catalog of Do-It-Yourself records and should stand the test of time in the realm of underground pop music.
4. Arca- "Arca"
Alejandro Ghersi, better known by his stage name Arca, has gained more recognition from his client list than his lush and indulgent solo work. With programming and songwriting contributions to Kanye West's "Yeezus" and Bjork's "Vulnicura," Arca learned to adapt and tailor an experimental electronic sound for traditionally mainstream, accessible artists. His second solo album, "Mutant," alongside the self-titled "Arca," have served to showcase the more progressive and musically challenging side of Ghersi. The sounds presented here require multiple listens for a substantial comprehension of the artistic ambition of Ghersi, and over his eccentric instrumentals are his own vocals, making it the first Arca project to feature singing, which comes as a pleasant surprise.
3. Charli XCX- "Pop 2"
The pop sphere was first exposed to British sensation Charlotte Aitchison, known as Charli XCX, with radio singles like "Boom Clap" and contributions to Icona Pop's "I Love It." However, last year marked a seismic shift in Charli's style with the release of her "Vroom Vroom" EP, which featured production from the hyperkinetic SOPHIE. The avant-garde experimentation of the 2016 EP has translated to 2017's "Number 1 Angel" and "Pop 2." "Pop 2" is a danceable, charismatic addition to the XCX discography. There's a myriad of musical guests who provide their own stylistic flares, particularly CupcakKe on the track "I Got It." Overall, "Pop 2" marks another installment of enjoyable, experimental, and boisterous pop music from the budding musician, and one can only hope such an artistic streak is prolonged with releases like this.
2. Bjork- "Utopia"
Few artists have demonstrated such an ethereal style of art-pop as Bjork has throughout her prolific career. Albums like "Debut" and "Post" captured audiences' attention with whimsical and ambitious tunes spanning several genres, and albums like "Volta" and "Biophilia" served as reminders of the creative, eclectic, and celestial nature of the Icelandic artist's works. Following the somber and sentimental "Vulnicura" from 2015, "Utopia" is a dynamic follow up which details a reawakening subsequent to a heartbreak. With progressive electronic mastermind Arca handling the bulk of production, the heavenly incorporation of flute, and underlying political themes of Bjork's respective political utopia, Bjork's longest album to date is a masterful manifestation of the crossroads between technology and high art.
1. Sun Kil Moon- "Common as Light and Love are Red Valleys of Blood"
Legendary singer-songwriter and provocateur Mark Kozelek has used Sun Kil Moon as an artistic outlet following the disbandment of his former band, Red House Painters. For over a decade, Kozelek has been producing one critically acclaimed folk-rock album after another. "Common as Light and Love…" is a flawed yet beautiful odyssey which features stylistic shifts between witty, politically charged anthems and somber ballads. An element of absurdism is presented here, as on the track "I Love Portugal," which features Kozelek reading the full official statement from a venue regarding a canceled performance. Whether charming or bewildering– or both at once– Kozelek shows that he isn't quite finished constructing slowcore masterpieces.
Honorable Mentions: John Maus- "Screen Memories," St. Vincent- "MASSEDUCTION," Brockhampton- "Saturation," Slowdive- "Slowdive."
Leave a Comment