New local paper seeks to connect with community
Hang on for a minute...we're trying to find some more stories you might like.
There's a new paper on the block–the Lovejoy Messenger.
Launched on Jan. 11, the Lovejoy Messenger focuses on activities and events in the district. The paper, however, is not actually made by a group that resides in the Lovejoy area, but by residents from the neighboring town of Murphy.
"We had heard from some friends and acquaintances who were moving into Lovejoy," said Mikey Ames, co-owner of the Lovejoy Messenger. "They kept referencing to 'living in Lovejoy,' even though it's not a 'place' to live in. It was at the same time when we were asking questions about being able to expand beyond what we're currently doing in Murphy."
According to Ames, the residents in Murphy are occasionally confused as to why a paper called the Murphy Messenger covers news in the Wylie School District. The reason is that many young people who live in Murphy attend Wylie schools. This disorientation was taken into consideration when the Murphy Messenger made plans to grow.
"We thought that if we ever expanded, maybe we should do that in a region where there wouldn't be any of that confusion," Ames said. "We saw that Lucas didn't have a local paper, and Fairview didn't have a local paper, and we thought the way we do news would fit well in those two communities. So instead of calling it something like the Lucas Messenger or the Fairview Messenger, it'd be better if we chose to address Lovejoy as a school district and make that our distribution area."
The eight-member staff of the Murphy Messenger repurposed their team to work on both papers, bringing in a new assistant editor to monitor both publications. Ames said the team is looking for stories that aren't being covered by Lovejoy's other news outlets.
"Moms and dads are always happy to see their kids' faces in the newspaper, so we're covering middle school and B-team sports on purpose," Ames said. "It's locally-focused [and] that isn't covered anywhere else, and usually people respond very well to that."
A new edition of the paper is distributed via mail system on every other Thursday.
"We're a unique model because we're a free newspaper, and people appreciate not having to pay for their news in this day and age," Ames said. "It doesn't matter if the subscription is $100 or 10 cents–people just don't want to pay for it when faced with that decision."
Co-owner and sports photographer Matt Gomez said he hopes the "hyperlocal" approach of the paper will make a connection with its intended audience.
"In the future, we see becoming a part of the community and a place where people expect quality and local news," Gomez said.

About the Writer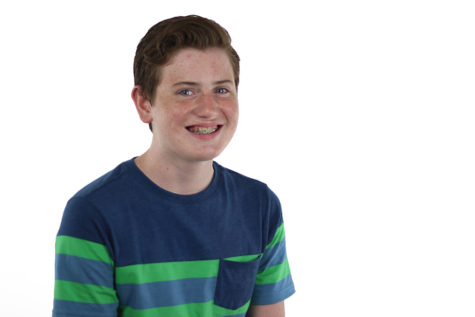 Jack Marsden, TRL Reporter
Freshman, writer, student, journalist. Jack Marsden is new to The Red Ledger staff. He joined the newspaper in seventh grade and loved the program from...