Fractured dreams
Abby Eaton loses chance to pursue career in gymnastics
Hang on for a minute...we're trying to find some more stories you might like.
It was supposed to be her future.
She spent a minimum of 28 hours a week for eight years training to be an Olympic gymnast. She gave up hanging out with friends, going to family events and trips, and finances for gymnastics.
Now it's her past.
Senior Abby Eaton's future plans were shattered when a doctor informed her of her fractured wrists.
"It was a double whammy and heartbreaking because I couldn't do the thing that I devoted my whole life to," Abby said. "I would practice so much, leave school early to go practice until 9 o'clock, and then I would go home and do it all over again. And then it was taken away from me. I had all this free time and no sense of purpose. What was I supposed to do?"
"
I had all this free time and no sense of purpose. What was I supposed to do?"
— Abby Eaton
On top of losing her passion, Abby left her home in Frisco, meaning she also left her friends at Eagle Gymnastics.
"I was away from the gym, so I couldn't visit my friends at the gym that were practically my family," Abby said. "Because I had two losses stacked on top of each other, it was so much harder."
Gymnasts practice so often that the brain puts maturing on the back-burner, and in Abby's case, this and the sport's repetitive motions caused the stress fractures. After a few years of gymnastics, Abby noticed that her wrists were hurting more than normal and went to several doctors to get many professional opinions. It was later decided that she would need two surgeries to fix both wrists' growth plates.
"You see your teammates being pulled out because of injuries, so you're trying your best to stay healthy," Abby said. "As soon as something happens, you try to hide it and say you're fine and keep pushing through it. I think that's what I did with my wrists, and my parents and coaches didn't want to jump to conclusions that this could be the end of it. Every single [doctor] said that it was time to quit. I think it was two or three years of pushing through pain before going to the doctor, and two more years of going back and forth from casts and braces and tumbling again and rebreaking them."  
Charlotte Eaton, Abby's mother, witnessed the "tragedy" of her daughter's dream come to an end.
"Of course she had the Olympic goal which is awesome, but I just wanted her to fulfil that dream of being a gymnast even if it only took her to the college level," Charlotte said. "I just wanted what was best for her, and if part of it was that she couldn't do gymnastics, I knew it was something we would have to face. I'd rather her have a healthy body than have an Olympic medal. I was sad for her just because I knew how much time she put into it and how much it meant to her.
When it was confirmed that Abby could no longer be a gymnast, she joined competitive cheerleading, and then she transferred to school cheerleading freshman year because it was easier on her wrists. Although she has stayed in cheer for all years of high school and is currently captain of the varsity team, she said it lacks what gymnastics gave her.
"I think I kind of settled for cheerleading because it was the next step under gymnastics," Abby said. "Cheer is hard, but it's not as competitive. The team aspect of cheerleading was hard for me to transition into because I was used to doing my thing. That's hard coming from gymnastics because everyone is competitive, and if there's one person not trying their best then they go home."
While it was heartbreaking for Abby and her parents to accept that training in gymnastics was not a healthy option for Abby, they found a silver lining. Going through several doctors and hospitals, Abby discovered what she wants to be in life.
"I definitely think that I've found my passion through going through all these different doctors and experiences I've had," Abby said. "Having so many different types of doctors, I've found out what kind of doctor that I want to be. I had doctors who'd talk to me, even though I wasn't an adult at the time. They didn't just talk to my parents while I'd be sitting there having the problem. I definitely want to be a doctor who treats their patients better because I enjoyed that with my last doctor, and that's why I went with him for my last surgery."
Abby's surgeries left scars along the sides of both her wrists. With time, both of the scars have healed and are faint.
"I used to look at my scars when they were first healing, but now that they're at the point that they're going to stay at, I don't bother to look at them unless someone asks," Abby said. "I used to think, 'Man, I'm going to have these for the rest of my life.' I can't even imagine myself without my scars now since I've had them for three years. It's just something I have, like a birthmark, and it's a life experience to keep on your body forever."

About the Writer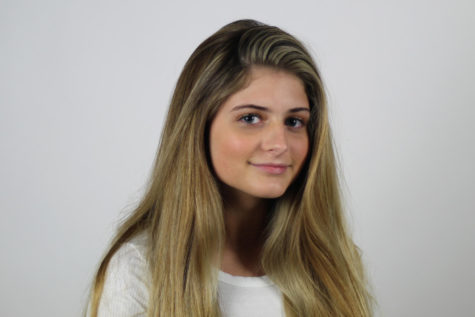 Hannah D'Iorio, Staff Writer
Junior Hannah D'Iorio is ecstatic about her fifth year in journalism. People who knew her in the previous years would probably say that she often sees the glass as half-empty. Hannah is determined to make this year the year where the glass is only half-full. The fact that she made the Varsity cheer team should help change her perspective of the glass. She's obsessed with Grey's Anatomy and Once Upon a Time and could watch the movie "Beetlejuice" endless amount of times. Hannah is grateful that she decided to join journalism in seventh grade and is ready to write more stories.