Leaping to the next phase of life
Senior Ashton Franquiz lives and breathes being on the stage, whether it's starring in a musical, serving as a senior lieutenant on the Majestics drill team, or participating in Miss Texas pageants. Franquiz will take her performing experience into the next phase of her life at Oklahoma City University, where she will perform as a student in the Ann Lacy School of American Dance and Entertainment.
"I found out two weeks ago, and it was actually such a relief," Franquiz said. "I was worried that I wouldn't get in. That was the one school that was my dream that I applied to, so it was nice to finally be done and know that I have a place I can go and call home."
Franquiz believes the nationally ranked school of her dreams will allow her to later perform on a larger scale and continue a legacy of successful alumni before her.
"When I'm older, I want to perform on Broadway, and one of my idols, Kristin Chenoweth, went to OCU, and it always competes with Juilliard for number one and two in the nation for dance schools," Franquiz said. "With it being that good of a school and having the people that I look up to, I just knew that was a place that if I got into [it] I would be able to reach my dream."
Franquiz has been dancing since she was six years old and had dreams of performing with a team since she was nine. She was in the pre-drill class in her freshman year, went on to join the Majestics drill team the same year, and become a senior lieutenant this year.
"I've wanted to be on the [Majestics] team since I was in the fourth grade when I first saw one of their shows, and my goal was to be an officer, which actually happened," Franquiz said. "I've always been a natural leader, and I've wanted to lead on a dance team."
Franquiz said Majestics director Jen Morrow and Majestics assistant director Jenny Willis are two people that have supported her and helped her one-on-one on multiple occasions.  
"I think Ashton is so open-minded and think it really comes out not just in her personality but in her as an artist, and I really appreciate that about her," Morrow said. "You can tell her something, like constructive criticism, and she doesn't get her feelings hurt. She takes it and tries to embrace it and make herself better."
Franquiz has been involved in pageantry for a year and a half. She participated in the Miss Texas' Outstanding Teen 2017 and won Ms. Congeniality, and Franquiz said it was such a blessing because it came as a surprise. Pageants have helped her experience a different aspect of being on stage.  
"I had to speak on the stage rather than just dance or act, so it was very formal," Franquiz said. "I am taking a year off of doing pageants [this] year so that I can do auditions and get ready for college, but I want to compete again in college because I think it helps me grow as a person, and it is also such a great resume builder."
Willis said Franquiz is a go-getter who sets and achieves goals and that this trait, along with a few others, allowed her to attend the institution of her dreams.
"Ashton is really global–she likes to think about not just herself all the time but about others, as well, and so I think that also helps her achieve her goals without seeming so self-centered," Willis said. "She's let go of having to be so perfect all the time, and that in itself has helped her become a much more well rounded dancer, and I think that also really helped her gain a spot at OCU."
About the Writer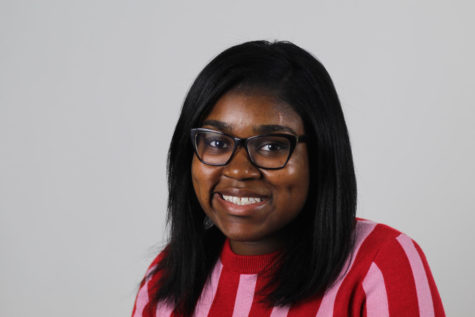 Nnenna Nchege, Staff Writer
Senior Nnenna Nchege is entering her second and final year on The Red Ledger staff. As Nnenna prepares to end her journey at Lovejoy, she is proud to spend...