Cheer to hold annual Shop and Drop
Hang on for a minute...we're trying to find some more stories you might like.
The cheer team will be hosting their second annual Shop and Drop event this Friday. Kids will have the opportunity to spend a fun evening with the cheerleaders while parents get to catch up on Christmas shopping or get some time to relax.
"It's a fundraiser the cheerleaders have started doing since last year," varsity cheer captain Abby Eaton said. "This will be our second year. We do this to raise money so we can afford to go to our UIL competition– it's for meals and housing and all that stuff."
This year, the cheer team is hoping to have at least 50 kids participate in the event. All the proceeds will go towards the cheer team's UIL competition fees.
"The goal is to have 50 plus kids and for them to enjoy spending time with the cheerleaders," cheerleading coach Shelly Wiggins said.
The preparation for Shop and Drop starts six weeks prior to the event. This year, kids will have opportunities to color, make arts and crafts, play some games, watch a movie, and talk and spend time with the cheerleaders.
"The cheerleaders have been working on some cheers they're going to teach them," cheer booster club president Elizabeth Redding said. "They also help collect board games like Candy Land, Chutes and Ladders, Twister, and more things like that. They've also been gathering crayons, markers, and tons of things to color. The kids will get to make candy cane ornaments. It's kind of just like a fun night for the kids."
The tradition manifested itself into the cheer team two years ago. The event had a great turnout, and the team was able to raise more than a sufficient amount of money to go to the competition.
"As a mother of two young children, I thought this would be perfect for parents that need a night to get their shopping done without the kids," Wiggins said.
Registration is $30 for the first child and $20 each for additional children per family.
"It's pretty fun. They usually do some crazy stuff, which turns into some really good stories," Eaton said. "It's like babysitting times 100, and you're with your friends from cheer so it's pretty fun."

About the Writer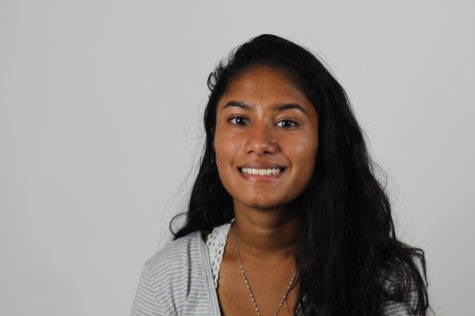 Arushi Gupta, Staff Writer
Arushi Gupta is a sophomore this year, but she is told she is short enough to be in seventh grade. This will be her second year on staff at The RedLedger, and she could not be more ecstatic to return to the newsroom, which has become a second home for her. Arushi has had an interest for journalism since joining the middle school's publication LeopardLife and decided to pursue her interest throughout high school by joining TRL as a freshman.When not in the newsroom, she can be found playing tennis, spending time with her friends, or binge watching a variety of movies and TV shows on Netflix. One of the most important things on Arushi's bucket list is to travel. Recently she has wanted to go to Greenland, but ever since she was little has dreamed of going to Paris. Arushi plans to fill her sophomore year with an abundant amount of memories and is looking forward to contributing as much as she can to The Red Ledger.