Food Feud: A doughnut dilemma
Doughnuts, an American food that fills the hearts of many with joy when they see that white box on their table. These ring-shaped circles of deliciousness are one of the most common breakfast foods, and below are the top six places in the Lucas/Allen area rated based on flavor and price.
Family Donut: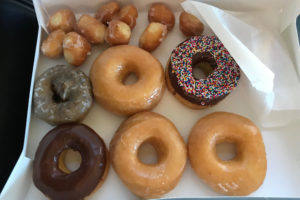 This hole-in-the-wall shop next to a 7/11 was the best doughnut shop I went to on this life-changing venture. The doughnuts were all extremely delicious, having very sweet and fulfilling flavors. The prices were the lowest of the whole trip, and they included the most free doughnut holes. Overall, this was probably the best doughnut place in the Allen/Lucas area, according to doughnut extraordinaire Jackson Willard.
Overall: 9
Krispy Kreme:
I hate to do this, but I'm about to break the hearts of you Krispy Kreme fans. The doughnuts are more sugary than a sugarcane farm. It tasted like I was eating a ring of pure sugar, and although that may sound good, it was the exact opposite. The sugar distracted from the actual doughnut. I'm going to be honest, I will probably never go back to Krispy Kreme. I cannot speak for all of the doughnuts, but I only bought two– chocolate and blueberry– because I am a high school student and the doughnuts at Krispy Kreme are on the more expensive side.
Overall: 4
Got Donut?: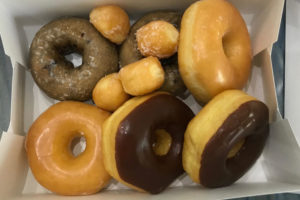 Yet another hole-in-the-wall doughnut shop, this place was another favorite of mine. The pricing on each doughnut was very cheap, but the treats were still high quality. The chocolate doughnut had lots of chocolate frosting on it and was very fluffy and light. The blueberry doughnut was very flavorful and had a lot of sugar, but not enough to overpower the blueberry taste.
Overall: 8
Stacy's Donuts: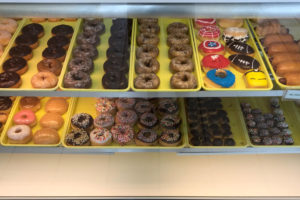 Another county favorite, Stacy's doughnut was a fantastic place to eat. It has a great, comforting style where the employees are extremely nice and the line is never over five minutes. Both the blueberry and chocolate doughnuts were not too sweet and still had a nice fluffy texture. The doughnuts were not expensive at all, and this was one of the few places that gave free doughnut holes in the box, which I greatly appreciated as a lover of doughnuts in every shape, size, and flavor.
Overall score: 8
Max's Donuts:
If you enjoy eating doughnuts and live in the Allen/Lucas area, you've probably been to Max's. It's one of the most well-known doughnut shops in the area, and their doughnuts are often found in the homes of many families every morning each weekend. So, of course, I had to include it on my list of doughnut shops to review. Although many people in the area may describe this shop as "the best doughnuts they've ever had"– and for saying this half the county will probably be calling for my head– they were just decent. The chocolate doughnut did not have much chocolate taste, as it was over-powered by the use of sugar. However, they made up for it in the blueberry doughnut, which had a great cake taste and was sweet but not overpowering.
Overall score: 7
Rise: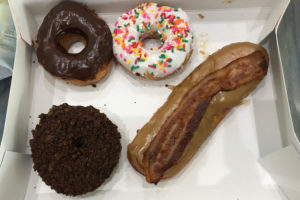 In comparison to prices at the previous places, Rise was like flying to New York and seeing a broadway show versus seeing a local theatre show. Although the difference may only be .40 cents, that is quite a lot in the doughnut world. The gigantic difference of .70 cents to $1.10 is like the difference between an In-N-Out burger and a $60 burger. On top of the unfavorable price, Rise does not make blueberry doughnuts, which I think should be a federal offense. However, I do enjoy the fact that Rise has many "specialty" doughnuts, like maple bacon, chocolate chocolate cake, and creme brǔlée of all different flavors.
Overall score: 5