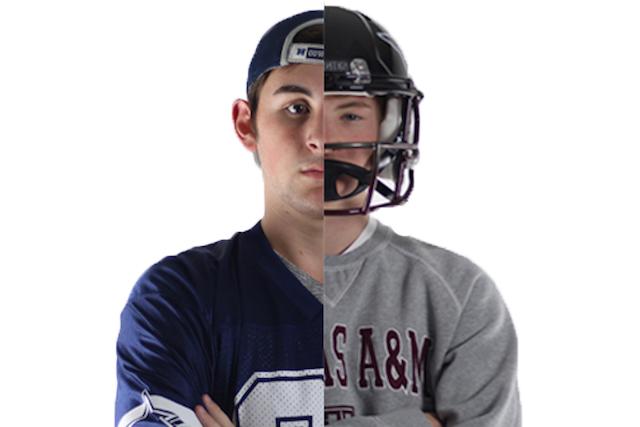 Cover 2
Which level of football is most entertaining to watch?
October 25, 2017
The professional and collegiate football seasons have brought plenty of excitement to their fans, filling Saturdays and Sundays with great competition to watch on the gridiron. But the question still remains. Which football is the most fun to watch? Joe Vastano and Caleb Stein make their arguments below.
The case for professional football
The National Football League (NFL) is the best football experience, no question. There is absolutely no way that college football can even compare to the NFL. The best competition, the best play, and the most excitement can only be found in the NFL.
When I say the NFL is the best football experience, I mean it's better both in-person or on TV. Pro sports of any kind are only filled with the best of the best athletes who can and will be able to compete at the highest level consistently. In football, only 1.8 percent of players who played in college play in the NFL, and an even more miniscule .08 percent of high school players go on to play professionally, according to a National Collegiate Athletic Association (NCAA) survey. The NFL's competition level, because of this, is much higher, with each team having multiple extremely talented players each of whom would easily be the best player on a college team. This makes many NFL games very exciting to watch, while with college football you often find yourself waiting on the one game highlighted by College Gameday to start.
Although college football is not lacking in talent, multiple factors, such as recruiting and talent disparity, mean that there are often very predictable outcomes to games and even full seasons. For example, Alabama is seen as the college for football. They are often extremely highly ranked both in the preseason and by the end of the season. Since Nick Saban, their current coach, joined the program, Alabama has gone 119-19, played in 10 bowl games, won four conference championships, and won four national championships, according to Sports Reference. These accolades make Alabama even more of a hotspot for highly touted recruits as the seasons go on, which means only a handful of teams each year are able to realistically challenge Alabama for the throne.
In the NFL, this is much less of a reality. There are teams, such as the New England Patriots, who have enjoyed prolonged success, but they do not consistently dominate and win every single year. The NFL has not had a back-to-back Super Bowl champion since the Patriots in 2005, while in college football Alabama was the last back-to-back national champion as recently as 2012, which also gave Alabama their third national championship in four years. Since 2000, both the NFL and college football have seen 11 different teams win championships; however, this is 34 percent of all teams in the NFL and only 9 percent of teams in college football when only including Division I schools. This means the NFL enjoys a much more balanced set of teams, and a good chunk of these teams are given a realistic possibility to compete for the championship. Contrast this with college football, where very few teams can realistically compete, and the NFL makes regular season games mean much more and more exciting to watch.
According to ESPN, an average regular season game in 2016 in the NFL pulled in an average viewership of 16.8 million people, while in college football, on ABC's Saturday Night Football in the same season, there was an average viewership of just above six million people. When you add in the 1.3 million average viewership from FOX Sports broadcasts of college football during the 2016 season, there will still be more than double the average viewers for the NFL than college football.
Of course, we can't forget about the most important games of the season: the championships. Obviously, the Super Bowl is one of the biggest TV draws in the United States. According to SI, on average a 30 second ad cost somewhere between $5-5.5 million. Even so, many companies are more than willing to cough up that money to pay for it, and for good reason. The 2017 Super Bowl pulled in an average viewership of over 113.1 million people, which made it one of the top five most-watched Super Bowls of all time. Ever since the Harris Poll declared football the most popular sport in the U.S. in 1985, the Super Bowl has not fallen below 73 million average viewers with max numbers reaching as many as over 114 million average viewers. The Super Bowl also has not received average viewership numbers below 90 million since 2005.
In college football, these numbers are much lower. The 2016 college football national championship only pulled in an average viewership of just over 26 million, which was actually 700,000 less viewers than the national championship the year before. Even though the 2016 national championship was in the top 25 percent for most-viewed national championships of all time, it still pulled in barely 23 percent of the average viewers of the Super Bowl from the same year.
The only real argument for why college football could even be close to as good as the NFL would be the "experience." When I say experience, I'm referring to college students. While it may be the best for them, it is not for the rest of us. If you're not a college student, going live to a college football game is basically just a less-talented version of an NFL game. This isn't even taking into account the students who never attend those games, don't attend college at all, or attend a college that doesn't have a football program.
Let me spell all this out for you: the NFL is the more exciting, more popular, more competitive experience. If you had to choose one game for the rest of your money, and you want that game to be the best game you have ever or will ever experience, your best bet is an NFL game. There is simply no debate.
Leave a Comment
The case for collegiate football
One of the most heated debates in the sport of football is which version of the sport is better, college or NFL. The traditions in college football, the lack of the "business" mindset of the game, the sense of unity felt between fans and players, and the overall higher rate of competition are the reasons why college football is by far the better version of the sport.
Traditions are without a doubt the coolest part of college football. Almost any college with a football program is bound to have at least one unique tradition practiced during, before, or after games. For example, Texas A&M has a tradition called midnight yell, where they practice all of their unique cheers for the game the night before, making sure they are ready for the next day. After every win at Auburn, fans roll all the trees in layers of toilet paper at Toomer's Corner, with students and community members all taking part. The most annoying tradition to opposing teams lies at Mississippi State, where almost every fan in the stadium has a cowbell and constantly rings in during big plays or when they want a big stop on defense. Sure, the NFL might have a few small traditions such as fight songs or mascots. But college football has traditions, unique to each school, that can not be matched by the NFL's cliches.
The National Football League is built around one thing: money. Players are brought in from college, moved from city to city, cut from teams and re-signed by others with one motivation: to sign a contract that secures their financials for the years to come. The reason that NFL teams are able to offer their players money is because they know if they bring in better players, that equals a better team, which then converts to a higher popularity of the team, resulting in more revenue for the franchise. In just under 30 years, Jerry Jones has turned the Dallas Cowboys into a $4.2 billion team after buying them for only $140 million in 1989. The average NFL franchise is worth $2.3 billion, as the whole league combines for a total of $74.8 billion between all 32 teams. The NFL is fed strictly on business: how they can get more fans to be attracted to them, and how they can get increase their standing in the league, explaining the motivation for teams to get better and improve their rosters in order to become world famous by winning the Super Bowl. Whereas, in college football, the players are fighting for their school, not a paycheck. Sure, the NCAA allows schools to give out scholarships to athletes but that is strictly for living expenses and education. The players don't need to rely on football for their paycheck in college the only thing they need to do is play to represent their school and if they are lucky, make it to the NFL.
Like high school, students who attend a certain school, or university, go to the games to cheer on their team that is associated with their school. No matter that the players are on scholarship, they are still student-athletes, meaning they attend the university and are not there for just strictly football, but to also receive a free education and experience college life. The reality is that college players are just students that you would see on an everyday campus. This means that they have friends around the university and probably know a good number of people. For instance, just like an average student at a university, the student athletes take the same classes, meaning that someone could have a class or multiple classes with a star athlete like Baker Mayfield at OU, Lamar Jackson at Louisville, or Saquon Barkley at Penn State. However, the odds that you would bump into a star NFL player like TOm Brady on the streets of Boston is very unlikely.When a college student decides to go to the game, they can feel a sense of unity with the team that is out on the field due to the fact that there is a very good possibility they are acquaintances with at least one of the players and if they are not, they are still cheering on their fellow Aggies, Sooners, Razorbacks, etc.
Many collegiate football players have had the same dream since they were children: make it to the NFL and support their families and play the sport that they love. The overall competition in college football is so much more entertaining to watch than it is in the NFL. In the NFL, players are obviously better and more selective than they are in college, however, there is no place to go higher than the NFL which cuts a lot of motivation out in comparison to college players who are fighting everyday for a chance at a NFL roster spot, hereby making it a tougher environment to play in which results to a better atmosphere for fans. In the NFL, half of the teams make the playoffs, so even if you are just an average NFL team, you have a very good chance at making the playoffs with even 6 or more loses. However, in college every single week counts if a team is looking to win it all. Even one loss on a bad week, there is a great chance that that team would not make the College Football Playoffs, due to the fact it is only the top four teams out of 128 FBS colleges.
Leave a Comment