Football seeks to carry momentum into matchup against Wylie East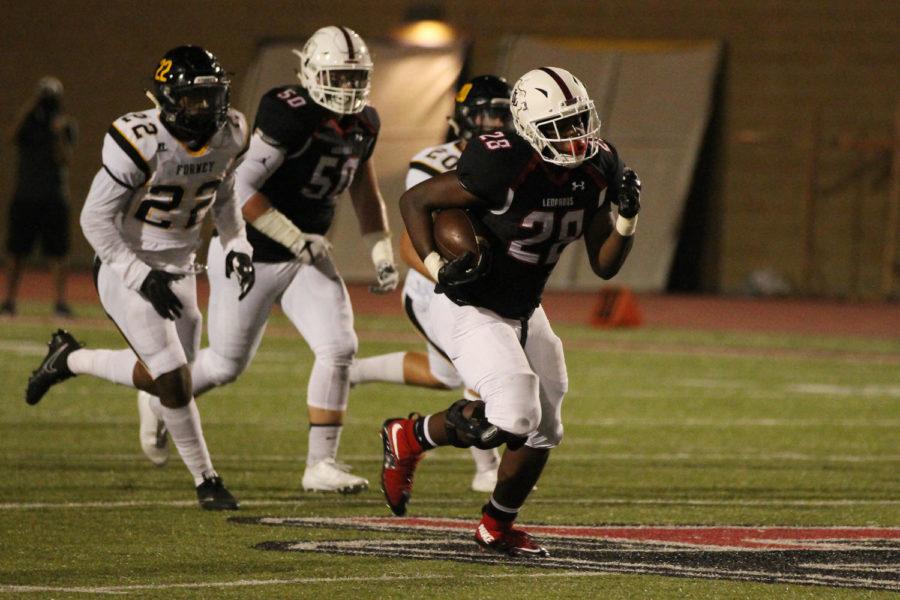 After securing its first win of the season, the football team (1-5 overall, 1-2 district) will look to ride its recent momentum into this week's contest against the Wylie East Raiders (1-5 overall, 0-3 district). The Leopards will make the quick trip to Wylie ISD Stadium at 7:30 p.m. on Friday night in hopes of continuing their playoff push into the latter half of the season.
Running backs coach Austin Coachman said that the Leopards have a "one-step-at-a-time" approach about the remainder of the season.
"What's at stake is the next game," Coachman said. "Coach Ford laid out a road map for us a couple weeks ago about winning those four, and all this is, really and truly, is game two of those four. We've got maps all over the facility; step one was accomplished, and now, we can't make this any bigger than step two. You can't look to step three without getting there."
In last week's matchup against Forney, the Leopards were firing on all cylinders en route to a 63-point effort. Coachman said that he believes the offense was much more efficient in the red zone, and that should be a focal point in this week's matchup as well.
"We want to make sure we are as clean as possible [in the red zone]," Coachman said. "We were great in the red zone last Friday because we were assignment-sound and our focus level was a little more ratcheted up."
Junior wide receiver Jacob Terwilliger said that if the team can sustain its recent momentum and execute against Wylie East's defense, the offense has the potential to be explosive.
"Their linebackers and defensive line are very aggressive, so our offensive line is going to have to match that intensity," Terwilliger said. "Their defensive backs aren't at the same level as us, so we have to exploit that."
The Leopards will look to take advantage of Wylie East's recent penalty frenzy, as the Raiders have been assessed 19 penalties over the course of their past two games, both of which have resulted in losses.
"You certainly have to focus on yourself first and make sure that you're not helping them out with anything on your end," Coachman said. "If they're going to make those mistakes, we'll allow them to make those mistakes, but you certainly don't want to [commit penalties] when you're in their red zone."
From an offensive standpoint the Raiders are averaging 27 points per game, though that statistic is inflated by a 70-65 loss against North Forney. Excluding that outlier, the Raiders are averaging just 19.8 points in the rest of their games. That number is nearly identical to the Leopards' average of 19.7 points per game, but then again, the Leopards had an outlier of their own in last week's win against Forney.
Senior defensive back Landon McDermott said that the team has learned from last year's 35-21 loss to Wylie East and that the defense needs to focus on stopping the running game this year.
"They had a really good running back last year with Eno Benjamin, and they have another good running back again this year who is basically their whole offense," McDermott said. "If we can shut him down, we will dominate them defensively."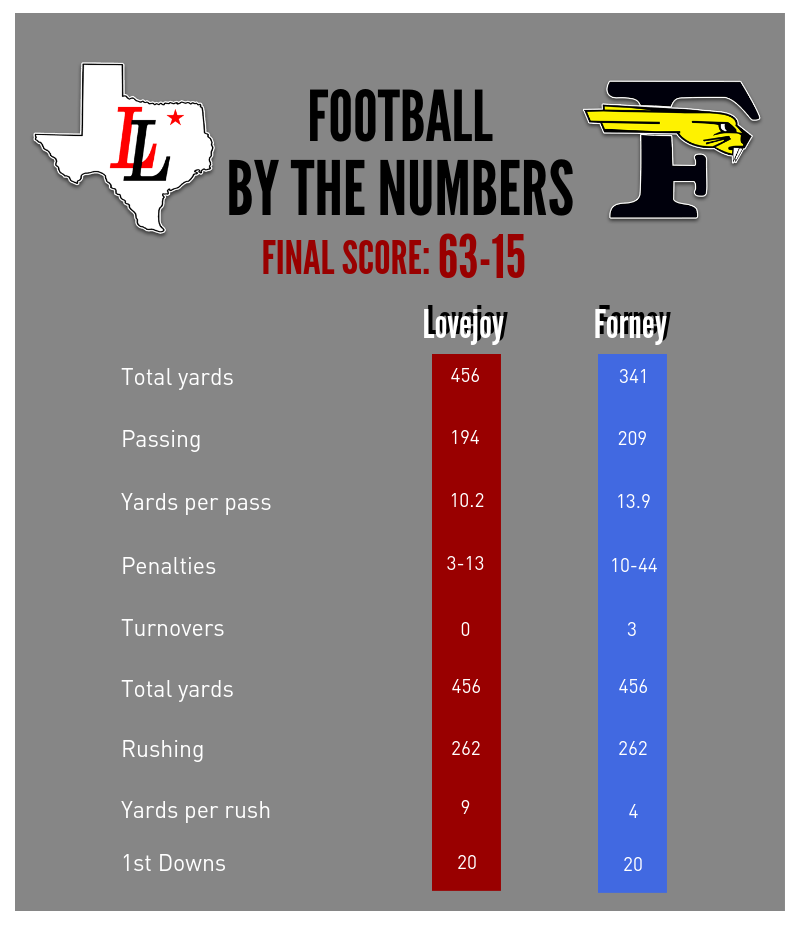 Infographic courtesy of Sophie Starnes
About the Contributor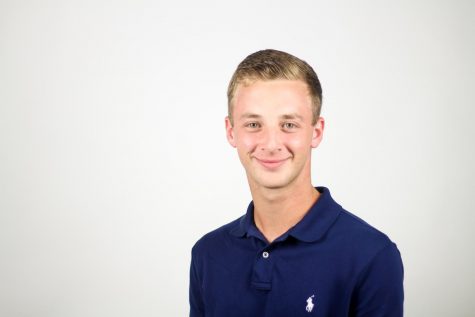 Benjamin Nopper, Section Editor
After joining staff and becoming an editor his sophomore year, Benjamin Nopper is enthusiastic to spend his senior year in the newsroom he considers...