Interview with players Sadie Dale and Julia Brochu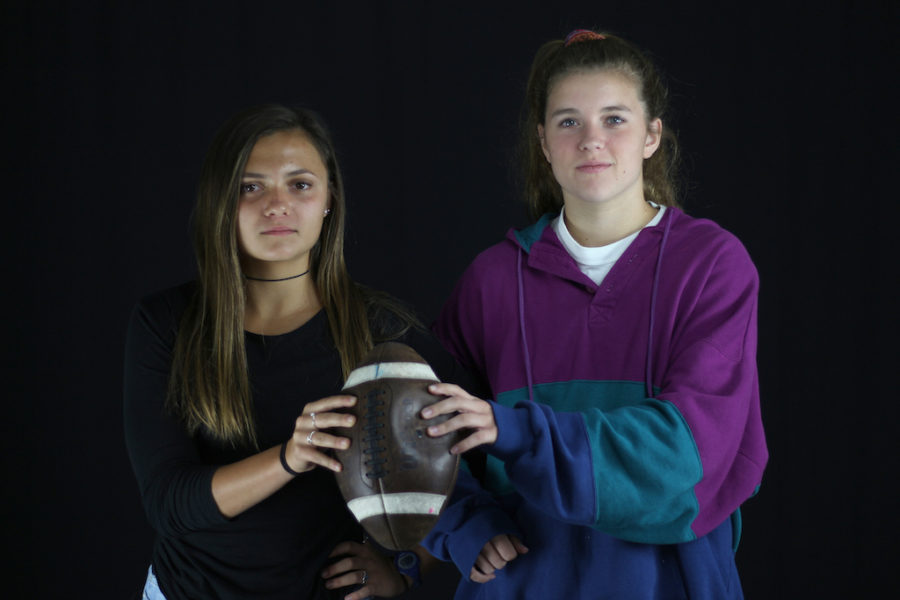 The Red Ledger: How do you expect to take on the dynamic duo of K2, Kim and Kaylee, and their teamwork on the field?
Sadie: I think it's gonna take communication with the team and understanding who has who and it's gonna take teamwork and confidence.
Julia: No comment.
TRL: Do you expect your senior sister, Annie, who is new to the team this year to take it easy on you so that you won't be completely wrecked?
Sadie: She's gonna take it easy on me, because she knows that I am the better athlete. She's actually afraid of me so I'm gonna come out strong, and shock her with what's gonna come out in her face.
TRL: What coaching strategies has Coach Luke implemented in your practices to make your team have the probability of .02 instead of .01 of winning against the seniors?
Sadie: He's gonna throw in hand signals that will really trip up the seniors.
Julia: He has faith in us.
TRL: The LPPL is a grown woman league with no room for sissies. On a scale of 1-10, with 10 being the only correct choice, how scared of playing in the LPPL are you this year?
Sadie: No comment.
Julia: We're not scared, we're not scared at all. We're gonna come out strong and aggressive and we're gonna win this thing.
TRL: How do your shoulders feel, bearing the weight of the Brochu legacy?
Julia: They're stronger than Daniele's.
TRL: What has your practice schedule looked like to prepare to be fish bait for the seniors?
Julia: We're practicing all the time, constantly.
Sadie: Especially after school in the heat, because it gets us more in shape.
TRL: How will it feel to have your fellow freshmen, who have very muffled school spirit, cheer you on from the freshman side of the gym?
Sadie: It's gonna be tough, but we're gonna get them to cheer us on because they need to know that the freshmen are the true MVPs of the high school.
Julia: We'll support ourselves.