New chapter in yearbook's story
Rebecca Pollard begins her first year as adviser for 'The Leopard'
Hang on for a minute...we're trying to find some more stories you might like.
"The Leopard" yearbook staff has another face to add to its spreads this year–that of new instructor Rebecca Pollard.
Pollard, who has been teaching for 17 years and graduated from The University of Texas at Arlington with a Bachelor of Arts in communications, has previously worked in the Frisco and Garland school districts.
"I really enjoy the kids. It's been really fun to get to know them more as people than just getting down to business," Pollard said. "I've enjoyed being an outsider coming in and learning how another staff does something differently. I think that there were a lot of things that were done well before I even got here. The staff is really passionate about this already, [and] they're really good about what they know and their general composure with yearbook."
Yearbook editor and senior Daniela Benigno said she hopes that Pollard's leadership and organization can help lead the yearbook to a Pacemaker, a highly-esteemed award presented by the National Scholastic Press Association.
"The unity as a staff is important to us, so Mrs. Pollard focused on team building to allow us to build a bond and become a team, which will definitely have positive repercussions throughout the year," Benigno said. "Mrs. Pollard constantly has new and creative ideas coming to her mind, and you can tell she is very passionate and invested in helping all of us so we can create a great book for this year. She's a teacher who truly cares about the students and her work, which causes other people within the class to become more engaged and eager."
Junior Elyce Richardson, also a yearbook editor, said Pollard is "detail-oriented" and "passionate."
"It was stressful not knowing who our new teacher would be because we were unable to meet with her during the summer and start logistics," Richardson said. "I've gotten to know Mrs. Pollard very well, and I really enjoy the outside perspective she brings coming into Lovejoy. She is very creative and helps Daniela [Benigno] and I further develop our theme with new ideas and a more organized way of doing things."
In addition to acting as the school's yearbook director, Pollard has received certification as a master journalism educator (MJE) for the Journalism Education Association. She is also on the national journalist of the year committee, along with facilitating the Aspiring Young Journalist competition. Those connections benefit Pollard and other teachers because publications like yearbook can vary greatly from school to school.
"There's no textbook for what we do, there's no state curriculum for what we do," Pollard said. "There's usually only one of us [yearbook teachers] in every building, so you feel like an island a lot. What the Journalism Education Association provides is a place for us to go to get help, so they have a curriculum that's actually out there, and I'm actually a part of the curriculum team this year. I just wrote some pieces for the leadership and team building module."
Principal Chris Mayfield described Pollard as "creative, a leader, thoughtful, and intentional."
"Mrs. Pollard had great experience as a yearbook adviser and has led her students to be recognized nationally for their work. We wanted to bring that leadership to LHS students," Mayfield said. "Mrs. Pollard is a strong communicator and partners with students in their learning. [She] has a strong reputation in the yearbook community, and I look forward to seeing our students continue their growth under her direction."

About the Writer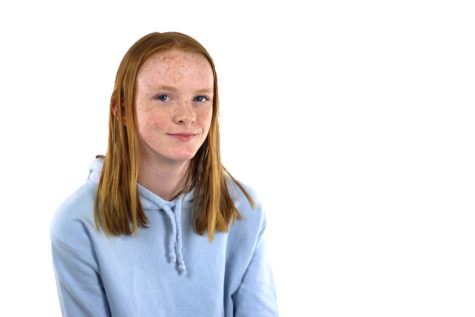 Erika Jenkins, TRL Reporter
Freshman Erika Jenkins first found her passion for writing in early elementary school through UIL. She entered a few creative writing competitions and then stopped writing until eighth grade, when she enrolled in the middle school newspaper class. Since then, she has been writing non-stop, whether for the newspaper or just for fun. Along with...