Football seeks redemption in matchup against West Mesquite
Team aims to earn its first win of the season against a familiar opponent
With the frustration and heartbreak of last year's homecoming defeat to the West Mesquite Wranglers (4-0 overall, 1-0 district) still on the minds of the football team (0-4, 0-1 district), the team will look for redemption tonight at 7:30 p.m. as they take on the Wranglers in the first road district contest of the season.
While the team has struggled in its first four games, the competition the Leopards have faced up to this point (Argyle, Wakeland, Lone Star, and Highland Park) have a combined 14-2 record in their first four games. Senior wide receiver Chase Van Wagoner said that he hopes the quality opponents the team has faced will help the team prepare for the remainder of the season.
"Coach Ford keeps telling us to keep in mind that we've had pretty much the hardest schedule in our district so far [through] these first four games, playing some of the top teams in the state," Van Wagoner said. "In the long run, it will help us out when we face teams that aren't as good because we've experienced adversity already early on in the season, so we'll be accustomed to it later on."
The competition the Leopards will face on Friday night will not get any easier, as they will see an unbeaten West Mesquite team. The Wranglers have outscored their opponents by a combined score of 161-45 during that stretch. Running back Curtis Williams led the attack for the Wranglers with 249 yards on 14 carries and a touchdown in last week's 41-3 win against Royse City.
In addition to a strong start to the season, West Mesquite overcame a 31-point deficit a year ago to spoil the Leopards' homecoming game. Junior defensive back Chase Coronado said that the team is trying to put last year's upset behind it while still using it as a learning experience.
"As much as we're trying to put it behind us, we kind of look back to last year how they have the same quarterback and they have some talented running backs, but as long as we can shut down the run game, the pass game against us shouldn't be that difficult," Coronado said.
Van Wagoner said that the offense is changing its looks in order to prevent West Mesquite from controlling the second half again in this year's game.
"We're actually putting in an actual spread offense this week, which we haven't done yet at all this season, so that's something they're not going to be ready for, and they'll have to make adjustments at halftime for that," Van Wagoner said. "While they're adjusting, we're going to put in even more things they haven't seen us do yet. We'll see two first halves. We won't see a team just come back and win [like last year's game]."
Coronado said that the team is prepared for and familiar with West Mesquite's offense this year.
"They have a talented running back and another sophomore talented running back as well, so we're mostly game planning for them," Coronado said. "We have most of their route combos, and we're working on [covering] those in practice."
For the Leopards, there was plenty of excitement surrounding last week's district opener against Highland Park, not the least of which came in the form of the dramatic helicopter landing of Dallas Cowboys owner Jerry Jones. Jones was in attendance to watch his grandson, John Stephen Jones, quarterback the Scots to a 50-0 lead through the fourth quarter. The Leopards finally ended the shutout bid with a touchdown in the final minute of the game to cut the final score to 50-7.
Coronado said that the team can learn from last week's matchup against Highland Park on both sides of the ball.
"Offensively, we need to move the ball around better and evenly distribute it," Coronado said. "Our pass game could be a little bit stronger, and [the offensive players] are working on that for sure. Defensively, we need to work on containing the quarterback. We've played a lot of mobile quarterbacks lately, and I think as long as we do that, we can keep the coverage good down the field."
About the Writer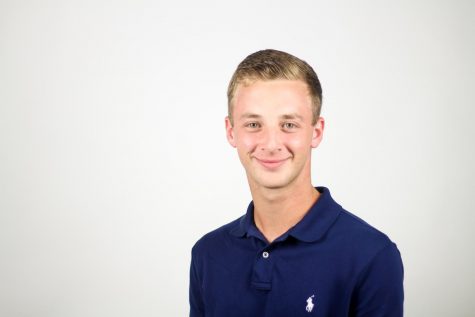 Benjamin Nopper, Section Editor
After joining staff and becoming an editor his sophomore year, Benjamin Nopper is enthusiastic to spend his senior year in the newsroom he considers...