Food Feud: Best blends on the block
A ranking of all the smoothie hotspots around town.
Hang on for a minute...we're trying to find some more stories you might like.
An array of different fruits and vegetables blend together to make one of the most refreshing drinks around: a smoothie. In addition to having an interesting name, this drink is a nice way to  cool down in the midst of the blazing Texas heat. There are quite a few options for smoothies around the Lucas and Fairview area, and several are reviewed below based on overall taste, price, and service.
Bahama Buck's:
Located on Main Street in Allen, Bahama Buck's is an amazing place for relaxation and a refreshing treat. The vibe inside the store is definitely uplifting with its friendly staff, making it a great environment to hang out in with families or a friend. I ordered the Bahama Colada, which contained a nice blend of pineapple juice, coconut flavor, and mango. The texture was perfect, not too thick but still a great consistency. For the price, the amount was great. Although the taste was enjoyable, Bahama Buck's might not be the healthiest option if you want to watch your diet, despite the use of many organic fruits and flavors, due to the amount of sugar used. Overall, I would definitely recommend this to anyone, no matter the age, make a trip to Bahama Buck's. It's sure to brighten up your day.
Overall Rating:10
I Love Juice Bar:
I Love Juice Bar can be found on Stacy Road in Allen. The new location has an interesting menu with many diverse types of drinks, all infused with healthy fruits and vegetables. The shop is nicely laid out, with bright lighting and several nice little tables to sit with a friend or family.  There's a family friendly vibe, created by the service, the staff really knew the menu and was kind to customers. I ordered the Mint To Be smoothie, a mix of mint, mango, pineapple, coconut milk, and apple juice. The texture was slightly on the thin side but appealing nonetheless. Although the idea of mint mixed with fruit might sound a little weird, the ingredients complimented each other very well, creating a delightful blend. There all also several other 'weird' options on the menu, but they're all healthy and worth a try. The smoothie was a bit pricey at $6 for a small. However, I believe that it was worth the price, due to the service and the taste. I might not go to I Love Juice Bar every day, due to the price, but it is definitely a great place to visit.
Overall Rating: 9
Jamba Juice:
Walking into Jamba Juice, customers are greeted by the welcoming scent of citrus. Jamba Juice is located on E. Spring Creek Parkway in Plano. The store is quite small, but very well maintained. Their menu is quite basic; however, the drinks are made using a healthy array of fruits and vegetables. I ordered the Mega Mango Smoothie, which contained mango, strawberries, orange juice, and pineapple juice. The taste was refreshing and crisp, and while the fruits complimented each other well, the taste of mango was quite strong. The texture was quite thick, but there were a couple of chunks of fruit that I enjoyed. I would definitely recommend a visit to Jamba Juice on any occasion. The only thing that may discourage someone from visiting is the distance.
Overall Rating: 8
Smoothie King:
Smoothie King is stationed at East Stacy Road in the Village of Allen. It might not look like the most crowded shop among the many others, but it is definitely a good place to check out. The chain is primarily focused on how to make healthy smoothies with appealing tastes by infusing them with protein and other dietary supplements. The smoothie I ordered was the Pineapple Mango, which was listed as a meal replacement on the menu. I loved the taste, and the service was impeccable. Everything came together well, creating a well-textured, pineapple delight. The staff there didn't hesitate to explain anything on the menu. Smoothie King is a great find for anyone looking to treat themselves while trying to follow a diet. However, I wouldn't recommend going with kids or with a friend to hang out due to the focus on the healthy aspect of smoothies.
Overall Rating: 7
Smoothie Factory:
Located on West McDermott Drive, Smoothie Factory was quite a letdown. The store is quite small and not at all well-maintained. The lights are dim and the staff was not at all well knowledge about the menu, adding up to a very disappointing experience. I ordered the Pineapple Passion smoothie, which was a blend of pineapple, mango, oranges, and honey. The smoothie was OK, but ultimately tasted like something I could easily make at home. The texture was too thick, as  the smoothie wasn't well blended. For the price of 4.97 , the serving size was good, but I didn't enjoy any other aspect of visiting Smoothie Factory. Ultimately, I wouldn't recommend a visit to this location of Smoothie Factory.
Overall Rating: 4
About the Writer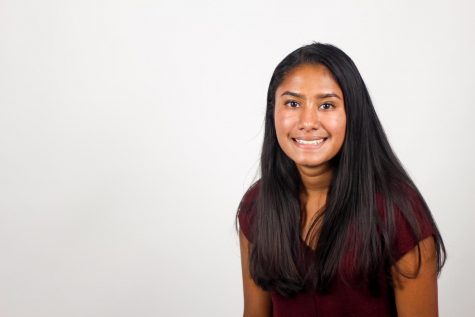 Arushi Gupta, Section Editor
Arushi Gupta, now a junior, will proudly be taking on the role of News Section Editor this year. Arushi has been involved in student journalism since joining...