Playlist: Bring on the fall
Music usually speaks to our feelings, but music speaks to me in different ways. I am a synesthesiac. This means I take one sense and associate it with another sense. For my synesthesia, songs have seasons and sounds have colors. The playlist that I have created is the songs that I associate with fall. Though most of these songs are not new, they should go along well with Friday night football games, picking out the perfect pumpkins to carve, and jumping into a pile of fallen leaves. There are 25 songs on this playlist, and these are my top five fall songs.
TOP FIVE:
"Waves – Acoustic," Dean Lewis: This song is beautiful. Dean Lewis does a fantastic job with portraying the emotion he has poured into his music. Everytime I listen to this song I can't help but think of a long nostalgic car ride through falling autumn leaves of all different colors. The regular version of this was also on Riverdale for anyone who thinks it sounds familiar.
"1997," Saint Motel: Saint Motel is one of the most talented and unique bands I have listened to in the last few years. This song makes me feel like I am playing tag in a pumpkin patch. I love the primary use of piano and the trumpets It doesn't just focus on the singer and they lyrics, but the band and instruments are given the same amount of attention as well.
"Sweet Creature," Harry Styles: I know the former fan favorite from One Direction will get some hate for his background, but this song is wonderfully created. It is such a relaxing and pleasant song to listen to. It reminds me of sitting around a fire with my friends as we roast marshmallows to add on top of our graham crackers and chocolate. I can almost smell the crackling firewood.
"Cleopatra," The Lumineers: This song speaks to me not just as a fall song, but also emotionally. The lyrics are incredibly crafted and tell a beautiful and tragic story. It makes me feel like I'm in a coffee house listening to a live performer while I drink a pumpkin spice latte (Yes, I am basic).
"Lost Boys Life," Computer Games: I love this song. It isn't just my bias towards my future husband, Darren Criss, but it's an emotional story of finding hope through love. I picture watching horror movies and fall flicks with a significant other or a big group of friends. It's definitely a warm and comfortable song.
The Playlist: https://open.spotify.com/user/theredledger/playlist/4yZp4Oq4a8pfHDW35gISqT
 Syenesthesia Music Test: http://nautil.us/issue/26/color/what-color-is-this-song
About the Writer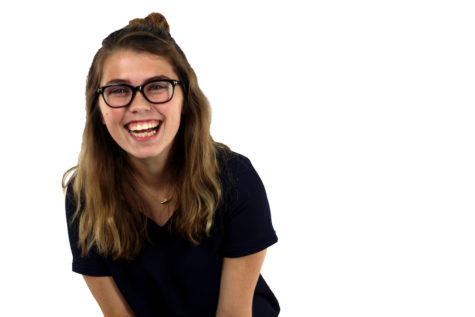 Katie Bardwell, TRL Reporter
Katie Bardwell is a senior, and this is her first year on The Red Ledger staff. She is excited to finally test out the waters of journalism. Katie has...