From student to teacher
Kelly D'Souza takes on choir as the new assistant director
New choir assistant, Kelley D'Souza, looks out onto her classroom to see a space full of unfamiliar faces. She takes a deep breath and looks over her shoulder to find a comforting presence– director Cathy Koziatek. She smiles and taps her pencil on the top of the piano, waiting for the energetic class to quiet down before she introduces herself.
D'Souza is new to the school, but not to co director Koziatek, who was D'Souza's choir director at Plano West High School from 2010-2012. After learning from Koziatek, D'Souza was inspired to become a director. This led her to major in vocal music education at the University of North Texas.
"[Koziatek] was actually my biggest cheerleader and biggest mentor," D'Souza said. "She played a big influential part in me choosing the path that I wanted to lead for my career."
D'Souza started student teaching at Willow Springs Middle School in 2016. Though she didn't work directly alongside Koziatek during her time there, the shift from student to colleague happened during that time.
"It was never like [Koziatek] treated me has her student– she treated me like a human being who knows what's going on, who is just as competent as her," D'Souza said. "She's very open minded and very forgiving in the fact that I am still learning.. There's still that connection and that bond, but now it has shifted to a different level."
While the shift from the middle school to the high school has required some adjustments, it has been exciting for D'Souza and her students.
"[D'Souza] was always really good at keeping us focused but knowing when to play around and have fun," freshman Layla Healey said. "She has carried that over here, and it is really fun when she messes around with us, but we always get everything done."
In her new role, D'Souza is both learning from Koziatek and teaching her new things.
"I learn something new from her every day," Koziatek said. "Her creativity inspires me, and we are able to reflect daily on our teaching together to try to make the next day even better for our students."
D'Souza is excited to grow as a teacher and as a person through her experience here at the high school.
"It's just very exciting that I get to work alongside the woman that had such an important influence in my life." D'Souza said. "I get to learn from her in a different way and work alongside her and grow as a teacher. It's my dream job."
About the Writer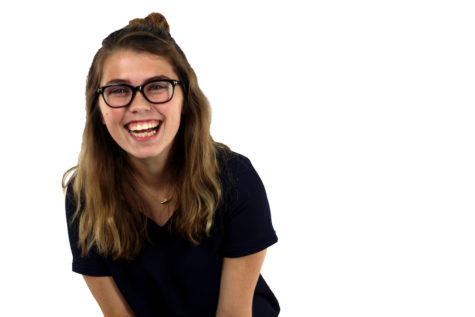 Katie Bardwell, TRL Reporter
Katie Bardwell is a senior, and this is her first year on The Red Ledger staff. She is excited to finally test out the waters of journalism. Katie has...