A new angle
LNN shifted from a daily show to a monthly show in the 2016-2017 school year
A revamped format along with secured prime time viewing during fourth period has brought the Lovejoy News Network back into the spotlight.
"We came in the first week of school and we really got our message across [concerning] what we wanted to do this year, that we were going to shoot for a monthly show," Leopard Spotlight executive producer and senior Matthew Cinquepalmi said. "Everyone really jumped on board. Honestly, this is an amazing class of people. They're all really talented and they've been on board throughout the entire year."
After discussing ideas last year with broadcast teacher Corey Hale, Cinquepalmi said the two of them came up with the plan to transition from filming "daily segments" like past years to creating the monthly "Leopard Spotlight." The new program features segments covering the stories of a variety of people in the community The show has been broadcast one day a month during fourth period, and the class viewings have given the program more publicity.
"I feel like [doing a monthly show is] better [than daily segments] because more people watch it," junior and staff member Bradley Davis said. "Instead of every day it's every month, and it's really well done since we put a whole month of work into the show. I think that's a really cool deal that we've got going here."
Cinquepalmi said that although most students in broadcast are new to the program, the transition to Leopard Spotlight went smoothly.
"We really had to implement more deadlines because if you don't have enough stories by the end of the month, then you can't do a monthly show," Cinquepalmi said. "It was a lot more work, but then again with people being new to the program and not really knowing how it went last year, they just got on board pretty fast and they were really willing to pitch in and do a great job."
The process of putting together an episode of "Leopard Spotlight" consists of attending a story pitch meeting to decide who gets assigned to what story, contacting subjects and scheduling shoot times, and editing footage for hours afterward until all work is turned over to the executive producer.
"If you don't have your footage you can't really do that much, and when you have your footage obviously you're editing," Davis said. "But on the weekends sometimes you could be filming for three hours. If you have to go drive somewhere– like we've had a story out in Bonham and we've had two out in Frisco where it's an hour drive out there– it can be a pretty long thing. But it's worth it. It's really fun to go out there and film and see what it turns into."
Davis and Cinquepalmi said the biggest struggles of getting "Leopard Spotlight" started for its first year were having to improve communication between staff members and the show's subjects, as well as the staff having to take its time figuring out the steps involved in taking on such a task.
"It took us a while to get up and running," Davis said. "Mr. Hale had to show us what to do. No one was super sure with what they were doing. We had no idea how it was going to turn out, and I thought the first show went really well– way better than anyone expected. But it took the first two months of the year to figure out what we were really going to do."
The Lovejoy News Network broadcast class only has one class period of students, and the class size is relatively small. Despite that fact, the students have been able to execute the monthly show.
"I like the amount of people we have because we're able to communicate and there's not problems of who did what because we're such a tiny group," staff member and senior Haley Kranz said. "But [with] time management, I wish we had double blocked– like, more time to edit because editing can take days or weeks."
Although all staff members have different takeaways from the program, Davis said he feels "Leopard Spotlight" has given the community more insight into the lives of others.
"I feel like, even though we're not a huge school, it's not like everyone knows everyone," Davis said. "There's always a story to be told. There's always more for people to know. Over half the stories we do, I didn't even know anything about. [There are] all these things that you just don't know about people and the community, and I just think it's cool to show [people] that."
Kranz, Davis, and Cinquepalmi all mentioned just how much the staff has bonded by joking around and getting to know each other through their projects. Davis said the environment especially impacted how well the team worked.
"The lightheartedness, the messing around when we have downtime, it makes it fun," Davis said. "It makes it enjoyable because, 'What are you doing if it's not fun?' This is what me, and I know a couple of other people in there, this is what we want to do. If it's not fun, you're not going to produce your best work. Probably everyone could do better in their pre-cal class if they enjoyed doing the math, which I know some people do, but it's just you produce better when you're having fun doing it."
After taking on the task of creating "Leopard Spotlight" with a class half the size of a typical one and many challenges, Cinquepalmi said teamwork and camaraderie have shone in the classroom day in and day out as the program has earned state and national accolades this year, and he can't wait for the program to improve in the future. The last episode of Leopard Spotlight will premiere on Thursday, May 25, during third period.
"I think just overall as a year I'd have to say I'm extremely impressed with the kids in the class and what we've done," Cinquepalmi said. "I can't wait to see what will happen in the next few years."
About the Contributor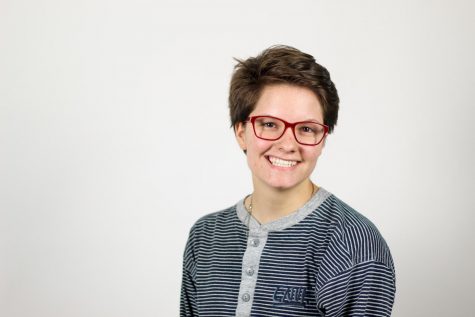 Kelsey Carroll, Section Editor
Senior Kelsey Carroll has never owned a dog or a cat, but she's the proud caretaker of two mini cacti living their life on her windowsill, and she thinks...