Two track athletes to compete for state titles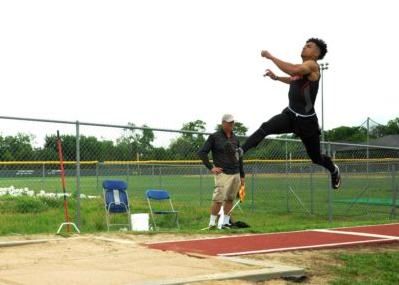 After placing in the top two of their events in the regional finals of the 5A Region II meet, juniors Chase Van Wagoner and Grace Ridgeway will compete at the 5A state track and field meet at University of Texas at Austin from May 11 to 13.
Van Wagoner heads into state with considerable momentum after setting a personal record in the long jump event, placing second with a distance of 23-02.75 at the regional finals. He will compete on Friday morning, May 12 at 8 a.m.
Van Wagoner is currently ranked 12th in the state for UIL 5A for the long jump.
"He's a competitor and isn't satisfied with just getting there," Denton said. "He knows the opportunity to become a State Champion is real and he's had some great practices leading up to the meet."
Long jump coach Seth Vansell has been coaching Van Wagoner throughout the year and raved about his athletic ability.
"Many people attribute his athletic success to his innate abilities, but the hard work Chase puts in day-to-day is what allowed him to be successful in regionals and make it to state," Vansell said. "Chase is much more than a gifted athlete."
Vansell said he is also impressed by Van Wagoner's coachability, as he adapts well to feedback.
"The coaches changed his steps in his long jump approach four days before regionals," Vansell said. "No big deal to him. He mastered the new approach and set a personal record at regionals to punch a ticket to state."
Van Wagoner has been practicing this week with Denton and Vansell in preparation for the state meet.
"I've been practicing my steps and trying to increase my speed to jump farther lengths," Van Wagoner said. "My goal is to compete and bring home some hardware."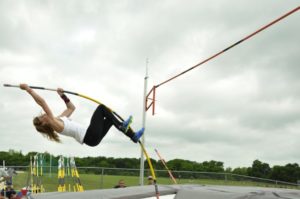 Ridgeway advanced to state after winning the pole vault event with a height of 11-3 at the regional finals. Ridgeway will vault on Thursday, May 12 at 5 pm.
Ridgeway is currently ranked third in the state for 5A girls in the pole vault event with a vault of 12-6.
Girls track coach Logan Kelly said he is confident that Ridgeway will do well in the state meet.
"Grace needs to have a good day and clear 12 feet to place well at the state meet, hopefully in the top three," Kelly said. "Beyond that, her goal is to be the state champion."
Ridgeway has been preparing mentally and physically this week for this weekend's meet.
"I've been going to the chiropractor, practicing, and taking care of my body right," Ridgeway said. "Mentally, I have been imagining my end goal which is to medal at state and set a personal record."