Baseball bounces back
From one district win last school year, to now making the playoffs, baseball recalls an improved season
Hang on for a minute...we're trying to find some more stories you might like.
After a first round playoff exit to Hallsville last weekend, the baseball team finished the season with a 14-16 overall record and a fourth place 8-7 mark in district with a 8-7. Coming off last season's 1-14 district record, senior pitcher Brandon Merrill said they accomplished their goal of bouncing back this year.
"My older brother went to playoffs and since that year, I know I've personally wanted to get back to that point," Merrill said. "I think all of the seniors, and even the younger guys, understood where things went wrong last year and wanted to respond with a competitive year. We certainly weren't great, but we brought pride to both ourselves and the school."
Even though the team was knocked out of the playoffs early, the team created many memories like upsetting the defending 6A state champions and winning a close game against Highland Park.
"It was cool playing Jesuit and being able to break their no hitter," junior catcher Luke Howell said. "Dominating the powerhouse Rockwall in tournaments and winning against Highland Park are also big highlights. The way [Matthew Almy]'s bunt became a walkoff will be something hard to forget about."
Merrill said he hopes the team can continue to follow in the seniors' footsteps.
"I can just hope and pray that the seniors were able to show the younger guys how to work," Merrill said. "Just that they know how to get things done and how to handle their business. They're all great ball players and I just hope us seniors helped them mature and other things outside of the diamond."
Junior Nick Garcia confirmed that the seven seniors did in fact have impact.
"It's just crazy to see how fast it's all gone by," junior second baseman Nick Garcia said. "I'm definitely going to miss them and their enthusiasm that they brought to the team. The season definitely allowed us to really get to know each other better and get a closer group."
With the team filled with young players, they look to carry the positives of this season to next year.
"There are things we did this season that brought us success that we plan to carry on to the next season," Howell said. "Things like playing solid defense and having dominant pitching, as well a playing small ball on offense. We utilized our strengths really well this year and hopefully we can carry those on to next year, as well as learn from our mistakes."
The whole high school baseball exposure has been a learning experience for Merrill.
"You learn that you learn more about yourself and your teammates," Merrill said. "Not in the big moments, but in the coming out and grinding each day. That's where you get close with people. I think we gained great relationships and I'm thankful for how this season turned out. I think us seniors gained a great degree of confidence in what we do. I hope we can all take that going forward."

About the Writer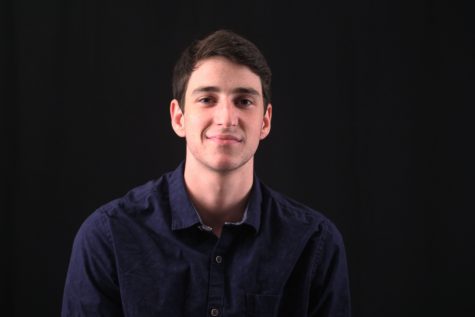 Matthew Fisher, Staff Reporter
Matthew Fisher is a senior and plays point guard for the basketball team. He listens to classic rock and has a proud vinyl collection of over 55 records....