Preparation
Both the girls and boys have to end up at the dance dressed up, but the 'getting ready' aspect of prom differs slightly
Hang on for a minute...we're trying to find some more stories you might like.
There is a lot of behind the scenes action that goes on before the first prom photo is taken. For the girls, who have spent weeks maybe months searching for the perfect dress, it might be hard to imagine the boys just brushing their hair. And for the boys, who take only takes minutes putting on their outfit, might be surprised to hear a girl say that she paid someone to do her hair.
Girls
My horrid morning alarm blares in my ears, but for once I don't reach for the snooze button. My heart races as I turn off the high-pitched beeping and hop out of bed.
It's prom day, and my hair appointment with my friends is at 10 a.m. I hurry to get ready with a quick shower and a sweet outfit, and in 45 minutes, I'm out the door. While I'm driving to the salon, I smile at the vision I have in my head of what my hair will look like. I'm hoping for something sweet and simple like Bella's hair in her wedding in the Twilight Saga.
Our hair takes us about two hours, and we look fabulous. We come back to my house to do each other's makeup, but we spend more time talking about our dates and what they're doing right now, and it eats up the day. Finally, they all leave for their houses to get dressed, and we plan to get back together for pictures and dinner. The location we picked will be perfect for pictures with the setting sun- my first prom will be perfect.
Until I see someone in the mirror.
That person should be me, but I can't tell with all the color on my face. I should've done my own makeup or asked my mom, and now I have 30 minutes to get dressed and redo my makeup before my date comes to pick me up.
Suddenly my heart's pounding, but this time out of terror as I stumble over to my dresser and reach for makeup remover.
"Mom!"
My mom rushes over in seconds, and when I explain to her in a mess of jumbled words as I aggressively rub my face with a wipe, she smiles. She smiles! There's nothing funny about this. But when she puts her cold hand on my shoulder and tells me it's going to be OK, my heart cools a little bit. She continues to comfort me and try to distract me from the time as we redefine my eyes and cheeks.
I almost fall out of my chair when I hear the doorbell with one eye still naked. I start to panic despite my mother's words, and in 10 minutes my makeup is done. I sprint across the hall to my room to slip into my dress, tripping over my own bare feet. I hope he doesn't mind we will be a little late for dinner.
Poor guy is stuck downstairs with my dad.
I feel better when I'm in my red dress. It hugs my curves and reflects the light around me with its sparkles. Adrenaline pumps through my veins still, though, and I only know I'm walking because of the sound of my shoes against the wood floor as I walk to the stairs.
And I see him in his handsome suit and tie, standing nervously holding his hands in front of him. I can't help but to smile at him. My heart's still racing now, but faster and for a different reason.
Before I reach the last step, he tells me I'm beautiful. Aw, he's so sweet. I hope he can't see me blushing under my fresh coat of makeup. He smells nice too, though it's a little strong.
I take his hand as we head outside for Mom to take a few pictures of us two, and I don't let go until he opens the car door for me, and I'm finally on my way to my first prom.
Boys
"Mom, where are my pants?"
I'll be picking up my date in 30 minutes. I figure the extra time is necessary for such a night–just in case. I wouldn't want to be late to my first prom, but already, I can't find my pants…I hope they'll fit.
"I found them!"
After a few minutes of wrestling with the pants, I realize…my stomach drops at the sight of my ankles.
They don't fit.
"Dad!"
Okay, 15 minutes to get ready. I'm wearing my dad's suit, and though it's squeezing in awkward places and loose in others, you can't tell from a distance. I comb my hair and spray my cologne once. I heard girls like when you smell good. I spray again.
I finish 10 minutes too soon, but I'm too nervous to sit around, and I wouldn't mind arriving early to the dance. As I grab my keys and nervously dart out the door, my mind's running.
I don't want to think about the fact that her dad's waiting for me. He probably has a gun hidden in the next room with my initials engraved on the bullets. My knuckles whiten as I rehearse how I'm not going to appear nervous when I firmly shake his hand and ask for his daughter for the evening. His daughter. It's almost harder to think about the fact that she's been preparing for hours for our date. She's probably looking stunning already.
Before I know it, I'm at her house, knocking on her front door. I shake out my arms and legs, and by the time her dad opens the door, I think I look roughly 80 percent trustworthy. I try to put that behind me as I reach for his hand and hope my voice stays firm as I greet him.
Ha, that was laughably easy. What was I even scared of, he's a nice guy despite the occasional glare.
My date's mom directs me to the couch to wait, and wait, and wait. Thirty minutes later, I know we will be late for sure. Her quick feet prance around the ceiling through the second story, so I can tell she's trying to hurry.
Finally, her speedy steps make their way to the stairs, and I can see light reflect off her dress onto the walls, then she rounds the corner, and I see her. My gosh, she's shimmering.
I remember there's something I'm supposed to do at this moment. Although I don't remember what it is, I know I have to be quick, or I'll never hear the end of it… Oh!
"You look beautiful."
Her cheeks turn crimson, and after endless dreaded pictures, we're on our way to prom.
About the Writer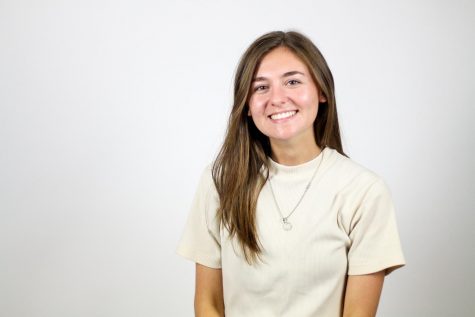 Lily Hager, Editor-In-Chief
With the coming of her fourth and final year of high school, Lily Hager eagerly awaits the senior perks that accompany all who suffer from "senioritis"–including...