JMBLYA ticket giveaway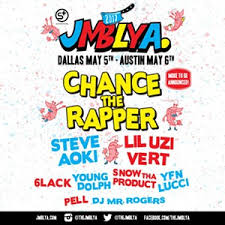 The annual JMBLYA music festival is returning to Dallas at Fair Park on Friday, May 5th, and The Red Ledger is giving away two tickets to the concert.
The lineup for JMBLYA this year includes Chance the Rapper, winner of the Grammy for Best Rap Album in 2016 with his excellent "Coloring Book," headlining, and rappers Gucci Mane, Lil Uzi Vert, and the rap group Migos, known for their viral hit "Bad & Boujee," are performing as well.
To enter the contest, retweet the link posted by The Red Ledger's Twitter account. The deadline for the contest is Monday, May 1, which is when the winners will be notified. Only current Lovejoy High School students are eligible to enter, and must have a waiver signed by parents to receive the tickets.