Reaching for the sky
Junior Griffin Davies will receive his pilot's license in May
As a three-month-old baby, he took his first flight while traveling cross-country. As a 17-year-old junior, he's learned how to take off and fly himself into the clouds.
Griffin Davies has reached the end of the private pilot's training process, and he will be ready for his license in May when he will finally fly solo. After that, Davies plans to further his training by getting endorsements on his license.
"I've always had an interest in flying, and when I got the opportunity to go for a disco flight, a test run to get to control the plane for an hour, I just wanted to keep pursuing it," Davies said.
He has been in training for the past four months with one of Addison Airport's flight instructors, Leighton Pounds.
"It's much more hands-on than standard driver's ed," Davies said. "The first lesson, it was 30 minutes in the classroom, and we spent the next hour and a half in a plane, flying."
Pounds said he is confident that Davies will be ready to safely fly solo in a few weeks and with a license in the beginning of the summer break. He said Davies is ahead of his peers, and he will be ready for his license as soon as he is able to get it.
"As a student here, he's one of the most accelerated students I've got," Pounds said. "As far as his training is concerned, he will be finished in minimum times and getting his license at minimum times. He's one of the most advanced students I have."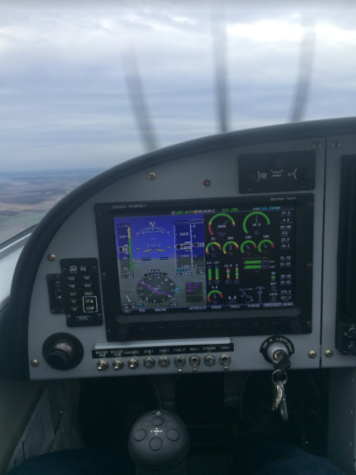 Because Pounds spends hours in planes instructing Davies, Davies said they have bonded past teacher-apprentice relationship and are great friends instead.
"Every lesson that I've had has been with Leighton, and he has helped me through every step," Davies said. "We'll get up in the air, and he'll just start blasting old pop songs, and we will just be jamming out in the plane while putting on cruise control and dancing. It's kind of like having your best friend in your car with you the entire ride."
Davies has attributed his progress to the "great trainers" and "terrific people" at Addison Airport.
"He definitely will respect authority, and when I tell him to do something, he does it," Pounds said. "But at the same time, because he's such a great student and very respectful, there's a really great relationship that we have where we can joke around while we are also working."
Flights with new friends gave Davies a new outlook on the world.
"It's such a tight-knit community that you really make close friends, and because it's such a large area, you can ask for advice and talk about certain schools, planes, or events," Davies said. "If you have a good friend, you can take them out to see a site that he's never seen before. You make tons of friends, and you get a whole new perspective on what the world can be."
Dawn Davies, Griffin's mom, is not concerned for his safety, since she and Griffin's dad were interested in flying years ago. However, they never got around to learning how since they were raising their kids. Dawn said Griffin loved flights, even as a baby, as he traveled and moved with her across the country. She is happy for Griffin to get his license, and she said she trusts will be trained to stay safe.
"Griffin is an old soul," Dawn said. "He's always been an old soul and very responsible. I know he wouldn't jeopardize anything by taking risks. He's pretty mature for his age [especially since] this is something he wants, and he's going to put forth, I think, extra effort to be secure in what he's doing."
Griffin's private pilot's license allows him to fly single engine planes with less than 250 horsepower. With endorsements, he plans to expand his range and opportunities right after getting his license. He is focusing on most common endorsements–high power, complex, and multi-engine. Until then, the distance his amount of fuel can take him is limited.
Courtesy of Griffin Davies
"I won't be able to make it far anywhere," Griffin said. "There's no restrictions, but there's conduct that you follow that's just general procedure so that you don't get yourself killed or someone else killed."
Griffin said he plans to get his endorsements as his senior project. Until then, he continues to fly throughout Texas and neighboring states. He said he looks forward to flying to Oklahoma for a barbeque restaurant near the airport with a great chicken fried steak and other "renowned" restaurants located near the airports.
"There's so much freedom behind it," Griffin said. "It's one thing to be 16 and be able to drive a car, and it's another thing to be 17 and be able to enter any airport in the continental US with a plane, and most of those airports are going to be more than happy to say, 'Hey, here's this airplane; bring your friends and take it wherever. This is a new freedom for you.'"
About the Contributor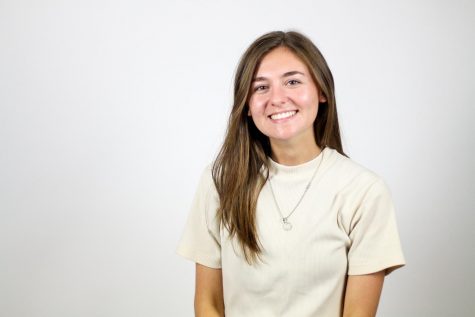 Lily Hager, Editor-In-Chief
With the coming of her fourth and final year of high school, Lily Hager eagerly awaits the senior perks that accompany all who suffer from "senioritis"–including...