Less time, same diploma
Students choose to graduate early, get head start on college and adulthood
Junior Gracie Fortner "never found [her] thing."
She wasn't into sports, or art, or journalism, but she had always wanted to accomplish something challenging.
When the opportunity to graduate a year early came up, she saw it as the perfect way to finally accomplish something difficult.
Any students who wish to graduate a year early from high school can meet with the counselor to create a plan and go over the guidelines of the process. After officially "declaring" it before the start of junior year, the students may arrange their schedules in order to receive all the credits they need to graduate high school.
Freshman Reagan Raforth, who plans to graduate in 2019, said her personal early graduation process has forced her to sacrifice some of the normal high school experiences, yet she "can't wait" for the college experience she'll get earlier.
"Senior year powder-puff and senior year football games, that's going to be really sad," Raforth said. "I know I'm going to miss some of it, but I'm not going to miss all of it. It's added on way more stress than I want, but honestly, in the end, I think it's definitely worth it."
Fortner has had to maintain a strict schedule because of the extra work.
"I definitely have a lot of work every night," Fortner said. "There's not a night when I can just go home and do whatever I want. I'm working 25 to 30 hours a week and then also dealing with classes, which is hard and stressful. But at the same time, I know I can get through it, and I just think about the reward at the end."
Fortner said that despite the demanding workload, she still has time to do the things that are important to her.
"I'm doing everything a senior would normally do," Fortner said. "I still hang out with my friends when I want to. I've never been a huge high school person I guess you could say, but I feel like I'm going to be OK graduating early. I'm not going to regret it."
Junior Clayton Fowler, who plans to graduate this year, said he has benefited from the process of graduating early because it has taught him time management.
"At the beginning of the year I was a little stressed, but I began to budget my time better and as a result it has been a pretty easy year for me," Fowler said. "I definitely thought it would be a lot more stressful than it is."
Fowler said this process will help him become more independent and push him further in his future education.
"I think it will benefit me because, instead of taking classes that won't engage me as much my senior year as a result of already having most of my credits, I will be able to continue learning in college," Fowler said.
2015 graduate Madison Hodges said that although she learned a lot from the early graduation process, she missed her life at home.
"I skipped a year of my life just because I was unhappy at the time and I thought I was ready to take on the challenge," Hodges said. "Once I had graduated, there were some times that I saw pictures and thought 'Aw, I wish I was there.' But there was nothing I could do except for dwell on past memories. When you go off to college, you realize that there are so many more things to life than just high school. You will miss out on many experiences and miss out on valuable time with your family."
Despite the challenges, Hodges was grateful for the experience.
"There were many times throughout the year that I had doubts, but I like to believe that it was the path God wanted me to take and it has led me to such a great life now," Hodges said.
Hodges said she has gained many valuable lessons through her time in college since graduating a year early.
"The most important thing that I have learned is that life is short and you shouldn't rush your way through it," Hodges said. "Looking back and realizing that I am now halfway through with college, all I can think is 'I hate growing up.' College is great and all, but it is hard. Life is so short and everyone should just make the most of it. Now, I take things day-by-day and learn from my mistakes."
Leave a Comment
About the Writer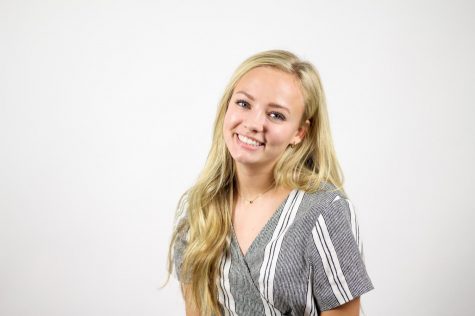 Lulu Butler, Section Editor
Continuing into her fourth year on staff, senior Lulu Butler serves as TRL's Managing and A+E Editor, and she is eager to start another amazing year...