'One'
Softball hopes to unify as a team this season against competitive new district
March 7, 2017
When the final out was called, the Leopards hadn't brought in a single run.
The Colony's Kaylee Freeman had almost thrown a no-hitter in the 10-0 shutout against the softball team in the first round of playoffs on April 29, 2016, using her signature four pitches to send the girls back to the dugout again and again, despite the week they had spent in preparation for Freeman's arm.
The season had come to an abrupt end, continuing the program's history of following up a successful year and deep playoff run with an early exit the next. While the team had not met its goal of bucking the trend and "reloading" for back-to-back playoff pushes, it's difficult to see the season as unsuccessful, but rather what could have been if the team's 10 starters wouldn't have missed a total of 309 innings throughout the season.
The summer has come and gone though, the shutout playoff loss along with it. A new season, a new opportunity, is on the horizon for the softball team. And with a lineup consisting of nine returning starters, four of whom have NCAA Division 1 commitments, no expectation can be too far-fetched. But when you ask head coach Jeff Roberts and his players, they have just a simple, singular focus.
"One," Roberts said. "One pitch at a time. One game at a time. And we are one team and one family."
The new team motto is central to Roberts' vision for the new season as the team seeks to build the chemistry and family atmosphere they lacked last year; shifting the focus from the big picture, the 225-mile drive to the state tournament in Austin that encapsulated their previous motto–"225 Reload," to taking things one step at a time.
"The seniors came up with 'One' being that the previous season we didn't play much as a team, and everyone's head was in a different place," senior JoJo McRae said. "So this season we really wanted to focus in on doing everything as one."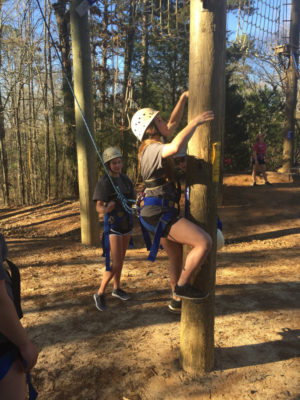 While there may be many bright talents on the team with college softball in their future, Roberts said that there isn't just "one" player who stands out as a leader; the entire team is learning to step-up when needed. This is the reason why instead of running drills, Roberts had his team perform team-building exercises last weekend during a visit to Sky Ranch while participating in a tournament in Lindale, Texas.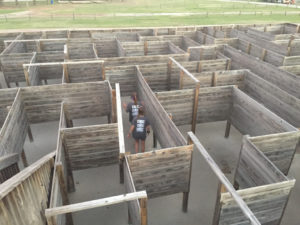 "I did a blindfold activity where the underclassmen had to lead the seniors and it really taught them that even if the seniors aren't leading, someone else needs to step up," Roberts said. "And I think that was a really good recognition point that it's not about the seniors or freshmen, it's about everyone."
Roberts said the large number of returning players has given him the opportunity to move past fundamentals and focus on more advanced ways to improve the team as they prepare for what Roberts calls "The Little SEC." The Leopards will face a new district this year that has a plethora of talent, including 16 NCAA Division 1 committed players, after a 2016 UIL realignment.
"I mean you look at it and you got the DFW home run leader and left-handed pitcher Mya Stevenson on Mesquite Poteet who's committed to University of Virginia," Roberts said. "You've got two Division 1 freshmen pitchers at Forney, one who is committed to Kansas. North Forney returned seven starters from the team that went three rounds deep into playoffs.
"Wylie East has a brand new coach and is doing an amazing job there and they've got some sticks and a returning pitcher. Royse City, who we saw two years ago in playoffs, has a new coach but also a good group of left-handed hitters. So it's a very competitive district this year. It's probably the most competitive 5A district out of all the 32 districts."
Despite the heightened competition for the district's four playoff spots, Roberts said the team is up for the challenge and is putting up the stats to prove it.
"From a hitting standpoint, from a defensive standpoint, this is the best team I've ever had," Roberts said. "In these tournaments we are playing you're getting five to six innings at most, usually three to four, and we're averaging nine runs a game. From a defensive standpoint, we are fielding at .975 which is the highest clip that I've ever had a team field. Lastly, speed never tires and this is by far the fastest team I've coached. We're averaging about five stolen bases a game with limited innings."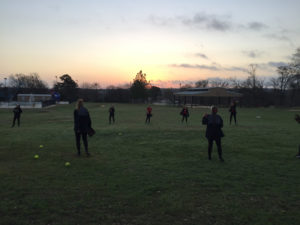 Stats have turned into wins as the softball team posts a 14-2 record heading into their first district match tonight against Highland Park (2-4). Their success includes a third place finish in a 32-team tournament in Carrollton despite being without their starting pitcher sophomore Mattie Boyd, a second place finish in Lindale where they outscored opponents 60-10, and a five-game sweep of last weekend's tournament in McKinney.
"We're really excited because we know what we're capable of and the fact that we could have a great season and deep playoff run," senior Emily Weichel said. "But we also want to go into districts knowing that the tournaments don't matter and so regardless of how successful we've been thus far, we have to play like we've achieved nothing so far."
The goal hasn't changed. The team still wants to fulfill its 2016 motto and make the 225-mile drive out to the state tournament in Austin by the end of the season. But they now know there's only "one" way to do it.