Amidst fast food options, district nutritionists encourage healthy eating
Fast food restaurants have sprung up all around the city. At least four places can be driven to within five minutes of leaving the campus. However, district nutritionists Juliana Elandary and Mat McCarty said healthier options can be found without leaving the front entrance.
Nutrition coordinator Juliana Elandary said that with the increase of restaurant chains in the area, students have a greater ability to make less nutritional choices.
"If students choose to eat fast food for lunch, they are likely consuming more calories, unhealthy fat, sodium, and sugar than if they were to eat on campus or pack a lunch from home," Elandary said. "There are quality, nutrient-rich options offered in the cafeteria on campus at the high school."
The lunch policy is a closed campus, meaning that students are supposed to eat lunch on campus, and lunches are specifically scheduled so that students are able to eat lunch every day, principal Chris Mayfield said.
"So there's really two different things," Mayfield said. "We totally get that parents sometimes bring food, and that's great. I think that's a cool thing when your parents drop off some Subway or Chick-fil-A or whatever things that they do. But since we don't have an open campus for lunch, then really we expect every student to stay on campus. So if they are leaving campus for lunch, then there's a discipline piece that comes with that."
Although students are encouraged to eat lunches on campus, fast food can still be purchased outside of school hours, and it's something that the high school generation is used to, said McCarty, director of student nutrition.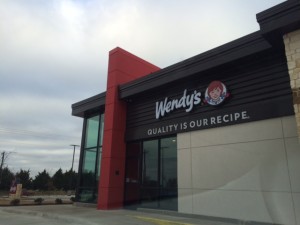 "The parents, because of being so busy, have often taken kids to fast food-types of restaurant," McCarty said. "It's really speed and convenience. It tastes good, and to some extent [it is] inexpensive, so because families are much more busy these days, I think that they spend more time eating out to get to different events their kids may have. Many parents nowadays [have] households [that] have two working parents. With poor timing issues, they go out to eat more often."
Elandary said that eating fast food can become a habit that is hard to break, especially for busy students and families. However, Elandary recommends a healthier tip.
"Students probably result to fast food because it is convenient to pick up on the way to their next activity," Elandary said. "Instead of swinging by a fast food restaurant, I recommend to plan ahead and pack substantial snack to hold you over in between meals. For example, if you have practice or an activity after school, pack a peanut butter and jelly sandwich on whole wheat bread or a piece of fruit and trail mix to tide you over until you get home for dinner."
McCarty feels that restaurants such as Wendy's, Sonic, or Starbucks just around the corner on Lucas Road might even help students develop healthier diets because of the options restaurants are starting to offer.
"It's kind of like 'Which one came first, the egg or the chicken?'" McCarty said. "If these fast food restaurants weren't there, is it going to affect the teenagers wanting fast food? I don't think that that would be the case. If anything, it may help in some degree. You see that some of the restaurants [are] coming around or starting to offer healthier options. You're seeing more grilled chicken dishes and different types of salads out there now because the generations [are] really demanding a little bit healthier food."
Freshman Alex LeFort said she agrees that fast food can offer healthier meals, and that she'd prefer a fast food restaurant's healthiest option over the cafeteria food on campus.
"The cafeteria food is OK, but I can't really tell portion sizing and everything," LeFort said. "At least in fast food, I know how many calories I'm taking inside my body. Here, they don't really give you a number. I can go to Panda Express and get 140 calories of just beef and broccoli, while here I have to get extras that just actually make kids eat more. Then they don't realize why they're gaining weight, which can actually hurt their health."
Sophomore Michael Patrick said fast food is nice to have since food from the cafeteria can get old if one eats it every day. However, Patrick said, it's still about what you choose.
"You could eat something here that's just as worse [as fast food]," Patrick said. "I think [fast food and campus food] can both be healthier, but it depends on the person, and if the person can balance it out."
Both Elandary and McCarty agree that the district's food program offers healthy choices. All nutrition standards are mandated by the United States Department of Agriculture, and have been raised even higher by the Healthy, Hunger Free Kids Act of 2010.
"I guess you could say they have certain color levels that you have to meet, certain vegetable requirements that you have to meet," McCarty said. "It limits the saturated fat, so no trans fat in the meals, [and] there's a sodium restriction. So just being in the national lunch program forces us to make sure that the meals are meeting the right choices, and making them healthier than they have been in the past."
The meal pattern for all schools in the district has five components: meat or meat alternatives, grains, fruit, vegetables, and milk. The National School Lunch Program regulates calorie counts in all meals, as well as what snacks are available for purchase on campuses. The "Smart Snacks in School" rule "requires the first ingredient to be a fruit, vegetable, dairy product, protein food, whole-grain, or whole-grain rich" in all snacks, Elandary said. Fruits and vegetables are also encouraged by the National School Lunch Program.
"All of our schools offer fresh fruits and vegetables daily," Elandary said. "Typically, we have two fruit choices and two vegetable choices available each day. All juice served is 100 percent fruit and/or vegetable juice. There are five subgroups to ensure we provide a wide-variety of vegetables including dark green, red/orange, legumes, starchy, and other vegetables. We encourage students to select a variety of fruits and vegetables to build healthy plates."
No food is deep fried, and students are encouraged to select from a variety of foods using the "Build Your Own" concept." McCarty pointed out "Chipotle concept" behind the creation of the Southwest line.
"It gives the kids choice in [that] they feel that they can make a decision on what they're going to eat because they can pick the items in their burrito," McCarty said. "Or if they are getting in the Italian line, they are picking their own their own pasta bowl, or Asian bowl or something like that."