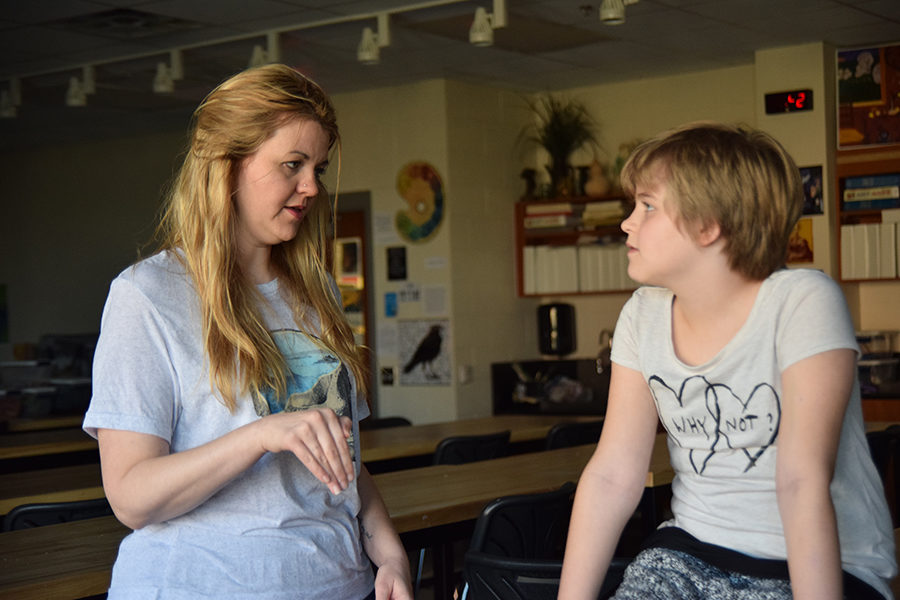 Emily Ottinger
Loving the community through 'actions, not just talk'
Art teacher Amanda Beller educates daughters on importance of speaking out for what they believe
February 17, 2017
The airport was crowded with bodies and the air filled with screams.
"Muslim rights are human rights!"
The crowd held clutched signs with capital letters, chanting the words passionately.
"This is what democracy looks like!"
They struggled to find footing in the marked area bordered with police. Visitors from all around the world watched as they filled the air with screams and bodies.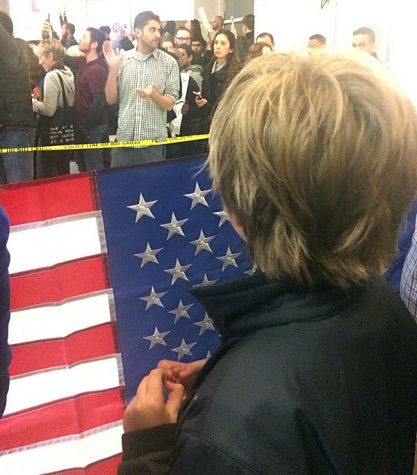 Among the crowd were AP art history and studio art teacher Amanda Beller, her husband Justin, and their 10-year-old daughter Lane who tried to find a spot to stand. It wasn't where they expected to be on a Saturday night.
An estimated 2,000 protesters gathered at the DFW airport on Jan. 28 as travelers flew in from all around the world following President Donald Trump's executive order that temporarily banned immigrants and travelers from Iraq, Syria, Iran, Sudan, Libya, Somalia and Yemen.
Beller had no plans that night until Justin texted her about a tweet he had seen regarding the protest. He was having dinner with Lane who told him she wanted to go.
"I said I wanted to go because I've never been to a protest before, and I was curious to what it was like," Lane said.
Amanda said she believed taking Lane to the protest would be a learning experience.
"[Lane] chose to go, but I also think it's important that you teach your children to stand up for what they believe is right," Amanda said. "We are a Christian family. We are a family who is very involved in loving our community as a family."
Amanda acknowledged that family get-togethers at protests aren't something many parents consider.
"I would say we're probably not typical parents," Amanda said. "If you're passionate about an issue, absolutely get your kids involved in it. It could be getting your kids involved in service projects or volunteering through church or synagogue."
The Beller family also serves at their church and homeless shelters. Amanda called this loving the community through "actions, not just talk."
"We try to be very intentional as parents, and we're both passionate about justice issues," Amanda said. "This just seemed like an obvious choice. Here's an issue where we can introduce our oldest child to something that we are passionate about on a bigger level than just going to the grocery store or restaurant–things that we would naturally be doing, and we are ministering along the way."
Lane said she knows what it means to join protesters.
"[Attending the protest] meant you were helping out, and you were helping these people get out and making a difference," Lane said.
Lane asked Amanda several questions brought up by political cardboard signs and conversations. Amanda explained to Lane why they want to speak out and that the First Amendment allows them to do so.
"One thing we just kept talking about is democracy in action," Amanda said. "She's been learning about the Revolutionary War, the Civil War, and the founding of our nation, so to be able to make that real to her and say 'OK, you've learned about the Constitution, now we can talk about our rights upheld in the Constitution.' Not to tell her, 'You have to believe what Mom and Dad believe,' but our girls can see our passion and then can be exposed to it and find out what they believe."
Amanda said the international airport was a relevant venue because people from other countries entered America hearing welcomes from citizens.
"I think of that fear of getting off an [international flight] and thinking you wouldn't be allowed in, and to hear support for you would be like a lifeline," Amanda said. "In this instance, I think [protest] was important because we know that those who are detained could hear us."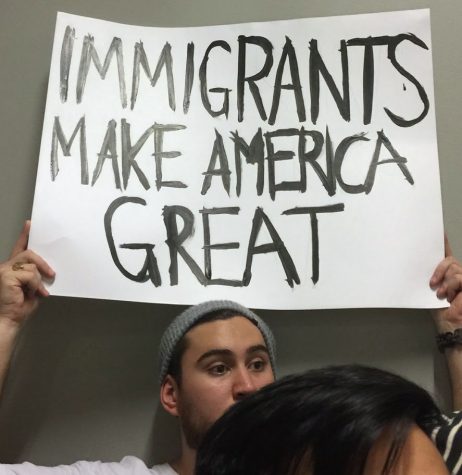 The event had an extra peacefulness to it that was important to the protesters, Amanda said. She attended Black Lives Matter protests previously which were not as peaceful as the assembly at DFW. The campus president of Young Democrats of America, junior Grant Durow, said he believes in the importance of keeping protests peaceful as protected in the Constitution.
"I think we need to be able to respect each other in a peaceful way no matter how much we disagree," Durow said. "That really hurts your cause when you're doing violent and dangerous things."
Airport employees thanked protesters for staying contained and brought them water, Amanda said.
"It seemed to run like a peaceful protest should," Amanda said. "I didn't see anybody not on their best behavior and polite which is not the way protests are depicted in the media generally."
With Lane by Amanda's side, she said she knew her daughter was safe during her experience.
"I would never take my child somewhere if I thought it wasn't going to be safe or if there was going to be violence, and there wasn't," Amanda said.
The Bellers aren't sure what their next outing will be. Whether it is unexpected attendance at a protest or feeding the homeless, Amanda said she will continue to raise her daughter to fight for others.
"I have taught the girls from a very young age that when you see someone discriminated against for any reason to always show love and do what you can to reach out to that person," Amanda said. "We have made very strategic decisions in terms of where we shop and where we eat so that we are intentional with making connections with the community and meeting needs of people who are struggling in some way. We just do that as a family."