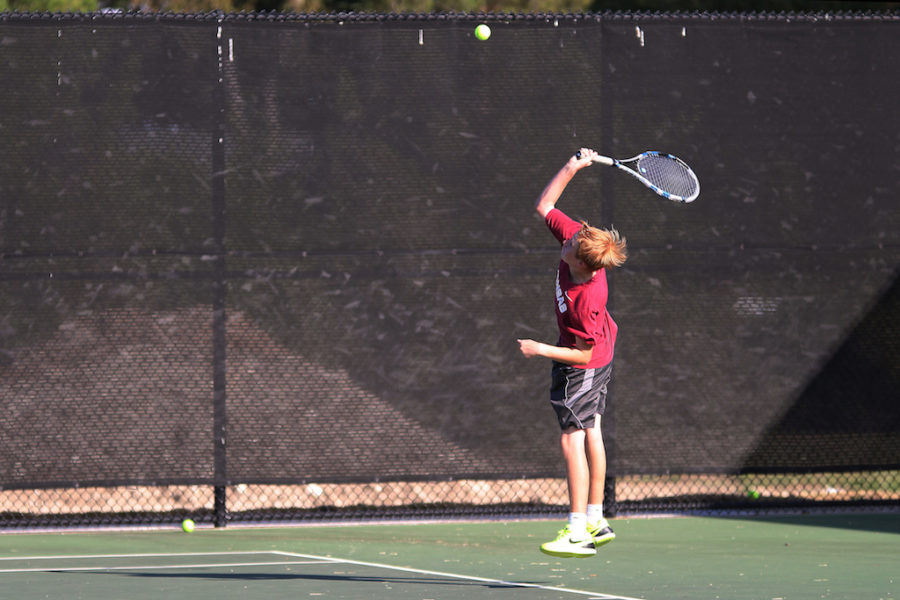 Tennis continues solid tournament play
The boys and girls tennis teams enters their McKinney tournament this weekend following successful output in Ennis last weekend. The tournament will play host to the toughest competition the team has faced thus far.
"Plano West, the 6A state team champions, will be at our tournament on Friday," head coach Adam Cherry said. "In addition, we will be competing against Allen and Southlake Carroll who are also top ten 6A schools. I will be impressed if we have anyone make the semi-finals in the tournament. It is definitely the toughest one we've competed in thus far."
The tournament will play host to 32 teams for each draw: boys singles, girls singles, boys doubles, girls doubles and mixed doubles. Successful finishes will have positive implications for district.
"The higher you finish in each tournament, the higher you will be seeded in the district tournament," junior Carson Zimmerman said. "Ultimately we are playing to have the biggest advantage in our district."
Junior Polly Roth has been engaged in specific preparations for the tournament.
"To practice for the tournament I play a lot of girls doubles matches," Roth said. "I practice doubles with my teammates since that is the event I'll be competing in. Also, I work on volley drills since that is a key part of doubles."
Cherry was pleased with how the team performed in Ennis in their most recent tournament.
"Juniors Jack Bennett and Chris Sun brought home the boys doubles championship," Cherry said. "We defeated Corsicana, All Saints, as well as Texas High in the finals."
Cherry expects his top performers overall to continue their strong play.
"So far our mixed doubles team of Jack Bennett and Samantha Heyward are undefeated in the spring," Cherry said. "They've already won two tournaments together and I'd love to see them to continue that streak. Our boys doubles team of Carson Zimmerman and Caiden Tays have also won two tournaments and have lost only one match this spring."